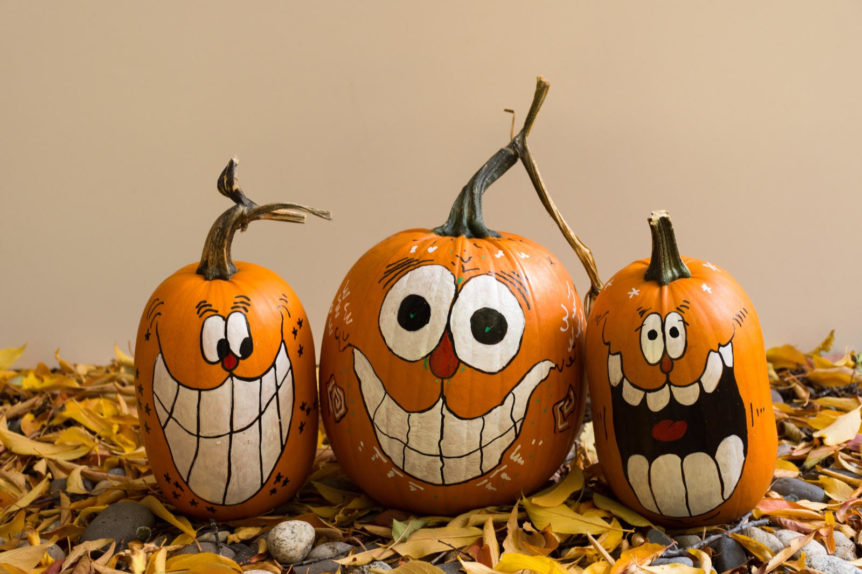 Halloween is quickly approaching, and the last thing anyone wants to be haunted by is cavities! Halloween can be a great time to promote good oral health habits for life, even with the temptation of sweet treats around for the occasion. What many people may not know is that the frequency of snacking on foods high in sugar, like candy, is more harmful to your teeth than the actual amount of sugar present in the snack. The amount of time the sugar is present on your teeth leads to a greater number of acid attacks on your teeth, eventually resulting in tooth decay. So, to prevent being spooked by cavities, here's a few suggestions to keep your teeth strong and healthy this Halloween:
Pass out sugar-free treats
A great way to promote healthy teeth to your little ones is to pass out tooth-friendly Halloween treats during this trick-or-treat season. Passing out glow-in-the dark stick bracelets and necklaces are fun and nice for trick-or-treaters so that they can shine as they walk through neighborhoods collecting treats. Small water bottles are also useful for the kids to drink after they consume their candy treats while going from house to house. Also, sugar-free gum with xylitol, stickers, and even toothbrushes make for great gifts that can be passed out during Halloween!
Timing is Everything!
Halloween candy is best eaten with meals or not too long after mealtime when saliva production is at its highest. Saliva helps wash away the acids made by bacteria as well as any leftover food particles within the mouth. Water also is important to swish with after indulging in sweets. 
Our Annual Candy Drive is a great way to share extra Halloween candy for a great cause. We will send all donations and caring messages to our U.S. troops overseas to express our gratitude for their service. Any school, organization, or individual is welcome to participate. We also award a grand prize of $1000 to the school PTO that donated the most candy, taking into account the number of students per school and amount of pounds of candy collected per student. Please join us for the upcoming grand celebration this year:
Candy Collection: 1st-7th November 2019Press Event: 8th November, 2019 @ 10 AMLocation: 5 Seaward Rd, Wellesley, MA 02481
If you have questions or queries about how you can join hands with us for this great cause, send us an email at candydrive@wellesleydentalgroup.com, or call us at 781-237-9071. This year you can also register online!
RSVP: https://forms.gle/WdvFhU9UoM6RU2fR7
Be sure to follow us on Twitter,  LinkedIn, and Facebook, and look for updates on our Facebook Event Page.
Avoid sticky situations:
Sticky and sour candies can do a number on your teeth more than other candies. Sticky candies can get stuck in the grooves of teeth and remain their for long periods of time and increase your risk of developing cavities. Also, sour candies often are more acidic and can break down your tooth enamel. 
We wish you all a happy, safe, and cavity-free Halloween!
Feel free to contact Drs. Ali & Ali and the caring team at Wellesley Dental Group if you have any thoughts or concerns; they will be happy to answer your questions! Contact us today at 781-237-9071 or smile@wellesleydentalgroup.com to set up an appointment.
Your little ones and teens are welcome to visit our pediatric dentist, Dr. Derek, and Dr. Emad is happy to help with your TMJ and orthodontic needs. For wisdom teeth extractions or any other oral surgery needs, Dr. Stephens would love to help, and our gum-specialist Dr. Singh can help with your gum-related concerns.
References:
https://www.mouthhealthy.org/en/non-candy-halloween-treats