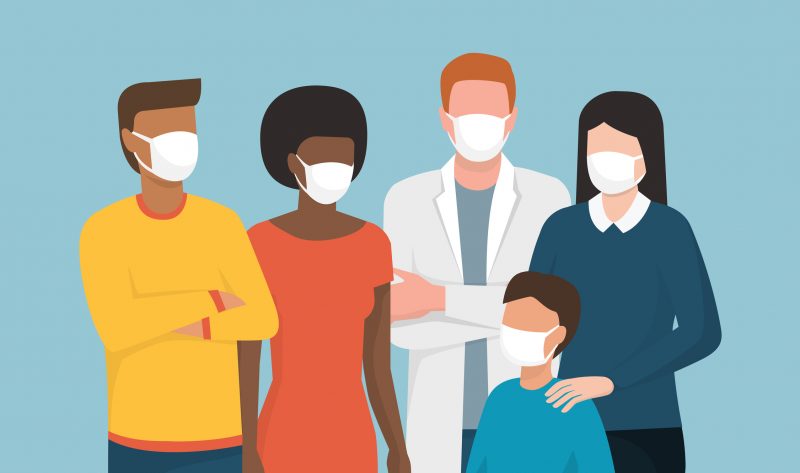 Face masks have become a normal part of society, and are a significant help in slowing the spread of COVID-19. The Centers for Disease Control and Prevention (CDC) is urging everyone to wear masks, especially as the number of cases and deaths is rampantly increasing across the United States. Numerous current studies reveal that asymptomatic individuals and individuals who later develop symptoms can transmit coronavirus during the time that they are pre-symptomatic.
The Director of the CDC, Dr. Robert R. Redfield, commented "cloth face coverings are one of the most powerful weapons we have to slow and stop the spread of the virus – particularly when used universally within a community setting. All Americans have a responsibility to protect themselves, their families, and their communities."
Several research studies, including a review study published on Tuesday July 14th in the Journal of the American Medical Association (JAMA), have identified that cloth face coverings are helping prevent people with coronavirus from spreading the virus to other individuals. The review comprised two recent case studies, one from the CDC's Morbidity and Mortality Weekly Report (MMWR). This study observed two Missouri hair stylists infected with COVID-19 and symptomatic through contact tracing. One of the stylists saw customers for 8 days while experiencing common coronavirus symptoms, while the other stylist saw customers for 4 days while symptomatic. With all staff and customers wearing a mask in the salon per local government regulations, it was found that none of the 139 customers in contact with the two hair stylists became ill, and 67 customers who voluntarily were tested received negative test results for COVID-19.Both stylists reported wearing cloth face masks or surgical masks when taking care of their customers. Of the 139 customers at the salon, approximately 47% wore a cloth face mask, 46% wore surgical masks, and 5% wore N-95 respirator masks. Their appointment times ranged from 15 to 45 minutes. The CDC affirms that wearing face masks could add huge benefits to protecting the community against the virus.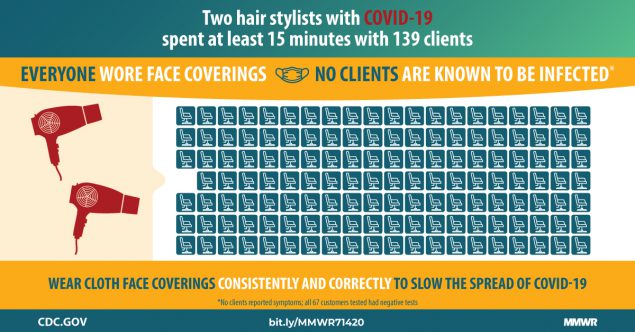 Wearing a face covering is especially important when in public spaces or when in environments where it is hard to maintain social distancing. The CDC recommends that face coverings should not be worn by anyone under the age of two or anyone with certain medical conditions. If you feel sick or notice that you are experiencing any COVID-19 symptoms, immediately seek medical care and self-isolate.
What are the different types of masks?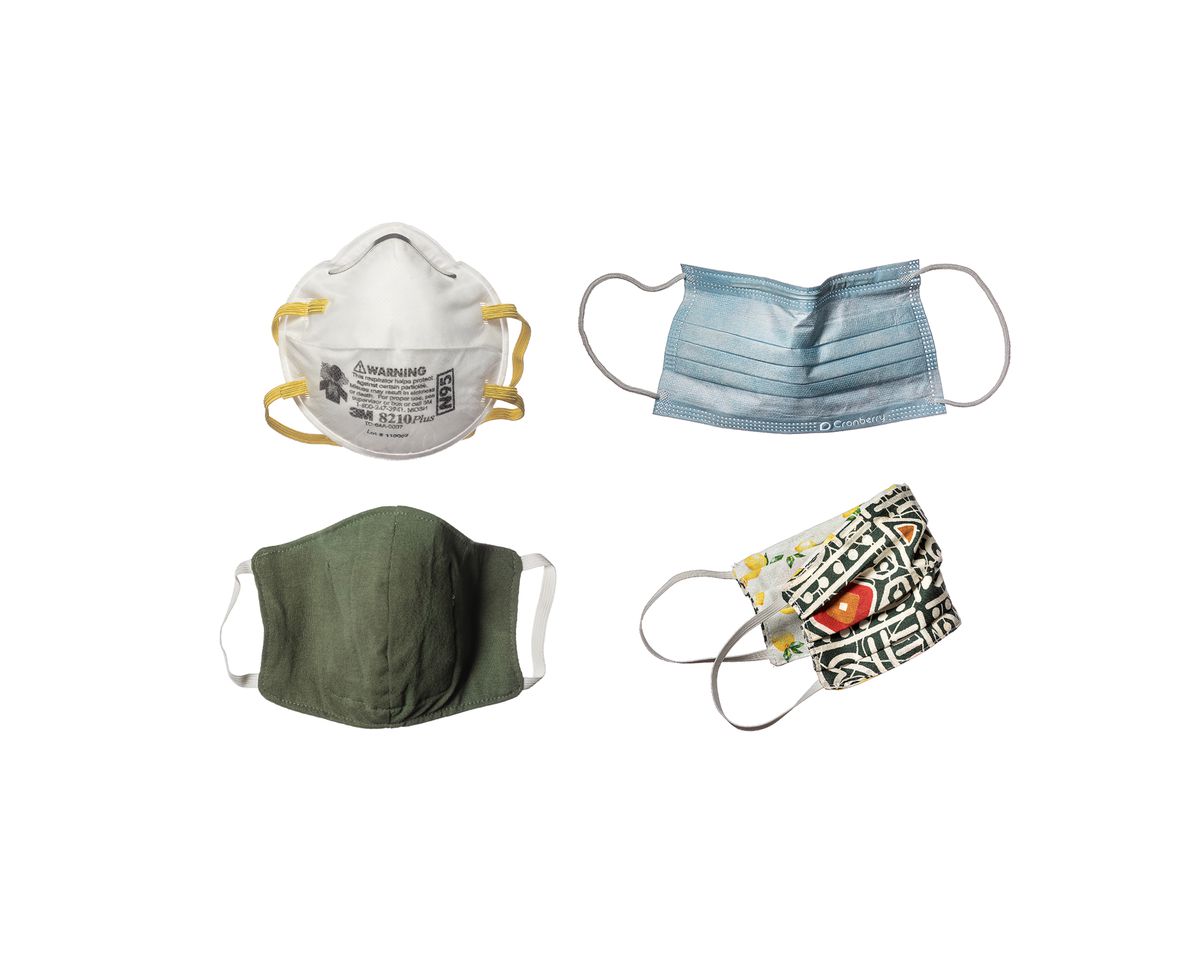 1. N95 respirators
These medical masks are meant to lower the exposure to small and large air particles. These masks are fit-tested for medical professionals to ensure a secure fit.
2. Surgical masks
These masks are loose-fitting masks, but still provide some barrier against large respiratory droplets. These masks are approved by the U.S. Food and Drug Administration (FDA).
3. Cloth masks
The CDC also reports that cloth masks may help slow the spread of COVID-19. Some people have bought filters to add to masks, which are currently being researched to determine if they add any additional protection.
Experiencing skin trouble from wearing a mask?
If so, not to worry, there are recommendations that may help. Wearing a mask may aggravate certain skin conditions, such as eczema or acne, but there are ways to get it under control.
Director of the Dermatology Laser and Cosmetic Center at Massachusetts General Hospital, Dr. Mathew Avram, shares that trying a silk face covering to wear in public may help individuals who have acne or sensitive. Silk may provide less friction between your mask and face, which may help lessen your risk of irritation or inflammation.
Clinical director of the Mohs Dermatologic Surgery Center at Brigham and Women's Hospital, Dr. Abigail Waldman, recommends using a face cleanser after wearing a mask to remove any trapped dirt and oil the collects under the mask. Avoid using any bar soaps that may irritate and cause your skin to feel tight. When looking for a face lotion, be sure that it is non-comedogenic, meaning that it does not block pores. Wearing a moisturizer before putting your mask on can help add a layer of protection between your skin and the mask. Also be sure to wash your face covering after each use.
Over-the-counter products may also help clear up breakouts. Acne products typically contain adapalene gel or other retinoids, which often help limit the accumulation of dead skin cells at a minimum, and/or have antimicrobial and anti-inflammatory effects.
If you're experiencing an acne breakout, try avoiding wearing makeup under the area covered by the mask. Makeup may block your pores and cause skin irritation when wearing a mask throughout the day. If wearing makeup, try to aim for wearing non-comedogenic products. If you notice that your skin condition gets worse or does not go away, contact your dermatologist.
This pandemic has impacted us all, but our community is indeed all stronger together. Our team at WDG always has your safety and health as our top priority, and we have implemented additional safety measures and equipment to help prevent the transmission of all infections, including COVID-19. Wellesley Dental Group has completely reopened since June 8th, 2020 for all dental procedures and cleanings! Thank you for entrusting your health and dental care to us at Wellesley Dental Group.
Feel free to contact Drs. Ali & Ali and the caring team at Wellesley Dental Group if you have any thoughts or concerns; they will be happy to answer your questions! Contact us today at 781-237-9071 or smile@wellesleydentalgroup.com to set up an appointment.
Your little ones and teens are welcome to visit our pediatric dentist, Dr. Derek, and Dr. Emad is happy to help with your TMJ and orthodontic needs. For wisdom teeth extractions or any other oral surgery needs, Dr. Stephens would love to help, and our gum-specialist Dr. Singh can help with your gum-related concerns.
References:
https://www.bostonmagazine.com/health/2020/05/20/face-mask-breakouts-skincare-tips/
https://www.cdc.gov/niosh/npptl/pdfs/UnderstandDifferenceInfographic-508.pdf
https://www.cdc.gov/coronavirus/2019-ncov/prevent-getting-sick/cloth-face-cover-guidance.html
https://www.cdc.gov/coronavirus/2019-ncov/prevent-getting-sick/about-face-coverings.html
https://article.images.consumerreports.org/f_auto/prod/content/dam/CRO-Images-2020/Health/03Mar/CR-Health-facemask-corona-update-0320
https://www.chicagotribune.com/resizer/oUvQp1s0kDCCJACU03CSWcEyr-4=/1200x957/top/cloudfront-us-east-1.images.arcpublishing.com/tronc/WXFENVDHA553QDSRKEUN2HH3GA.jpg
https://www.cdc.gov/mmwr/volumes/69/wr/social-media/mm6928e2_HairSalonCOVID19_IMAGE_14July20_1200x627-medium.jpg
https://www.hopkinsmedicine.org/health/conditions-and-diseases/coronavirus/coronavirus-face-masks-what-you-need-to-know
https://inside.akronchildrens.org/2020/04/01/help-akron-childrens-protect-our-patients-and-staff-with-diy-face-masks/