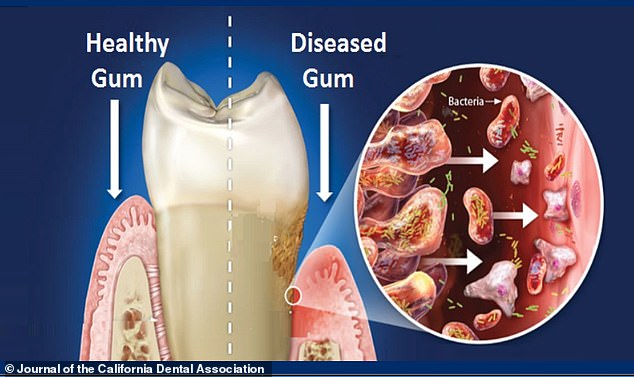 As more research is being done on COVID-19, there has been a new link to gum disease and severe complications from this worrisome virus. Gum disease is caused by bacteria that causes persistent inflammation of the gums and surrounding structures. Gum disease includes an early stage, gingivitis, and a later stage with progression called periodontitis, which is more severe.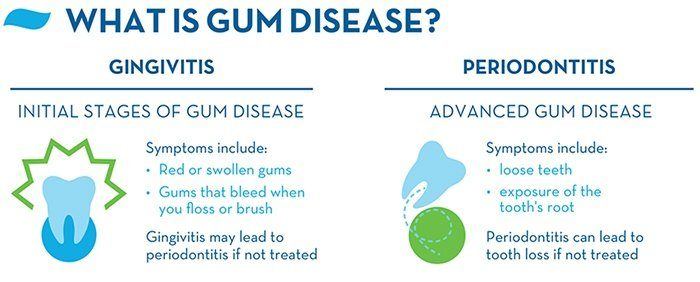 COVID-19 is a disease that is caused by the novel coronavirus named SARS-COV-2. This virus causes damage to the lungs and other organs. The Journal of  the California Dental Association has associated inflammation in the gums with the release of inflammatory markers such as IL-6 protein. These proteins cause systemic inflammation as they travel throughout the body. This occurs when fibroblasts within inflamed gingiva produce IL-6, causing an elevation in levels. The elevated levels of IL-6 then leads to bone loss and tissue destruction. Additionally, high levels of IL-6 within the body can hinder oxygen exchange between the blood and lungs.  This can cause severe breathing problems. The latest study from The Journal of Allergy and Clinical Immunology found that high levels of IL-6 are predictors for respiratory failure. Patients with high levels of IL-6 h are 22 times higher risk for respiratory complications.
So, you're probably wondering what does this mean for you? Risk factors associated with gum disease include: smoking, diabetes, poor oral hygiene, medication, age, and obesity.
According to the American Dental Association (ADA) warning signs of gum disease are as follows:
Gums that are red a bleed easily
Gums that have pulled away from teeth
Loose teeth
Consistent bad breath or bad taste in mouth
How to prevent gum disease:
Brush twice a day
Floss daily
Visit your dentist for regular checkups and cleanings
Avoid smoking and or using tobacco products
This pandemic has impacted us all, but our community is indeed all stronger together. Our team at WDG always has your safety and health as our top priority, and we have implemented additional safety measures and equipment to help prevent the transmission of all infections, including COVID-19. Wellesley Dental Group has completely reopened since June 8th, 2020 for all dental procedures and cleanings! Thank you for entrusting your health and dental care to us at Wellesley Dental Group.
Feel free to contact Drs. Ali & Ali and the caring team at Wellesley Dental Group if you have any thoughts or concerns; they will be happy to answer your questions! Contact us today at 781-237-9071 or smile@wellesleydentalgroup.com to set up an appointment.
Your little ones and teens are welcome to visit our pediatric dentist, Dr. Derek, and Dr. Emad is happy to help with your TMJ and orthodontic needs. For wisdom teeth extractions or any other oral surgery needs, Dr. Stephens would love to help, and our gum-specialist Dr. Singh can help with your gum-related concerns.
References:
https://www.dentalproductsreport.com/view/cdc-updates-infection-control-guidelines-for-dental-practices
https://www.ncbi.nlm.nih.gov/pmc/articles/PMC7303044/
https://ca.crest.com/en-ca/oral-care-topics/general-oral-hygiene/gum-disease-symptoms-causes-treatments
https://www.jacionline.org/article/S0091-6749(20)30685-0/fulltext
https://www.ada.org/~/media/ADA/Publications/Files/for_the_dental_patient_jan_2011.pdf
https://www.dailymail.co.uk/health/article-8600401/Could-gum-disease-make-coronavirus-deadly.html