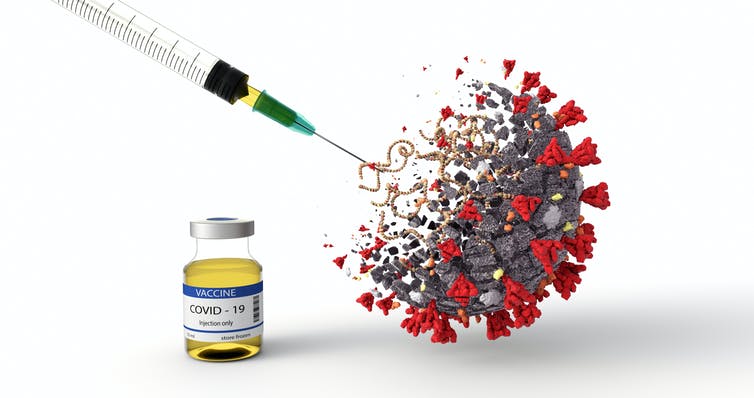 A new day brings new research! In times like these, we all are ready to resume some sense of normalcy. Currently, the best way to prevent sickness is to avoid exposure to the virus, which is mostly spread from person-to-person contact. The Centers for Disease Control and Prevention (CDC) recommends that everyone should continue washing their hands with soap and water for at least 20 seconds, practice social distancing keeping a distance of at least 6 feet from others, wear a face covering, continuously clean and disinfect surfaces, and monitor your health daily.
Although there is currently no vaccine to prevent COVID-19, researchers across the globe are racing to produce a safe and effective vaccine to beat the virus. To date, there are currently 18,699,432 confirmed cases worldwide, with approximately 704,324 deaths reported. At the end of June, the World Health Organization (WHO) announced that AstraZeneca, a global biopharmaceutical organization, in collaboration with Oxford University, along with the United States based pharmaceutical company Moderna Inc., were leading the way with an experimental Covid-19 vaccine. AstraZeneca and Oxford University are currently in Phase 3 of human trials and plan to release results this October.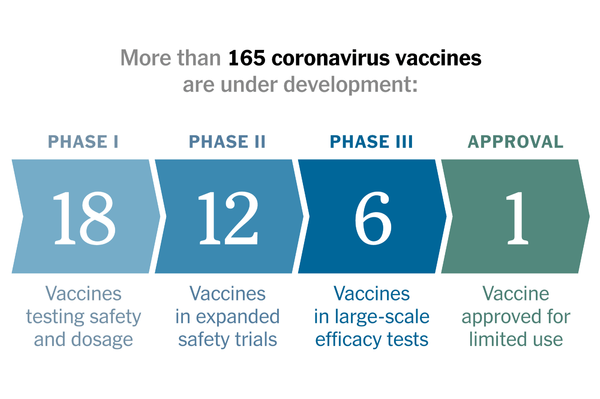 More recently, on July 30th the company Johnson & Johnson began conducting human safety trials of a COVID-19 vaccine after exhibiting positive results from the vaccine when tested on monkeys. The study was published in the science journal Nature. They found that out of 6 monkeys tested with a single dose of the COVID-19 vaccine candidate, all 6 were protected from lung disease and 5 were protected from COVID-19. Dr. Dan Barouch, a virologist at Beth Israel Deaconess Medical Center in Boston and a co-author of the new study mentioned, "It's a very reassuring level of protection we saw." Now it is the goal of Dr. Paul Stoffels, Johnson & Johnson's chief scientific officer, to see whether or not these results will prove to have the same protective effect on humans. Johnson & Johnson plans to test the vaccine on 1,000 healthy individuals ranging in age from 18 to 55 years and 65 years and older. Their aiming to enter Phase 3 testing giving a single-shot to a greater portion of the population beginning in mid-September, while also studying the effectiveness of a two-shot COVID-19 vaccine.
But, this isn't the only study going on! It is one of over 30 human trials for a COVID-19 vaccine across the globe. Two days prior to when Johnson & Johnson's study was published, a comparable study from Moderna Inc. and the National Institutes of Health (NIH) was published. However, their vaccines function in battling COVID-19 differently. Moderna's vaccine candidate sends genetic messenger RNA into cells, which results in the creation of a coronavirus spike protein, which is hypothesized to initiate the body's immune response. Moderna Inc. is expected to begin Phase 3 trials during this first week of August. On the other hand, Johnson & Johnson's vaccine candidate uses a modified version of a common cold virus, adenovirus type 26, to bring the coronavirus spike protein into the body to initiate an immune response.
Plus, scientists are also enthusiastic about Novavax's vaccine candidate in Maryland. In one study, the company found that their vaccine provided protection against coronavirus infections in monkeys. In addition, another study found that 56 volunteer participants had antibodies against the virus and did not have any dangerous side effects. As Novavax continues with Phase 1 trials, they hope to produce 100 million doses of the vaccine by the start of 2021 if the vaccine is proven to be safe and effective.
This pandemic has impacted us all, but our community is indeed all stronger together. Our team at WDG always has your safety and health as our top priority, and we have implemented additional safety measures and equipment to help prevent the transmission of all infections, including COVID-19. Wellesley Dental Group has completely reopened since June 8th, 2020 for all dental procedures and cleanings! Thank you for entrusting your health and dental care to us at Wellesley Dental Group.
Feel free to contact Drs. Ali & Ali and the caring team at Wellesley Dental Group if you have any thoughts or concerns; they will be happy to answer your questions! Contact us today at 781-237-9071 or smile@wellesleydentalgroup.com to set up an appointment.
Your little ones and teens are welcome to visit our pediatric dentist, Dr. Derek, and Dr. Emad is happy to help with your TMJ and orthodontic needs. For wisdom teeth extractions or any other oral surgery needs, Dr. Stephens would love to help, and our gum-specialist Dr. Singh can help with your gum-related concerns.
References:
https://decisionsindentistry.com/2020/07/jj-begins-human-trials-of-its-one-dose-covid-19-vaccine/?inf_contact_key=4c127a488872b6b59f88388fe4b5590e7e470d92b8b75168d98a0b8cac0e9c09
https://www.nytimes.com/2020/07/30/health/covid-19-vaccine-monkeys.html
https://www.cdc.gov/coronavirus/2019-ncov/prevent-getting-sick/prevention.html
https://www.worldometers.info/coronavirus/
https://www.reuters.com/article/us-health-coronavirus-who-development/astrazeneca-moderna-ahead-in-covid-19-vaccine-race-who-idUSKBN23X1WA
https://www.nytimes.com/2020/08/04/health/covid-19-vaccine-novavax.html
https://images.theconversation.com/files/341551/original/file-20200612-153812-ws3rqu.jpg?ixlib=rb-1.1.0&q=45&auto=format&w=754&fit=clip