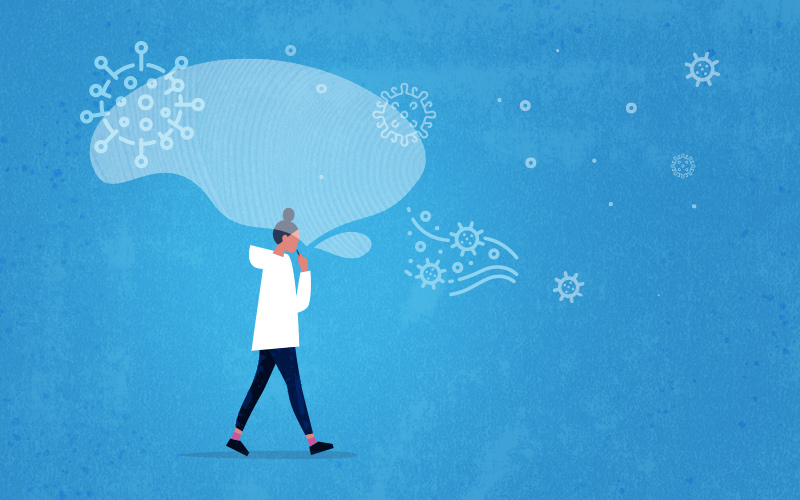 We have all been impacted in some way by the COVID-19 pandemic, which makes us all in this fight together. Even though the virus still persists, great strides and global participation in social distancing, wearing face coverings, and following safety protocols are helping to stop the spread of the coronavirus. Scientists and researchers across the world are continuously uncovering important research and highlighting factors that increase the risk of battling coronavirus. From the beginning of the pandemic, the Centers for Disease Control and Prevention (CDC) has emphasized, based on research and clinical expertise, that individuals with weakened immune systems, including older adults, and those with underlying medical conditions (examples: lung disease, heart disease, diabetes, kidney disease, and hypertension, just to name a few) are at an increased risk of severe COVID-19 illness. More recently a new study, published in the Journal of Adolescent Health and conducted by researchers at Stanford University School of Medicine, suggests teens and young adults who vape or smoke cigarettes are at an increased risk of COVID-19 infection.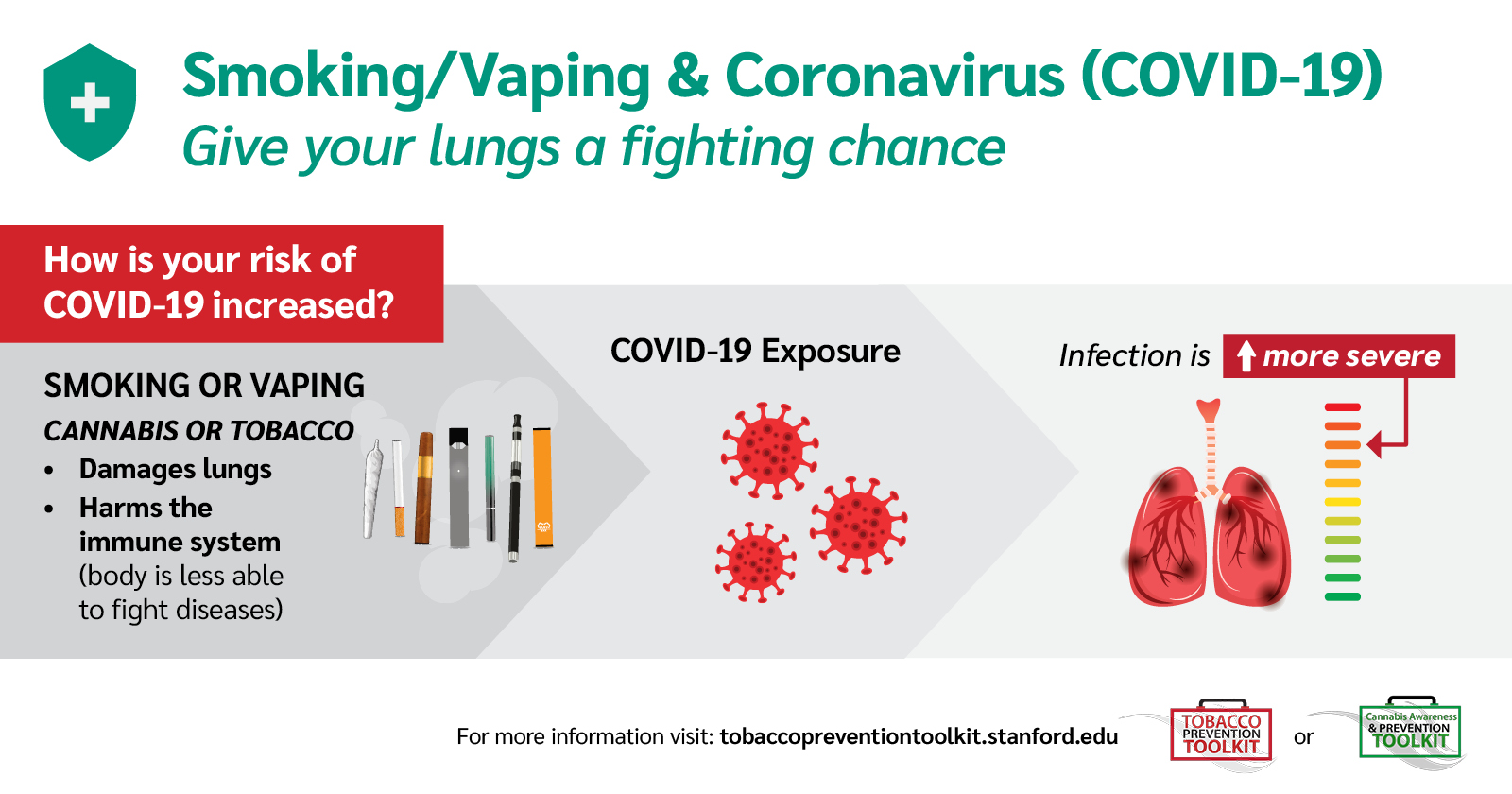 Along with the COVID-19 pandemic (currently 29,182,627 worldwide cases and a disheartening 928,281 deaths reported), the devastating health crisis in many young adults: tobacco and electronic cigarettes (e-cigarettes)/vaping product use, has still been an extensive public health issue across the nation. Back on September 24, 2019, the Governor of Massachusetts, Charles D. Baker, declared e-cigarette use a public health emergency following the significant link between e-cigarette products and severe lung disease leading to many deaths across the United States. Unfortunately, e-cigarettes have routinely been marketed as "safer" alternatives to cigarette smoking, although in reality they carry many of the same risks as well as new risks. The inhaled liquids are often composed of nicotine, tetrahydrocannabinol (THC) and cannabinoid (CBD) oils, along with other substances. Each product, however, can have a variation of other ingredients and concentrations, which may be toxic to the body.
The study, entitled, Association Between Youth Smoking, Electronic Cigarette Use, and Coronavirus Disease 2019, consisted of an online survey conducted in May completed by 4,351 individuals across the United States ranging in age from 13 to 24 years old. The study participants were asked if they had ever used vaping products or cigarettes, and if they had vaped or smoked in the past 30 days. The participants were then divided between those who used nicotine products in comparison to those who reported never using nicotine products. The groups were asked if they had experienced COVID-19 symptoms, received a test for COVID-19, or tested positive for the virus. Taking into consideration reported medical conditions and sociodemographic factors, the researchers found that individuals who used both cigarettes and e-cigarettes in the last 30 days were approximately 5 times more likely to experience COVID-19 symptoms than those who never used nicotine products. Of the individuals who received a COVID test, those who had used e-cigarettes were 5 times more likely to be diagnosed with COVID-19 than those who never vaped. Plus, individuals who used both e-cigarettes and regular cigarettes within the last 30 days were approximately 7 times more likely to test positive for COVID-19. The study authors believe that the link between nicotine products and lung damage is thought to be the reason behind the resulting increased risk of coronavirus infection. "This study tells us pretty clearly that youth who are using vapes or are dual-using are at elevated risk, and it's not just a small increase in risk, it's a big one," Dr. Shivani Mathur Gaiha, one of the study's authors, warned.
Knowing the dangers about vaping and cigarette smoking is key. The Massachusetts Tobacco Cessation and Prevention Program offers information and resources that can help individuals quit. Also, check out a list of resources and other helpful information on our WDG blog here.
This pandemic has impacted us all, but our community is indeed all stronger together. Our team at WDG always has your safety and health as our top priority, and we have implemented additional safety measures and equipment to help prevent the transmission of all infections, including COVID-19. Wellesley Dental Group has completely reopened since June 8th, 2020 for all dental procedures and cleanings! Thank you for entrusting your health and dental care to us at Wellesley Dental Group.
Feel free to contact Drs. Ali & Ali and the caring team at Wellesley Dental Group if you have any thoughts or concerns; they will be happy to answer your questions! Contact us today at 781-237-9071 or smile@wellesleydentalgroup.com to set up an appointment.
Your little ones and teens are welcome to visit our pediatric dentist, Dr. Derek, and Dr. Emad is happy to help with your TMJ and orthodontic needs. For wisdom teeth extractions or any other oral surgery needs, Dr. Stephens would love to help, and our gum-specialist Dr. Singh can help with your gum-related concerns.
References:
https://decisionsindentistry.com/2020/08/vaping-raise-risk-covid-among-teenagers-young-adults/
http://med.stanford.edu/news/all-news/2020/08/vaping-linked-to-covid-19-risk-in-teens-and-young-adults.html
https://www.news-medical.net/news/20200811/Smoking-and-vaping-significantly-increase-risk-of-COVID-19-in-teens-and-young-adults.aspx
https://www.tecc.org/tobacco-and-covid-19/
https://discoveries.childrenshospital.org/vaping-and-covid-19/