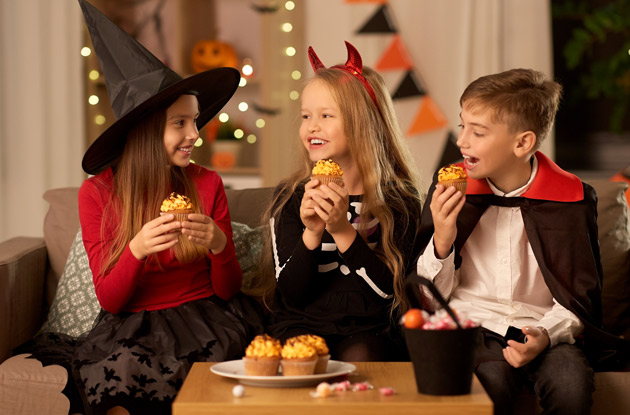 As pumpkin spice, reddish-orange leaves, and cool air highlight the season of fall, we also prepare for spooky Halloween festivities. Although Halloween will be celebrated differently this year as we all do our part to stop the spread of COVID-19, that doesn't need to put a damper on your spirit! Check out these helpful tricks for how to safely celebrate Halloween this year.
We also need to be cautious about the sweet treats that deliciously mark this annual occasion. Unfortunately, the sweet treats can be a not-so-sweet trick to the health of your teeth! This is the perfect time to continue to reinforce good dental hygiene habits as the sugary candies begin to pile up. Here are a few tips on how to help keep minimize your risk of developing dental cavities (tooth decay):
If you plan to give out goodie bags with treats this year, try to avoid purchasing candies that are sour, which can be highly acidic and tend to break down tooth enamel, as well as sticky candies like caramel, gummy worms, or jelly beans that stick to the surfaces of teeth for long amounts of time. It is also best to avoid hard candies that can potentially lead to tooth enamel fracture or choking hazards for young children. Instead, opt for healthier tooth-friendly treats such as granola bars or dark chocolate, for instance.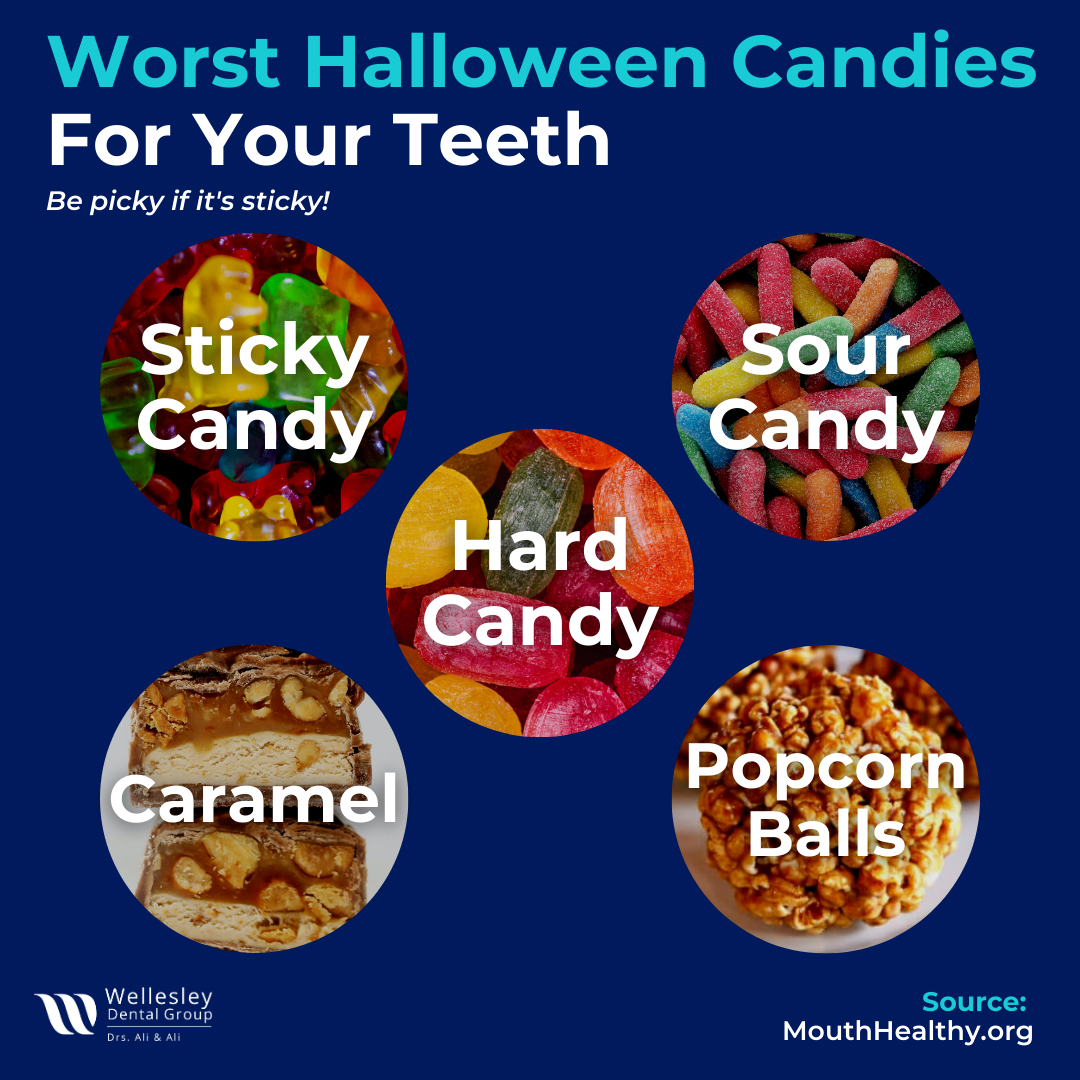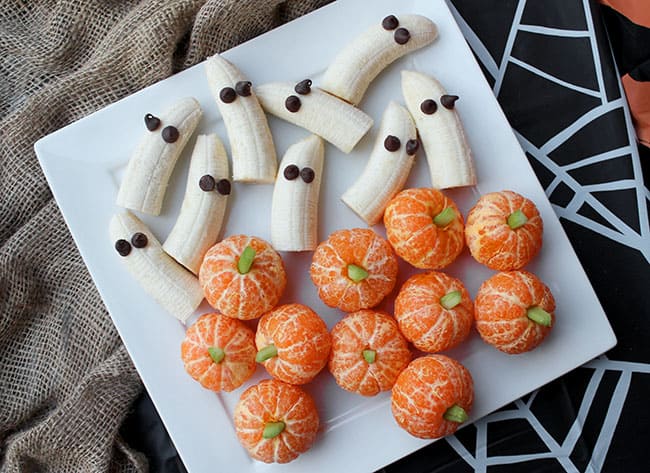 Sort through any candy received:
Along with frequent hand-washing and disinfecting received items, it is important to check that there are no dangerous items within your child's Halloween stash. This is also a great opportunity to explain to your child which candies are best to avoid as mentioned above, and encourage healthier options.
Create a plan ahead of time:
Come up with a plan for Halloween to discuss with your family, including information about the importance of oral health and how their diet can impact the health of their teeth. Although it might be your child's priority to collect large amounts of candy to consume during Halloween, their teeth will be what bears the consequence. It may be good to set a specific time when the Halloween treats can be eaten to help monitor how much and how frequently the sugar is being consumed. Remember, having things in moderation is key! An interesting point to note is that the frequency of consuming sugary foods and beverages matters. Each time you consume fermentable carbohydrates, the pH in your mouth drops as oral bacteria turn the sugar to acid, and thus makes the oral environment more acidic. If the pH drops below the critical pH of dental enamel (pH=5.5), this will lead to demineralization and the breakdown of the tooth enamel. So, be sure to let your child know that the amount of sugar and the frequency of sugar intake plays a role on the health of your teeth.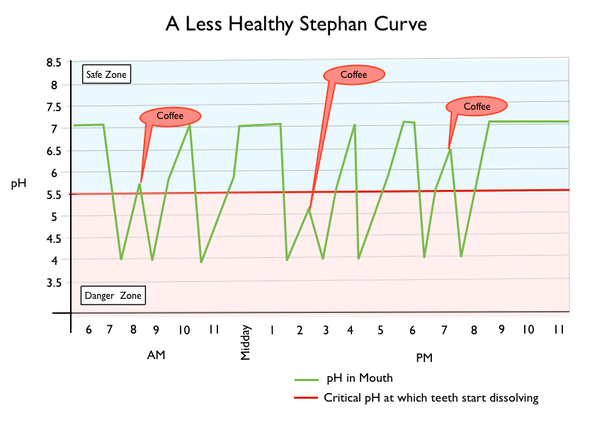 After satisfying your sweet tooth with Halloween treats, be sure to brush and floss.
Not to mention, every year around Halloween, WDG passionately gears up for our annual Candy Drive, which gets bigger and better each year all thanks to our lovely community! This year, out of an abundance of caution, we have decided to cancel the 13th Annual Candy Drive. Our utmost priority as healthcare professionals is to keep our community safe and healthy, and we want to minimize any risk of transmission of COVID-19. But, the celebration and spirit of giving will not stop, as we have launched our Healthcare Heroes Appreciation Drive. Check here for details and see how you can get involved.
This pandemic has impacted us all, but our community is indeed all stronger together. Our team at WDG always has your safety and health as our top priority, and we have implemented additional safety measures and equipment to help prevent the transmission of all infections, including COVID-19. Wellesley Dental Group has completely reopened since June 8th, 2020 for all dental procedures and cleanings! Thank you for entrusting your health and dental care to us at Wellesley Dental Group.
Feel free to contact Drs. Ali & Ali and the caring team at Wellesley Dental Group if you have any thoughts or concerns; they will be happy to answer your questions! Contact us today at 781-237-9071 or smile@wellesleydentalgroup.com to set up an appointment.
Your little ones and teens are welcome to visit our pediatric dentist, Dr. Derek, and Dr. Emad is happy to help with your TMJ and orthodontic needs. For wisdom teeth extractions or any other oral surgery needs, Dr. Stephens would love to help, and our gum-specialist Dr. Singh can help with your gum-related concerns.
References:
https://amp.colgate.com/en-us/oral-health/conditions/cavities/how-to-prevent-cavities-from-halloween-candy-1013
https://www.webmd.com/oral-health/features/5-tricks-for-dealing-with-halloween-treats#1
https://www.nymetroparents.com/columnpic2/halloween-themed-recipes-for-kids.jpg?clear=1
https://www.google.com/url?sa=i&url=https%3A%2F%2Fwww.quora.com%2FWhat-is-the-Stephan-curve-in-dentistry&psig=AOvVaw16rt8napAYukKoiATxapbZ&ust=1602817587209000&source=images&cd=vfe&ved=0CAIQjRxqFwoTCLj37vrOtewCFQAAAAAdAAAAABAK
https://www.google.com/url?sa=i&url=https%3A%2F%2Fwww.sandytoesandpopsicles.com%2Fcelebrate%2Fhalloween%2Fparty-ideas-appetizers-dinner-desserts-printable-spookysnacks%2F&psig=AOvVaw28XEIEOrV1Da_ibHLAamUl&ust=1602817849822000&source=images&cd=vfe&ved=0CAIQjRxqFwoTCNihifzPtewCFQAAAAAdAAAAABAN