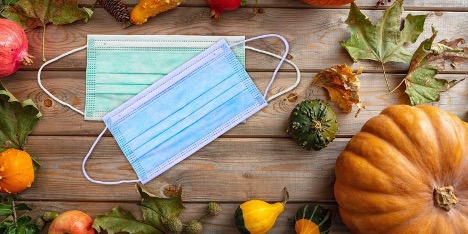 We've all had to make many sacrifices and adjust to a lot of change as we continue fighting through the 2020 COVID-19 pandemic. Much like all of the other holidays this year, Thanksgiving will be celebrated uniquely. For many families, Thanksgiving is marked by being surrounded by family and friends with lots of tasty food. Thanksgiving gatherings often involve families and loved ones, including parents, grandparents, friends, children, and college students traveling long distances to come together, but the Centers for Disease Control and Prevention (CDC) warns that travel greatly increases the risk of contracting and spreading COVID-19. It's undeniable that individuals are starting to feel "pandemic fatigue," as several months have passed since the onset of COVID-19. But health professionals and experts are cautioning individuals to be mindful and not relax on safety practices when it comes to the holidays. Coronavirus is still steadily increasing, with more than 1 million COVID-19 cases reported in the United States over the last week, according to the CDC. According to the Washington Post, Michelle DallaPiazza, an infectious diseases specialist at Rutgers New Jersey Medical School stated, "There is a real danger in complacency, and we are seeing the effects of that play out in real time…Across the country, we have begun to see another increase in infections and deaths after a period of time with low transmission."
Health experts are encouraging individuals to stay home to protect yourself and others. If you are considering traveling and/or gathering for Thanksgiving, it is important to understand the risks involved and follow safe preventative guidelines when celebrating:
Traveling Safety Precautions:
If you are considering traveling for Thanksgiving, the CDC recommends asking these questions before making your decision to travel. Keep these safety guidelines in mind when traveling:

If You Are Sick, Stay Home
If you are experiencing symptoms or do not feel well stay at home and do not gather with others.
Wash Your Hands Frequently
It's important to regularly and thoroughly wash your hands. Hand washing should last at least 20 seconds. When unable to wash your hands with soap and water, use hand sanitizer with at least 60% alcohol content.
Wear your Mask
Be sure to wear your mask, only removing when eating and drinking. Keep your mask over your nose and mouth and ensure that it is tightly secured under your chin and against the sides of your face.
Keep it Small
Do your best to only be around a limited amount of people. If possible, plan for gatherings that only include people who live in the same house. If attending another household, to make the celebration safer bring your own food, drinks, plates, cups, and utensils.
Social Distance
Maintain social distancing guidelines of staying at least 6 feet apart (about two arm lengths apart) from individuals who do not live in the same household as you.
Celebrate Virtually
Try a virtual Thanksgiving dinner via FaceTime, Zoom, Skype, WhatsApp, or other social media platforms with your loved ones. You can share screens and watch television, sports, or play fun games!
The CDC classifies holiday activities into the following categories: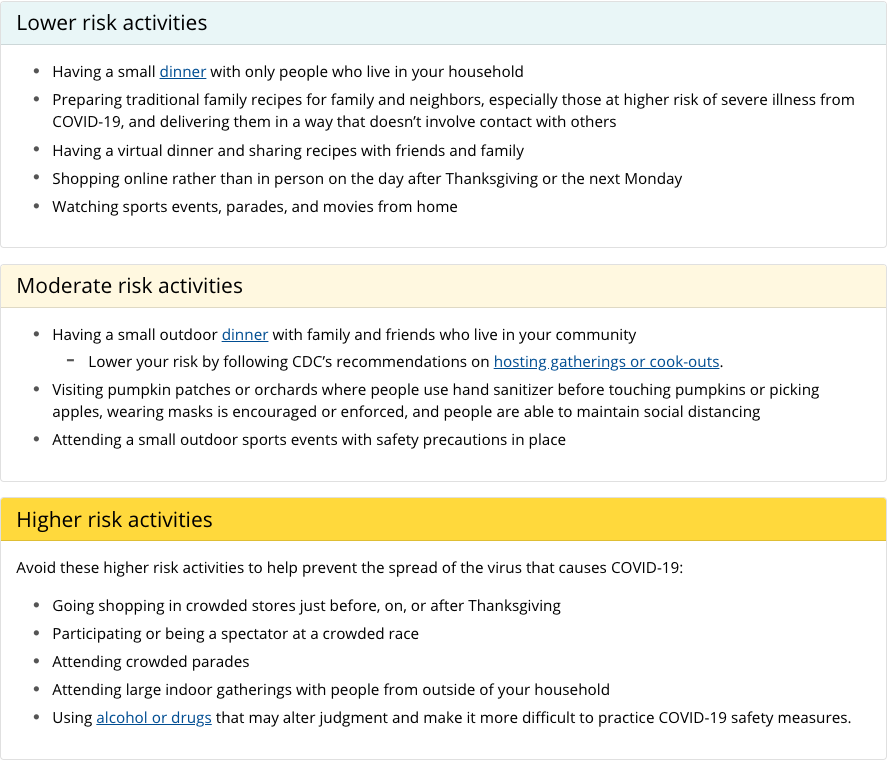 We wish you all a safe and happy Thanksgiving!
This pandemic has impacted us all, but our community is indeed all stronger together. Our team at WDG always has your safety and health as our top priority, and we have implemented additional safety measures and equipment to help prevent the transmission of all infections, including COVID-19. Wellesley Dental Group has completely reopened since June 8th, 2020 for all dental procedures and cleanings! Thank you for entrusting your health and dental care to us at Wellesley Dental Group.
Feel free to contact Drs. Ali & Ali and the caring team at Wellesley Dental Group if you have any thoughts or concerns; they will be happy to answer your questions! Contact us today at 781-237-9071 or smile@wellesleydentalgroup.com to set up an appointment.
Your little ones and teens are welcome to visit our pediatric dentist, Dr. Derek, and Dr. Emad is happy to help with your TMJ and orthodontic needs. For wisdom teeth extractions or any other oral surgery needs, Dr. Stephens would love to help, and our gum-specialist Dr. Singh can help with your gum-related concerns.
References:
https://www.washingtonpost.com/health/holiday-coronavirus-family-gatherings/2020/10/30/3b938d48-14aa-11eb-bc10-40b25382f1be_story.html
https://www.cdc.gov/coronavirus/2019-ncov/daily-life-coping/holidays.html
https://www.cdc.gov/coronavirus/2019-ncov/daily-life-coping/holidays/thanksgiving.html
https://www.bassettcreekdental.com/news/2020/11/planning-safe-thanksgiving