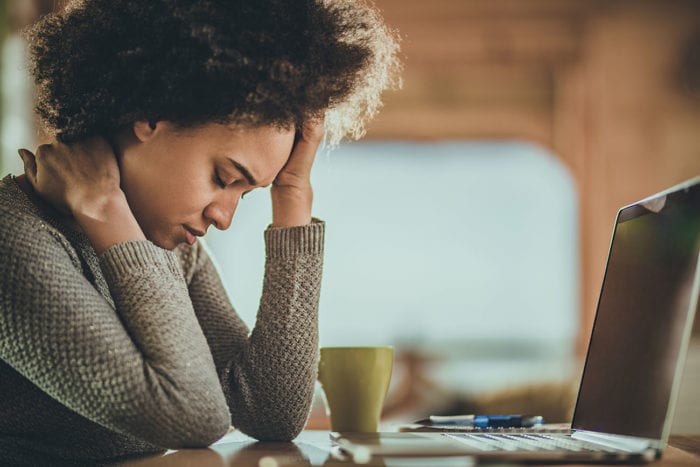 Have you noticed an increase in your stress levels lately? The COVID-19 pandemic has unexpectedly had an undeniable impact on our lives in many ways. With many lives lost, financial hardships, isolation, and continued uncertainty, health care professionals, especially dentists, are noticing an increase in stress-related health issues.
Many have had to adapt to different work, home, and school environments, become used to digital technology, and add new precautionary practices to daily life routines like wearing a mask and practicing social distancing. The American Psychological Association (APA) warns that over time, the negative mental health effects of the coronavirus pandemic can be serious and long-lasting.
Not much has changed in terms of practicing universal precautions for all patients of dental professionals, as these practices were implemented at the peak of the AIDS crisis in the 1980's. Due to these safe practices and use of personal protective equipment, epidemiologists and the American Dental Association (ADA) have reported that there are no cases of COVID-19 outbreaks associated to any dental offices in the United States!
According to the ADA Health Policy Institute's COVID-19 impact poll to dentists in the United States, dentists are seeing an increase in stress-related oral health conditions in patients since the start of the coronavirus pandemic. Approximately 59.4% of the participating dentists reported increases in the prevalence of tooth grinding (bruxism), 53.4% chipped and cracked teeth, and 53.4% temporomandibular disorder symptoms among their patients. Plus, approximately 26.4% documented an increase in tooth decay (caries), and 29.7% reported an increase in periodontal disease. As of the week of Sept. 21, greater than 99% of dental offices in the United States were open according to the American Dental Association (ADA).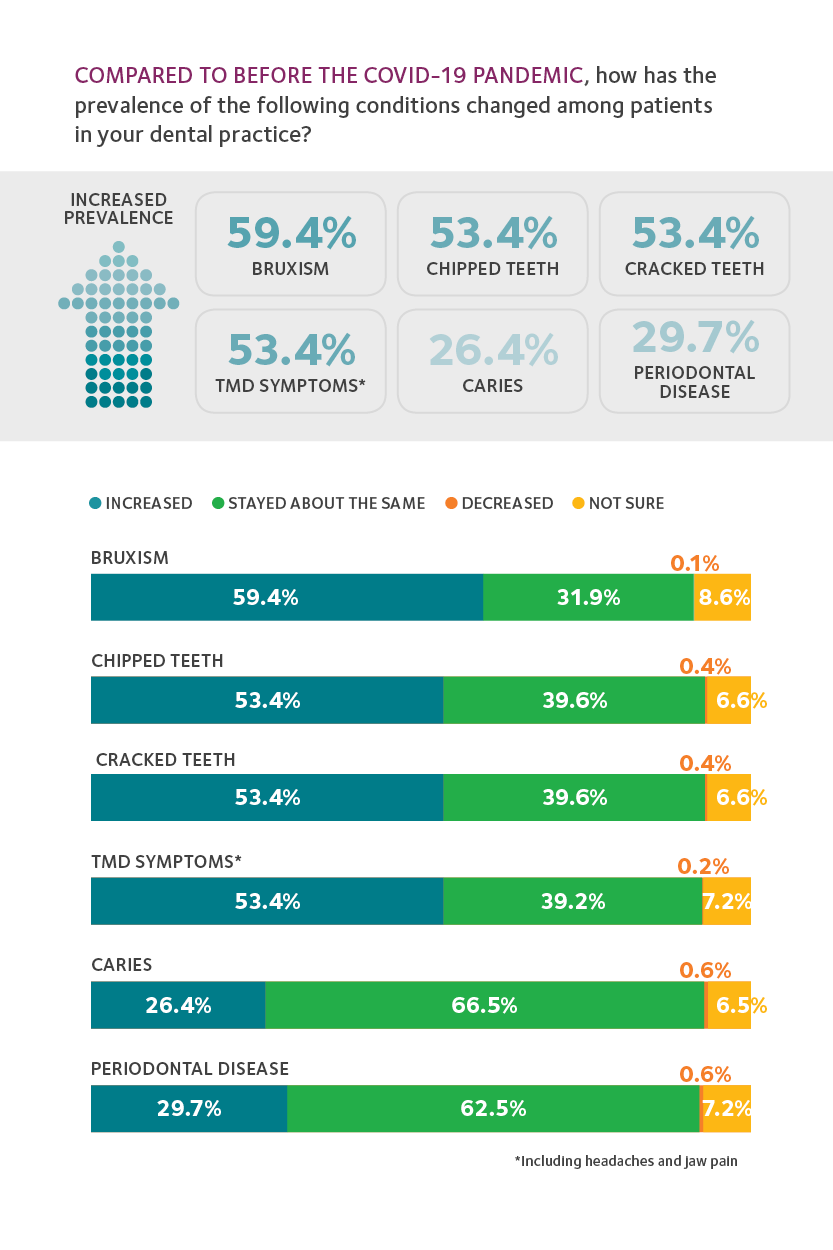 The overall health and safety of patients remains our #1 priority. It's important to acknowledge any stress you may feel, know how to cope with stress, and where to turn for help if needed so that you can continue to care for yourself and remain healthy. Along with practicing social distancing, wearing face masks, and frequent hand-washing, it is equally important to manage stress and anxiety during these challenging times. Prolonged stress and anxiety can play a significant role on the health of your overall body, including increasing heart rate and blood pressure, issues with digestion, teeth grinding, headaches, trouble sleeping, mental health disturbances, and inability to focus, just to name a few issues.
Take a look at some tips to stay mentally and physically healthy during these troubling times:
Stay in the loop with current events:
Stay up to date with research and reports from the Centers for Disease Control and Prevention (CDC) and the World Health Organization (WHO) on COVID-19 statistics and prevention resources. Being in-the-know can help keep you and your loved ones calm and prepared.
Take breaks:
Although it's important to be aware of what's going on globally, allow yourself some time to disconnect from too much negative news and social media. It is also necessary to get adequate rest.
Stay physically active:
A great way to reduce stress is to increase your physical activity. While following safety precautions, take walks, jog, bike ride, meditate, or do the activities that normally make you happy! It is also important to eat well and make sure that you are getting proper nutrition and fluids to keep your body and immune system healthy.
Avoid negative habits:
Sometimes stress can lead to negative coping behavioral habits such as use of alcohol and tobacco.  If you or a loved one are struggling with alcoholism, know that this is not a fight that has to be done alone. For help with alcohol addiction, please check out these resources with 24/7 availability. For individuals struggling with tobacco use, the Massachusetts Tobacco Cessation and Prevention Program offers information and resources that can help individuals quit. Also, check out a list of resources and other helpful information on our WDG blog here.
This pandemic has impacted us all, but our community is indeed all stronger together. Our team at WDG always has your safety and health as our top priority, and we have implemented additional safety measures and equipment to help prevent the transmission of all infections, including COVID-19. Wellesley Dental Group has completely reopened since June 8th, 2020 for all dental procedures and cleanings! Thank you for entrusting your health and dental care to us at Wellesley Dental Group.
Feel free to contact Drs. Ali & Ali and the caring team at Wellesley Dental Group if you have any thoughts or concerns; they will be happy to answer your questions! Contact us today at 781-237-9071 or smile@wellesleydentalgroup.com to set up an appointment.
Your little ones and teens are welcome to visit our pediatric dentist, Dr. Derek, and Dr. Emad is happy to help with your TMJ and orthodontic needs. For wisdom teeth extractions or any other oral surgery needs, Dr. Stephens would love to help, and our gum-specialist Dr. Singh can help with your gum-related concerns.
References:
https://www.dentistryiq.com/covid-19/article/14184297/dentist-takes-holistic-approach-with-patients-who-grind-teeth-due-to-covidrelated-stress?utm_source=DEC_DIQ+Morning+Briefing&utm_medium=email&utm_campaign=CPS201002009&o_eid=3760I9143045C2X&rdx.ident%5Bpull%5D=omeda%7C3760I9143045C2X&oly_enc_id=3760I9143045C2X
https://www.ada.org/en/publications/ada-news/2020-archive/september/hpi-poll-dentists-see-increase-in-patients-stress-related-oral-health-conditions
https://success.ada.org/en/practice-management/dental-practice-success/dps-summer-2020/strategies-for-dealing-with-stress-during-the-pandemic
https://www.google.com/url?sa=i&url=https%3A%2F%2Fwww.myannapolisdentist.com%2F2020%2F03%2F25%2Fcovid-19-and-maintaining-oral-health%2F&psig=AOvVaw15O7NhSbT2tavg0RhOC8y5&ust=1606148746593000&source=images&cd=vfe&ved=0CAIQjRxqFwoTCMCrosXIlu0CFQAAAAAdAAAAABAQ