August 10th, 2021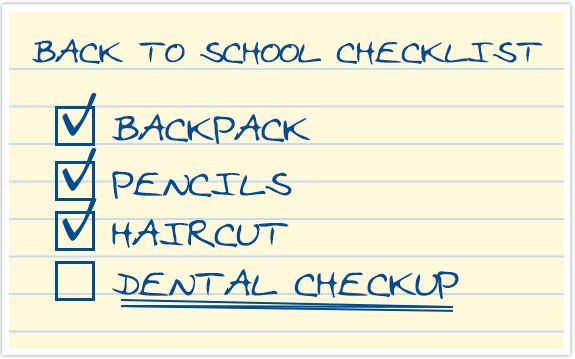 As we prepare to get back into the swing of things, getting your child ready for school can add a lot to your to-do list. Need a new backpack? Check. Pencils and notebooks? Check. Dental check-up and cleaning? Be sure to check this off your list too! Dental check-ups are necessary for all individuals, regardless of age.
Heading back to school is the perfect time to have your child visit the dentist to ensure that they are healthy and less at risk of having to miss school due to trips to the dentist to handle cavities or other dental problems! According to the Centers for Disease Control and Prevention (CDC), tooth decay (cavities) are the most common chronic disease of school-aged children (ages 6 to 11 years and adolescents aged 12 to 19 years). Tooth decay is even more common than asthma in these age groups! In addition, tooth decay is also a prominent issue in adults, with 9 out of 10 individuals over 20 years old being impacted by tooth decay, according to the CDC. Tooth decay has reportedly caused 51 million school hours to be missed each year. And, don't let the current COVID-19 pandemic prevent you from attending your regular dental check-ups. Dental offices have always followed standard safety protocols, and since the beginning of the pandemic, offices have incorporated new equipment and protocols to strengthen protection against the spread of bacteria and viruses to ensure the safety of all individuals. Check out more information on safety protocols and the low risk of transmission of COVID-19 at dental offices, here.
Luckily, tooth decay can be prevented, and treatment can be more effective and less costly when caught early. Save the trouble of tooth pain, difficulty eating, and missing school and work by attending your regular dental check-ups.
At your child's dental visit, here are some things to prepare for:
At your child's dental exam, the dental professionals will evaluate their bite, perform an oral cancer screening, diagnose any pathology and cavities. Dental x-rays are necessary to help see how your child's teeth are doing and developing. The x-ray's can help detect cavities and depending on when they were last taken, your dentist will inform you if they are needed at the check-up.
Following the exam, the treatment plan and all necessary procedures such as a dental cleaning, and any fillings needed will be discussed. Be sure to ask the dentist how your child's teeth and gums overall are doing. your dental professionals can help show  toothbrushing techniques and recommend different oral products to keep their mouth healthy. Your dentist may recommend dental sealants, which are thin layers of a dental material that is placed on the chewing surfaces of the back permanent teeth. These add some protection against cavities, although they do not replace proper oral health habits like regular brushing and flossing.
If your child is playing a contact sport this year in school, be sure their mouths are protected with mouth-guards. Your dentist can help you learn about the different types of mouth-guards and check its fit for optimum protection.
As your child heads off to begin a new school year, consider starting over with a new toothbrush if theirs looks frayed/worn. Also, start planning healthy and tooth-friendly meals to pack for lunch and stock up on water!
This pandemic has impacted us all, but our community is indeed all stronger together. Our team at WDG always has your safety and health as our top priority, and we have implemented additional safety measures and equipment to help prevent the transmission of all infections, including COVID-19. Wellesley Dental Group has completely reopened since June 8th, 2020 for all dental procedures and cleanings! Thank you for entrusting your health and dental care to us at Wellesley Dental Group.
Feel free to contact Drs. Ali & Ali and the caring team at Wellesley Dental Group if you have any thoughts or concerns; they will be happy to answer your questions! Contact us today at 781-237-9071 or smile@wellesleydentalgroup.com to set up an appointment.
Your little ones and teens are welcome to visit our pediatric dentist, Dr. Bahar Houshman and Dr. Marisa Reason is happy to help with your TMJ and orthodontic needs. For wisdom teeth extractions or any other oral surgery needs, Dr. Reisman would love to help, and our gum-specialist Dr. Singh can help with your gum-related concerns.
References:
https://www.mouthhealthy.org/en/babies-and-kids/questions-for-school-dental-exam?utm_source=mouthhealthyorg&utm_medium=mhtopstories&utm_content=backtoschool
https://www.cdc.gov/healthywater/hygiene/disease/dental_caries.html
https://www.mouthhealthy.org/en/babies-and-kids/back-to-school
https://www.google.com/url?sa=i&url=https%3A%2F%2Fwww.revealdental.com%2Fremember-schedule-kids-back-school-dental-visit%2F&psig=AOvVaw1ENDfkP6qdUlcXkvIZ0SfJ&ust=1628618585192000&source=images&cd=vfe&ved=0CAsQjRxqFwoTCLDguZfDpPICFQAAAAAdAAAAABAD