November 11th, 2019

Today marks Veterans Day and we are extremely grateful for all veterans who have served our country.
November 11, 1918 is the anniversary of the signing of the Armistice, which was the agreement to end World War I. There is a lot going on today which you and your family can join in celebration for! Checkout the cool events happening today.
Not to mention, we are so thankful for all of your donations and participation at our 12th Annual Candy Drive for the Troops, which was even bigger and better than ever before! The thousands of pounds of candy, tons of thoughtful messages, and oral hygiene kits were donated to our U.S. troops overseas.
There's not just one, but two parades happening in Boston! These parades will include walking around historical places including City Hall Plaza, Boston Common, and Faneuil Hall where there will be a lot of live music, poetry, and speeches in honor of Veteran's Day.
[caption id="attachment_12793" align="alignnone" width="825"]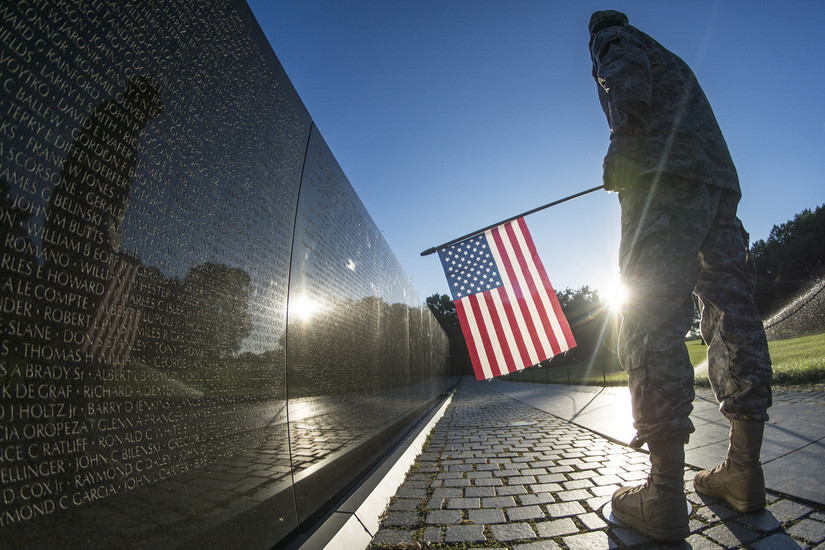 A U.S. Army Reserve soldier reads some of the 58,307 names etched into "The Wall" of the Vietnam Veterans Memorial in Washington, D.C. as the sun rises July 22, 2015. (U.S. Army photo by Sgt. Ken Scar)[/caption]
Location:
Boylston Street and Charles Street
Boston, MA 02116
The second parade, Parade and Rally for Peace,
will occur shortly following the start of the first parade and follow the same route ending at Faneuil Hall where an event organized by the organization Veterans for Peace will take place around 2pm. The meet up is at the same location, Boylston street and Charles street.
Veterans Day Shopping Sales
Both Wrentham Village and Assembly Row offer military discounts for both active and retired veterans at several stores, with sales that typically include from 30% to 70% off the already discounted prices.
Volunteer Opportunity with New England Center for Homeless Veterans
Looking for a chance to honor and give back to Veterans? The New England Center for Homeless Veterans are in need of volunteers each day to serve lunch and dinner, along with helping with activities. Volunteer slots include volunteering for either an hour, or full-day, for one time visit or as a regular volunteer.
Volunteers can register at 617-371-1800, or register online.
Weekdays
Lunch: 11:30am – 12:45pm
Dinner: 4:30pm – 5:45pm
Weekends
Breakfast: 7:30am – 9:30am
Dinner: 4:00pm – 5:00pm
Location:
New England Center and Home for Veterans
17 Court Street, Boston MA 02108
Veterans Specials at Boston Restaurants
Looking for a good meal on Veteran's Day? If you're a veteran or on active duty there are several restaurants around Boston that are offering discounted or even free meals!
McCormick & Schmick's:
Veterans are offered a complimentary lunch or dinner entree from a special menu with a reservations: http://www.mccormickandschmicks.com/featured-promotion/Veterans-Day.aspx
Blue Ribbon BBQ:
Arlington, Dedham, and West Newton locations are offering a free sandwich with 2 sides to all veterans and first responders on Veteran's Day: http://www.blueribbonbbq.com/about.aspx
Bruegger's Bagels:
Free small drip coffee for veterans and active duty military with ID/proof of service.
Dunkin' Donuts:
Free doughnut for all veterans and active duty military on Veterans Day.
Bar Louie:
Free flatbread or burger for Veterans on Veterans Day.
Feel free to contact Drs. Ali & Ali and the caring team at Wellesley Dental Group if you have any thoughts or concerns; they will be happy to answer your questions! Contact us today at 781-237-9071 or smile@wellesleydentalgroup.com to set up an appointment.
Your little ones and teens are welcome to visit our pediatric dentist, Dr. Derek, and Dr. Emad is happy to help with your TMJ and orthodontic needs. For wisdom teeth extractions or any other oral surgery needs, Dr. Stephens would love to help, and our gum-specialist Dr. Singh can help with your gum-related concerns.
References:
https://www.boston-discovery-guide.com/veterans-day.html