May 6th, 2020

One way to support your child in learning about oral health and care is through storybooks. Storybooks can be the perfect read to prepare your child before a dental visit or to enforce healthy oral habits. Below are some of our top picks!
From Mercer Mayer's classic Little Critter series, this heartwarming book is filled with plenty of humor and will help ease any worries about upcoming dental visits. In this book, Little Critter goes to the dentist for a check-up, takes a few x-rays, and even gets a filling for a cavity.
The Tooth Book provides oral care advice as well as some fun facts, history, and lore. The book helps answer a range of questions including what to do if you have lost a tooth, what to expect at dental visits, and how to floss. This book was recently named a Bank Street Best Children's Book of the Year.
Written by dentist Dr. Ben Magelby, Sugarbug Doug helps children visualize how bacteria can cause cavities. With plenty of glowing reviews, this book teaches children about healthy eating habits and how to protect their teeth from sugarbugs! 
For a child who loves to learn about science, The Magic School Bus and the Missing Tooth provides a fun adventure. Young readers can follow Ms. Frizzle and her magic school bus as they explore the inside of a human mouth and learn all about different types of teeth and what they do.
Children can read about the mouse dentist, Dr. De Soto, as he and his dental assistant treat a variety of animals with tooth pain. Written by William Steig, the author of Shrek, this book is classic and has even received a Newbery Honor.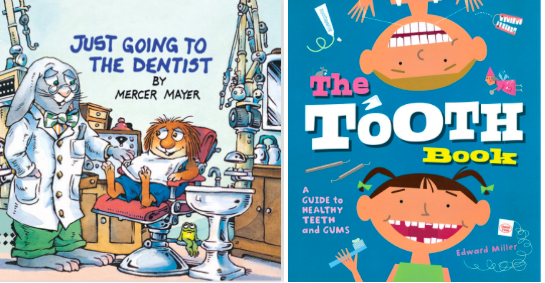 Feel free to contact Drs. Ali & Ali and the caring team at Wellesley Dental Group if you have any thoughts or concerns; they will be happy to answer your questions! Contact us today at 781-237-9071 or smile@wellesleydentalgroup.com to set up an appointment.
Your little ones and teens are welcome to visit our pediatric dentist, Dr. Derek, and Dr. Emad is happy to help with your TMJ and orthodontic needs. For wisdom teeth extractions or any other oral surgery needs, Dr. Stephens would love to help, and our gum-specialist Dr. Singh can help with your gum-related concerns.
References: 
https://www.penguinrandomhouse.com/books/109631/just-going-to-the-dentist-little-critter-by-mercer-mayer/
https://www.scholastic.com/teachers/books/tooth-book-the-by-edward-miller/
https://shop.scholastic.com/parent-ecommerce/books/ 
https://www.scholastic.com/teachers/books/doctor-de-soto-by-william-steig/