October 25th, 2020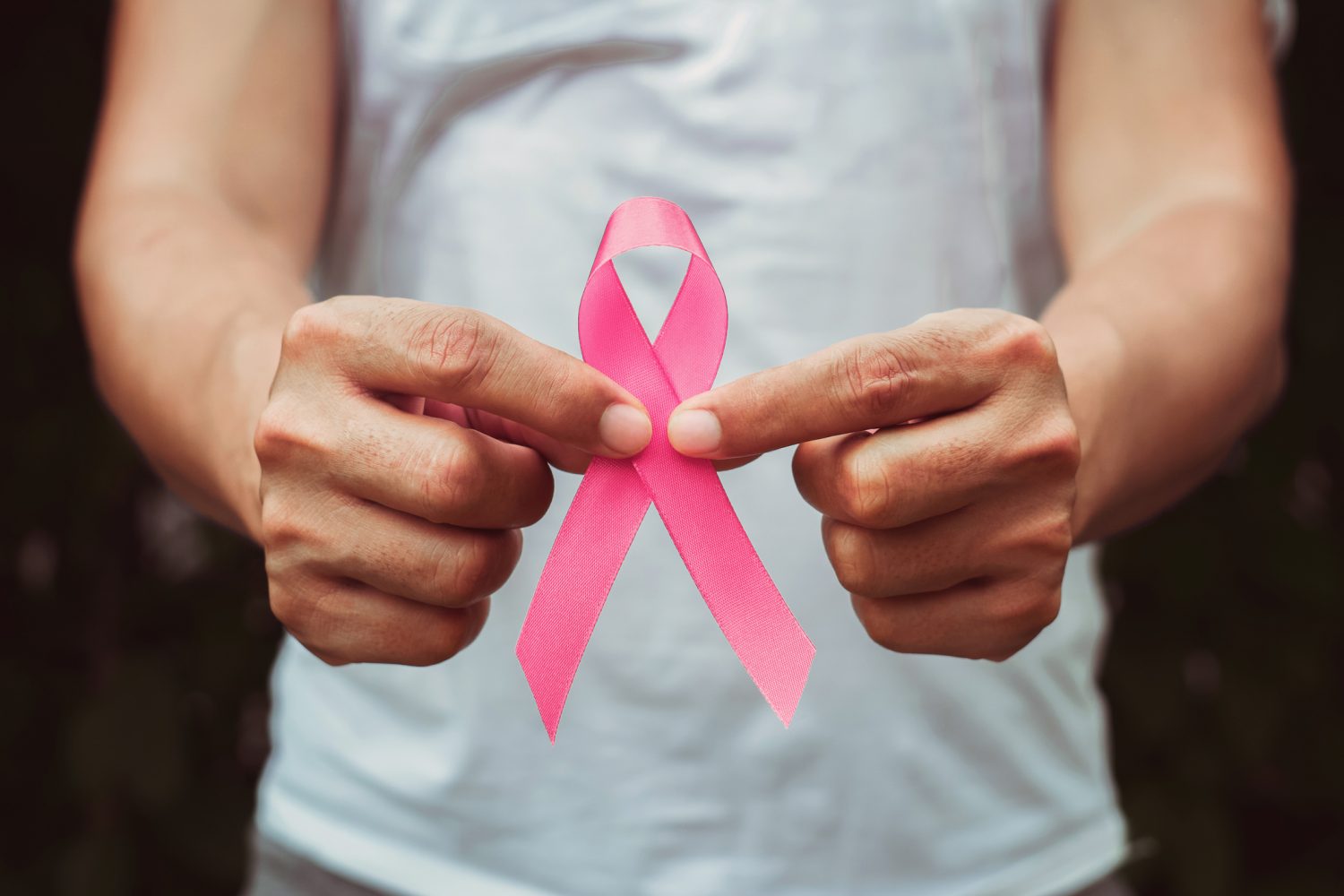 Each October people from all across the world show their support for individuals impacted by breast cancer, as October marks Breast Cancer Awareness Month. The recognizable vibrant shades of pink and pink ribbons represent spreading awareness about breast cancer and the risks, prevention, detection and diagnosis, and treatment of this deadly disease. Approximately 1 in 8 women (about 12%) in the United States will develop invasive breast cancer. But, breast cancer does not only affect women, it can affect men, too. Approximately 2,620 new cases of invasive breast cancer are expected to be diagnosed in men in 2020. About 1 in 883 men will develop breast cancer during their life.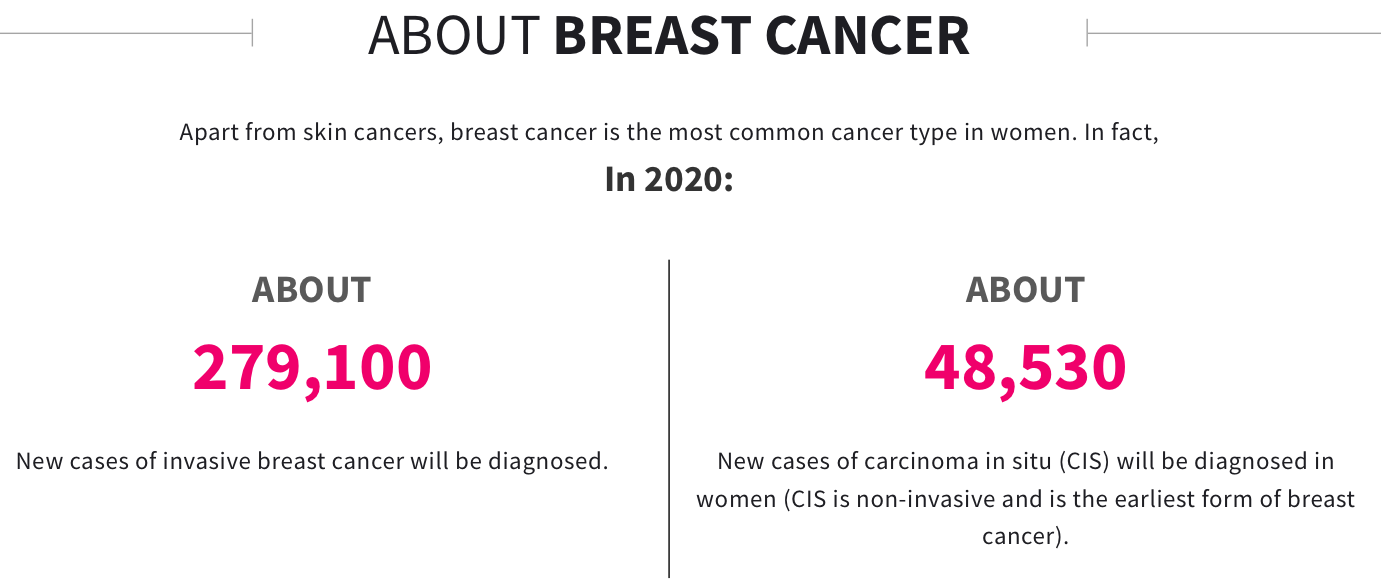 Breast cancer is typically recognized by a tumor seen on an x-ray or felt as a lump, which can be present in different parts of the breast. However, some breast cancers can be present without the common symptom of a lump or mass. According to the American Cancer Society, other possible symptoms of breast cancer can include:
Swelling of all or part of a breast (even if no lump is felt)
Skin dimpling (sometimes looking like an orange peel)
Breast or nipple pain
Nipple retraction (turning inward)
Nipple or breast skin that is red, dry, flaking or thickened
Nipple discharge (other than breast milk)
Swollen lymph nodes (Sometimes a breast cancer can spread to lymph nodes under the arm or around the collar bone and cause a lump or swelling there, even before the original tumor in the breast is large enough to be felt.)
If you experience any of these symptoms it is important to bring it to the attention of a health care professional so the cause can be found. Also, regular mammograms and screening tests for early detection are important, particularly with increasing age. Early detection and diagnosis is key to having a greater chance of successful treatment, and increase the chances of catching breast cancer before potentially spreading into the blood or lymph system to other areas of the body.
Currently there is no solution to preventing breast cancer, however, certain actions have been found to lower the risk including maintaining a healthy body weight, staying physically active, and limiting or avoiding alcohol consumption. In addition, gum disease has been found by several studies to be linked to an increased risk of breast cancer. For instance, one study published in the journal of Community Dentistry and Oral Epidemiology, found that individuals who had periodontitis (severe form of gum disease), were 2-3 times more likely to develop breast cancer. In addition, cancer treatments can impact the oral tissues and result in many oral health complications, which is why dental care is extremely important for individuals undergoing breast cancer treatment. Take a look: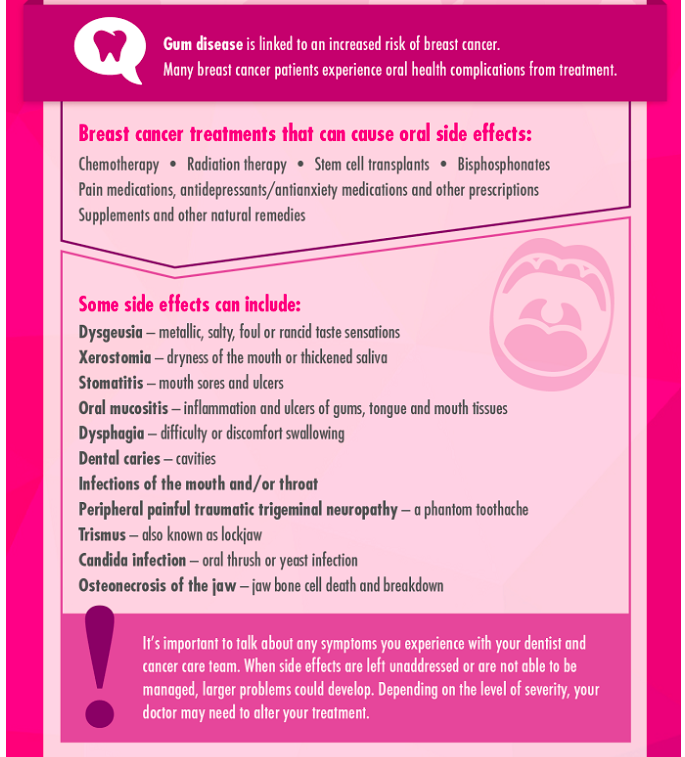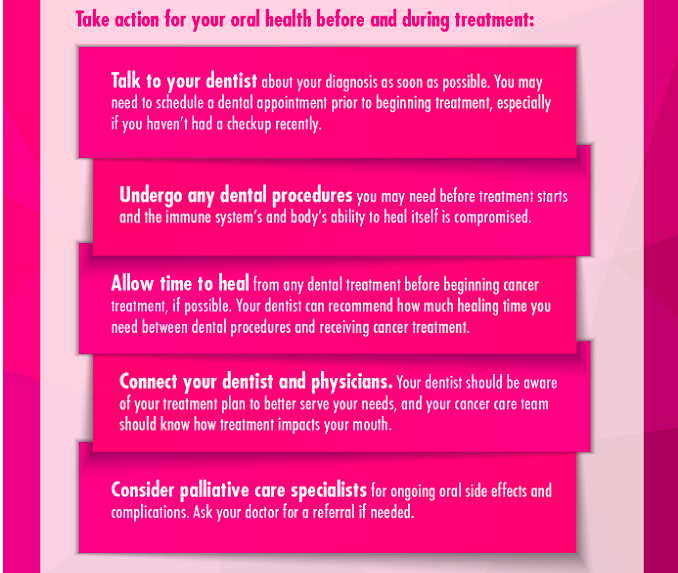 Throughout October, numerous events to bring awareness about breast cancer occur across the globe. Many events sponsored by the American Cancer Society aim to increase breast cancer research to help support finding effective treatments and a cure. Although the activities look somewhat different this year as we battle through the COVID-19 pandemic, the Making Strides Against Breast Cancer movement is continuing to fundraise and unite survivors, caregivers and supporters.
This pandemic has impacted us all, but our community is indeed all stronger together. Our team at WDG always has your safety and health as our top priority, and we have implemented additional safety measures and equipment to help prevent the transmission of all infections, including COVID-19. Wellesley Dental Group has completely reopened since June 8th, 2020 for all dental procedures and cleanings! Thank you for entrusting your health and dental care to us at Wellesley Dental Group.
Feel free to contact Drs. Ali & Ali and the caring team at Wellesley Dental Group if you have any thoughts or concerns; they will be happy to answer your questions! Contact us today at 781-237-9071 or smile@wellesleydentalgroup.com to set up an appointment.
Your little ones and teens are welcome to visit our pediatric dentist, Dr. Derek, and Dr. Emad is happy to help with your TMJ and orthodontic needs. For wisdom teeth extractions or any other oral surgery needs, Dr. Stephens would love to help, and our gum-specialist Dr. Singh can help with your gum-related concerns.
References:
https://secure.acsevents.org/site/SPageServer?pagename=strides_learn
https://www.cancer.org/cancer/breast-cancer/about/what-is-breast-cancer.html
https://www.cancer.org/cancer/breast-cancer/about/breast-cancer-signs-and-symptoms.html
https://www.cancer.org/cancer/breast-cancer/treatment.html
https://www.cancer.org/cancer/breast-cancer/risk-and-prevention/can-i-lower-my-risk.html
https://www.unitedconcordia.com/dental-insurance/dental-health/conditions/breast-cancer/breast-cancer-oral-health/
https://decisionsindentistry.com/article/oral-health-maintenance-for-patients-with-breast-cancer/
https://www.breastcancer.org/symptoms/understand_bc/statistics
https://addisonmagazine.com/2020/10/breast-cancer-awareness-month-3/
https://www.dentalhealth.org/news/breast-cancer-risk-up-to-three-times-higher-in-women-with-gum-disease