October 31st, 2020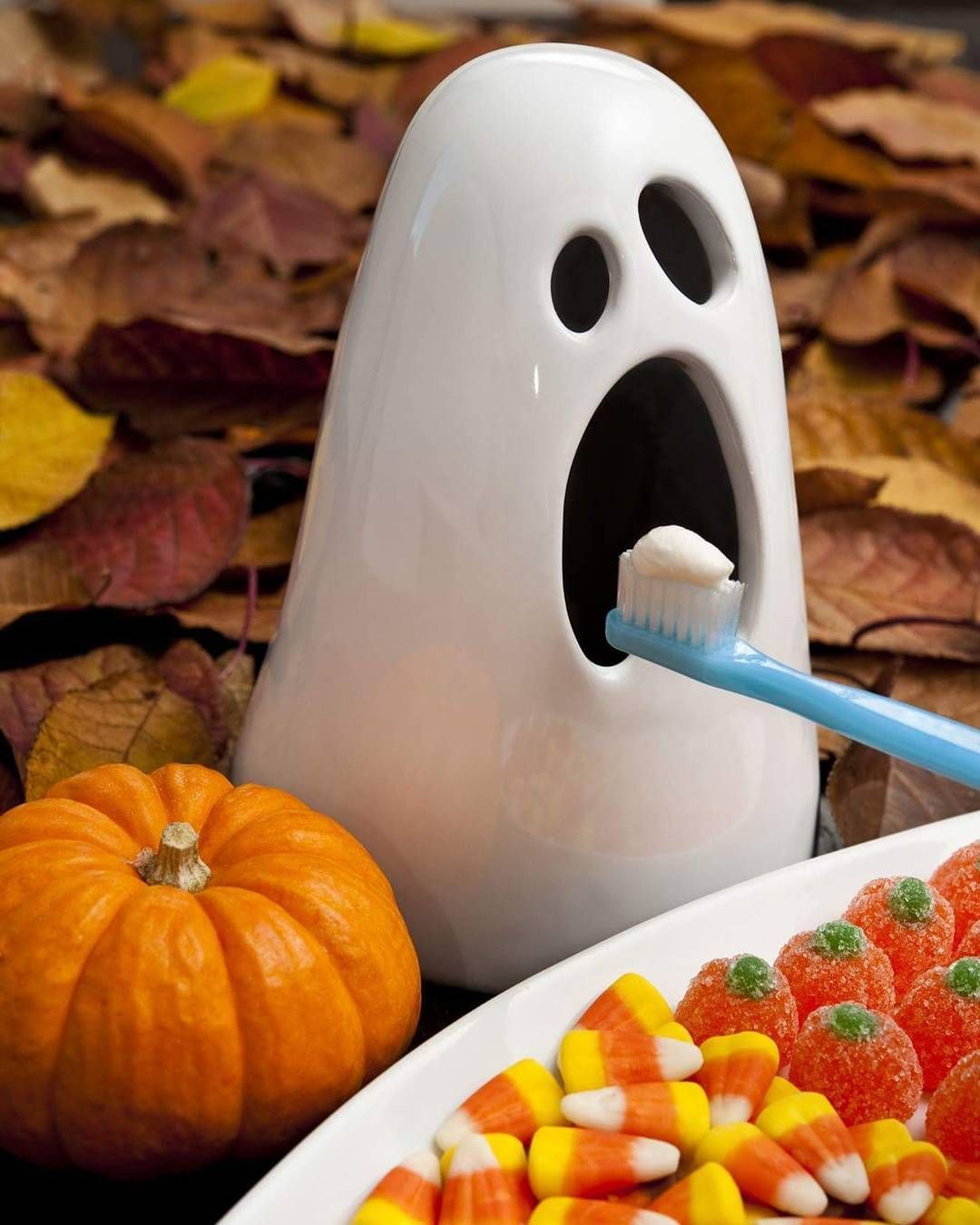 For those who celebrate, we want to wish you a spook-tacular Halloween! As Halloween this year approaches during the COVID-19 global pandemic, we all may be wondering how to celebrate the occasion safely. Although Halloween, like many other occasions, will be celebrated differently this year as we fight through the COVID-19 global pandemic, the Centers for Disease Control and Prevention (CDC) has released guidelines to help protect us all and celebrate the occasion safely.
Here's some fun, and maybe scary, dental facts that you may not have known. Take a look:
What is the hardest substance in the human body?
It's your tooth enamel, which is stronger than bone! It's important to take care of your tooth enamel, because once it's gone your body can not regenerate it.
Over the course of your lifetime, how much will you have brushed your teeth?
On average, an American will have spent approximately 38.5 days brushing their teeth over their lifetime. Don't forget, flossing is important too!
What are scary Halloween candies for your teeth?
Sour and sticky candies can linger on teeth and break down your tooth enamel due to the acidic content. When consuming candy, it is best to do so during meals when your mouth is producing a lot of saliva, which will help wash away the sugars and bacteria.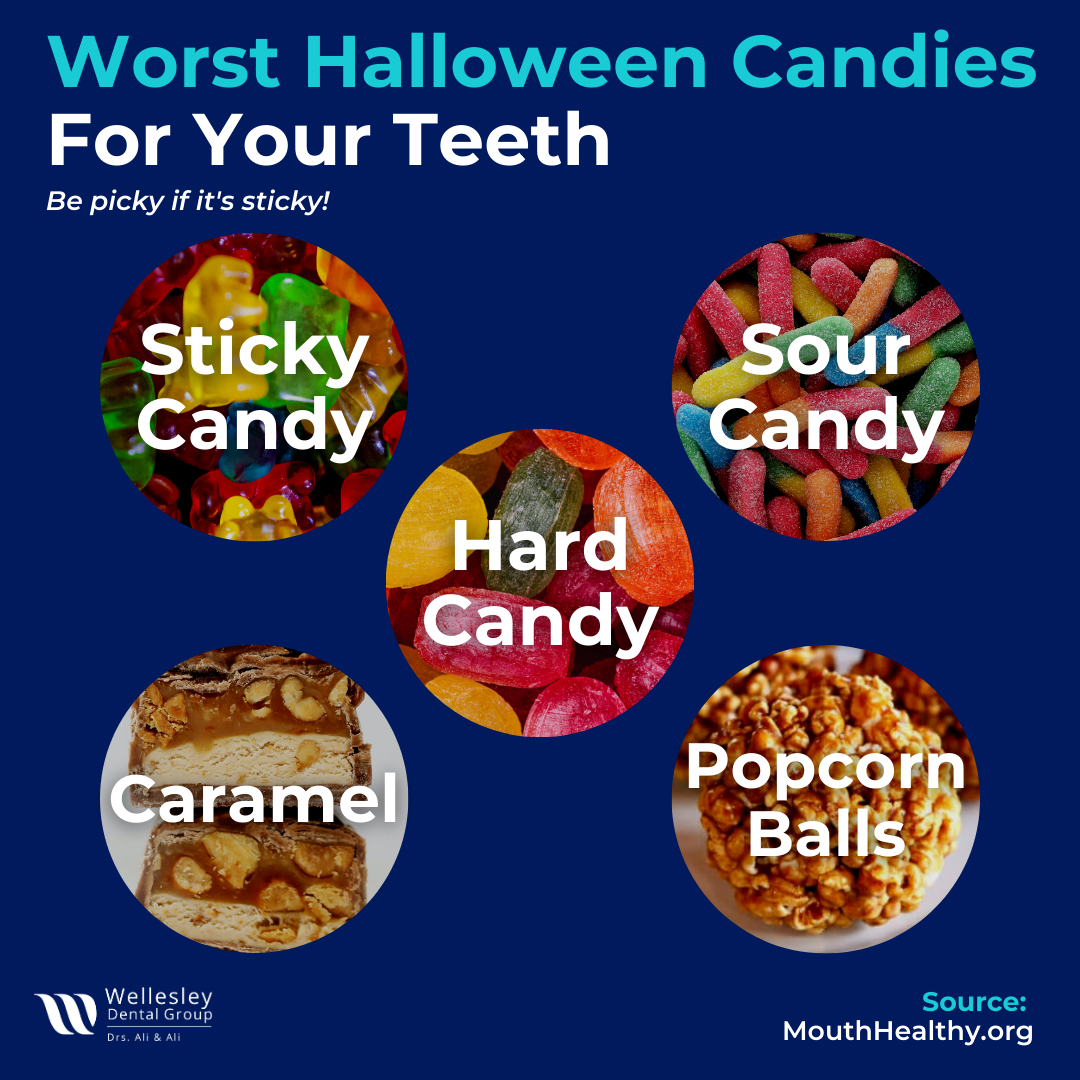 How much sugar and calories are in a typical Halloween stash?
The average Halloween candy bag collected by children has approximately between 3,500 and 7,000 calories. Plus, an article published in Fortune reported that children consume approximately three cups of sugar in 7,000 calories of candy, which is about 675 grams of sugar, or the same as eating about 169 standard sugar cubes!
What's the deal with soda?
Soda can be damaging to your tooth enamel and overall health. Did you know, there are 10-12 teaspoons of sugar in one can of soda! It has been found that individuals who drink 3 or more glasses of soda each day have 62% more cavities, dental fillings and tooth loss than individuals who do not. It is best to drink fluoridated water to help keep your pearly whites strong and healthy.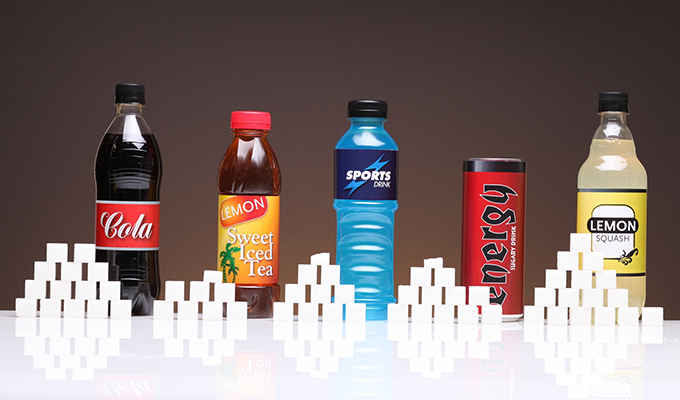 Is my tongue unique?
Yes, everyone's tongue print is different just like fingerprints. It's important not to forget about your tongue when brushing, as bacterial plaque can buildup on the tongue and even contribute to bad breath.
How often do people brush for?
The average American only brushes for about 45 to 70 seconds a day, however, the American Dental Association (ADA) recommended toothbrushing amount is for 2 minutes twice a day.
Typically during this time we are gearing up for our Annual Candy Drive. However, this year we have decided to cancel our 13th Annual Candy Drive, as our utmost priority as healthcare professionals is to keep our community safe and healthy, and we want to minimize any risk of transmission of COVID-19. But, we haven't let that damper our spirit of giving! We have created a new tradition this year, launching our Healthcare Heroes Appreciation Drive. We would love for you to participate by sharing your appreciation for healthcare professionals via cards or letters which can be dropped off or mailed to  to the Wellesley Dental Group office (5 Seaward Road, Wellesley 02481) by Monday, November 9th.
This pandemic has impacted us all, but our community is indeed all stronger together. Our team at WDG always has your safety and health as our top priority, and we have implemented additional safety measures and equipment to help prevent the transmission of all infections, including COVID-19. Wellesley Dental Group has completely reopened since June 8th, 2020 for all dental procedures and cleanings! Thank you for entrusting your health and dental care to us at Wellesley Dental Group.
Feel free to contact Drs. Ali & Ali and the caring team at Wellesley Dental Group if you have any thoughts or concerns; they will be happy to answer your questions! Contact us today at 781-237-9071 or smile@wellesleydentalgroup.com to set up an appointment.
Your little ones and teens are welcome to visit our pediatric dentist, Dr. Derek, and Dr. Emad is happy to help with your TMJ and orthodontic needs. For wisdom teeth extractions or any other oral surgery needs, Dr. Stephens would love to help, and our gum-specialist Dr. Singh can help with your gum-related concerns.
References:
https://www.businessinsider.com/halloween-candy-consumption-usa-facts-statistics-2019-10#studies-show-that-kids-can-consume-up-to-three-cups-of-sugar-eating-halloween-candy-this-equals-almost-169-sugar-cubes-3
https://fi.pinterest.com/pin/501799583465517820/
http://www.etobicokedental.ca/blog/halloween-dental-quiz.html
https://www.childrensdentalvillage.net/patient/resources/interesting-facts/
http://madinsurance.com.au/the-dangers-of-sugary-drinks.html