October 16th, 2021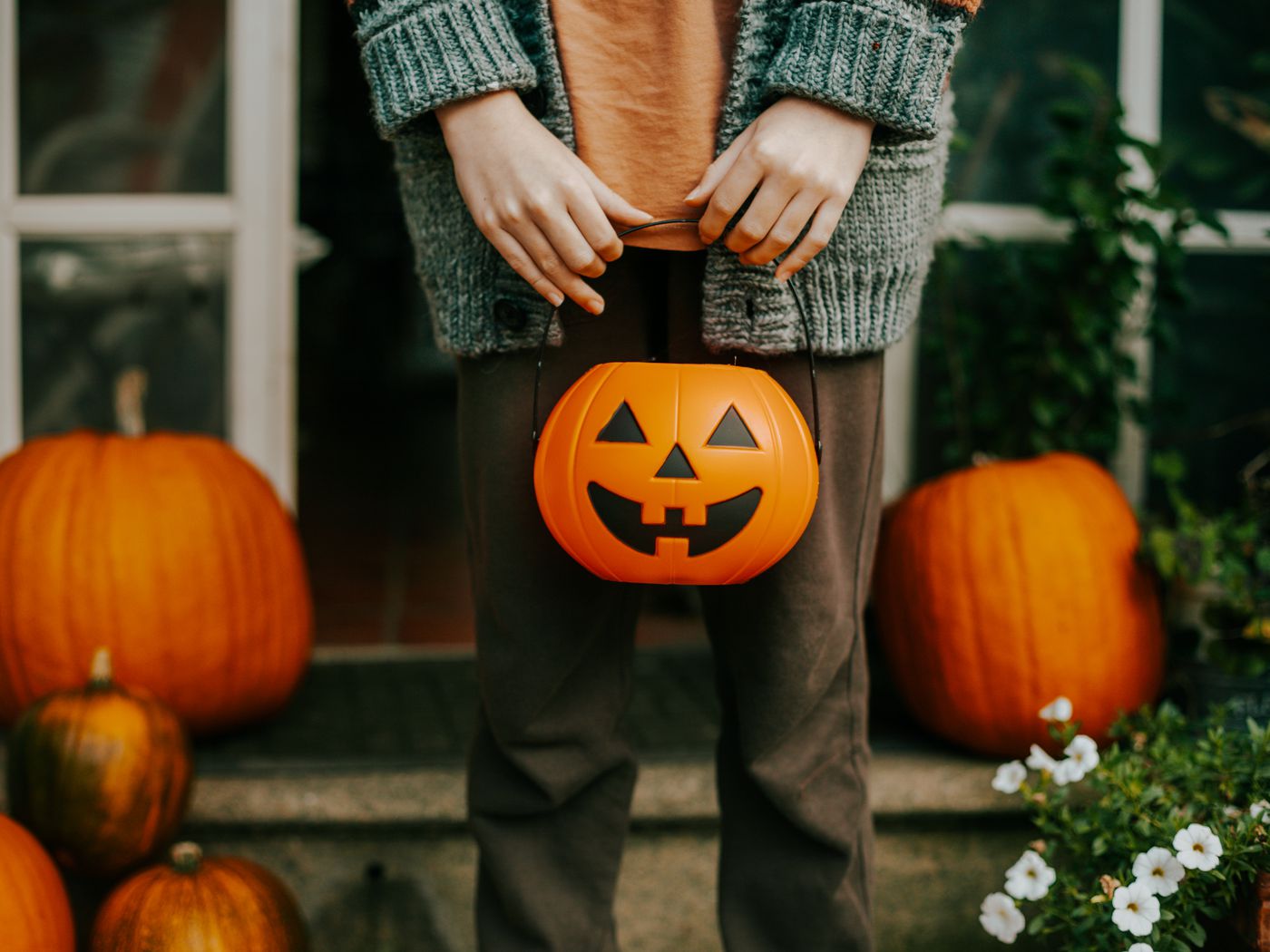 We all need a sweet treat once in a while, and each year Halloween definitely reminds us of that. There are so many candy options to choose from, but does it matter to our teeth? Surprisingly, yes -all candy is not created equally when it comes to oral health! Some candies can place you at even higher risks for developing tooth decay. Check it out:
The Worst Candy:
If the candy is sticky or long lasting, it can do significant damage to your teeth. Candies like caramel, gummies, taffy, and lollipops for instance can subject your teeth to sugar and bacteria that remain in the mouth for long periods of time. This increases your risk for developing cavities and adds additional trips to the dentist. In addition, hard candies may even lead to chipped or broken teeth. As tasty as they may be, do your best to avoid these sweet treats this Halloween:
Gummy products (bears, worms, etc)
Starbursts
Lollipops
Tootsie Rolls
Caramels
Lifesavers
Fruit snacks
Skittles
Surprisingly, sour candies like sour patch kids are also pretty harmful to your teeth. Sour candies lower the pH of your mouth, making your mouth more acidic and vulnerable to decay and tooth wear.
Opt for dark chocolate:
Dark chocolate often contains less sugar and has been noted to contain several health benefits, including lowering blood pressure, protecting against cavities, and improving brain function. Dark chocolate is loaded in antioxidants and nutrients like fiber, iron, magnesium, copper, manganese, potassium, phosphorus, zinc, and selenium.
Colgate has offered some other alternatives to Halloween candy that you can make look spooky and festive including:
Pumpkin oranges
Banana ghosts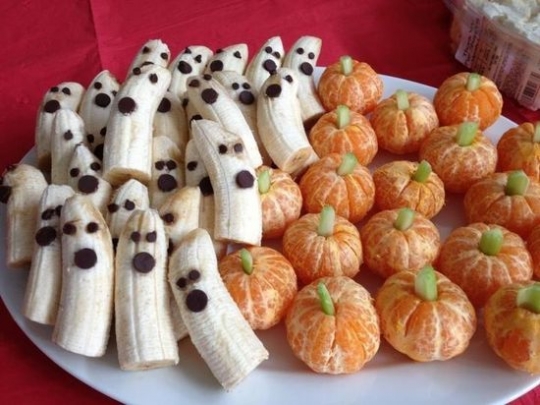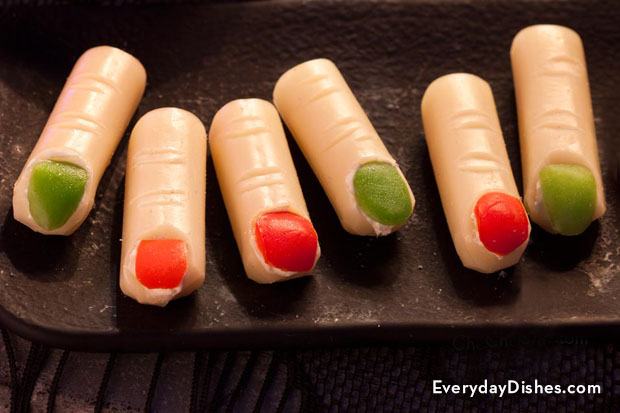 Monster Mouths made from apples: Slice an unpeeled apple into large wedges, then create a hole and fill it with peanut or almond butter and chopped nuts.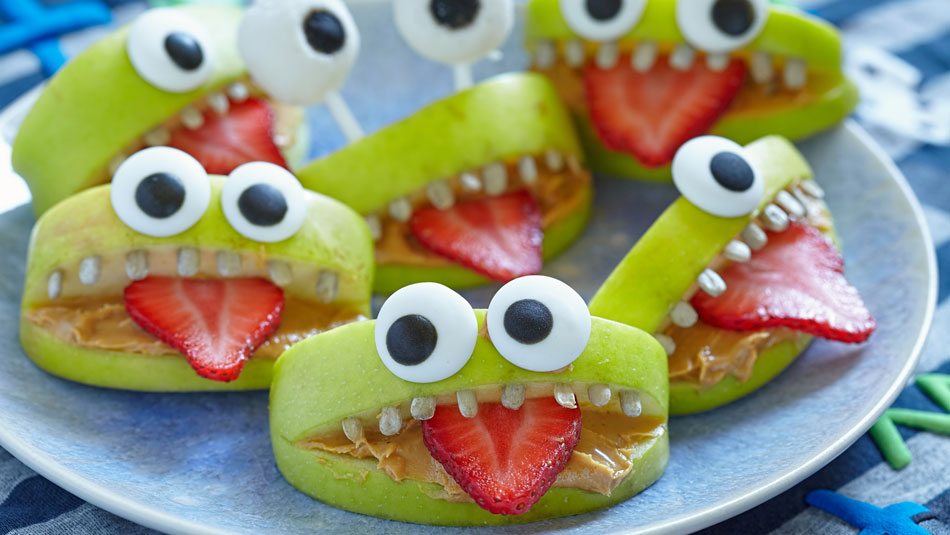 Veggie Skeletons: arrange your choice of vegetables in the shape of a skeleton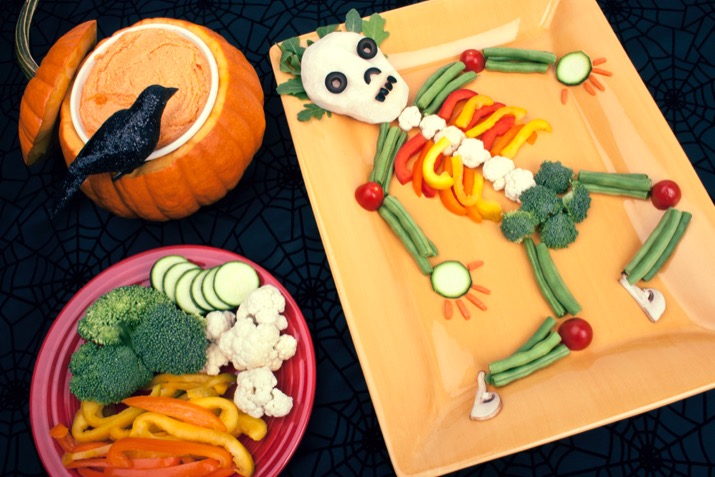 So, as you're sorting through your Halloween bucket, be sure to choose carefully to help protect your teeth. Also make sure you are drinking lots of water and continuing to brush and floss your teeth.
We hope that you and your family and loved ones have a happy Halloween!
This pandemic has impacted us all, but our community is indeed all stronger together. Our team at WDG always has your safety and health as our top priority, and we have implemented additional safety measures and equipment to help prevent the transmission of all infections, including COVID-19. Wellesley Dental Group has completely reopened since June 8th, 2020 for all dental procedures and cleanings! Thank you for entrusting your health and dental care to us at Wellesley Dental Group.
Feel free to contact Drs. Ali & Ali and the caring team at Wellesley Dental Group if you have any thoughts or concerns; they will be happy to answer your questions! Contact us today at 781-237-9071 or smile@wellesleydentalgroup.com to set up an appointment.
Your little ones and teens are welcome to visit our pediatric dentist, Dr. Bahar Houshman and Dr. Marisa Reason is happy to help with your TMJ and orthodontic needs. For wisdom teeth extractions or any other oral surgery needs, Dr. Reisman would love to help, and our gum-specialist Dr. Singh can help with your gum-related concerns.
References:
https://www.colgate.com/en-us/oral-health/nutrition-and-oral-health/oral-health-tips-the-worst-and-best-sweets-for-kids-at-halloween
https://www.colgate.com/en-us/oral-health/kids-oral-care/five-ways-to-avoid-candy-teeth-other-scary-treats-for-a-healthier-halloween
https://www.google.com/url?sa=i&url=https%3A%2F%2Fwww.vox.com%2Fthe-goods%2F21451615%2Fhalloween-2020-masks-trick-or-treating-costumes-candy-canceled&psig=AOvVaw2aSikfM-UQ8BdYSfuHiCDa&ust=1634506549735000&source=images&cd=vfe&ved=0CAsQjRxqFwoTCMiJ1MTxz_MCFQAAAAAdAAAAABAU
https://www.google.com/url?sa=i&url=https%3A%2F%2Fwww.wideopeneats.com%2Frecipes%2Fapple-monster-snacks%2F&psig=AOvVaw3djuD517nYTubRvucO7sRb&ust=1634513392950000&source=images&cd=vfe&ved=0CAsQjRxqFwoTCMD77oaL0PMCFQAAAAAdAAAAABAO
https://www.google.com/url?sa=i&url=http%3A%2F%2Fkeeprecipes.com%2Frecipe%2Fhowtocook%2Fpumpkin-oranges-and-banana-ghosts&psig=AOvVaw2Qf4qiQfZKMSPctNPHmuuE&ust=1634513462529000&source=images&cd=vfe&ved=0CAsQjRxqFwoTCIDPzLmL0PMCFQAAAAAdAAAAABAI
https://www.google.com/url?sa=i&url=https%3A%2F%2Feverydaydishes.com%2Fholiday%2Fhalloween-healthy-creepy-cheese-fingers-recipe%2F&psig=AOvVaw1NZ8St3JNziY_zmIPXy1G5&ust=1634513560547000&source=images&cd=vfe&ved=0CAsQjRxqFwoTCLiOudeL0PMCFQAAAAAdAAAAABAc
https://www.google.com/url?sa=i&url=https%3A%2F%2Falberta.coop%2Frecipes%2Fhalloween-veggie-skeleton%2F&psig=AOvVaw0cvUGsIPQB9mBSYw9D8Yhe&ust=1634513645345000&source=images&cd=vfe&ved=0CAsQjRxqFwoTCIjr2vuL0PMCFQAAAAAdAAAAABAJ