August 1st, 2021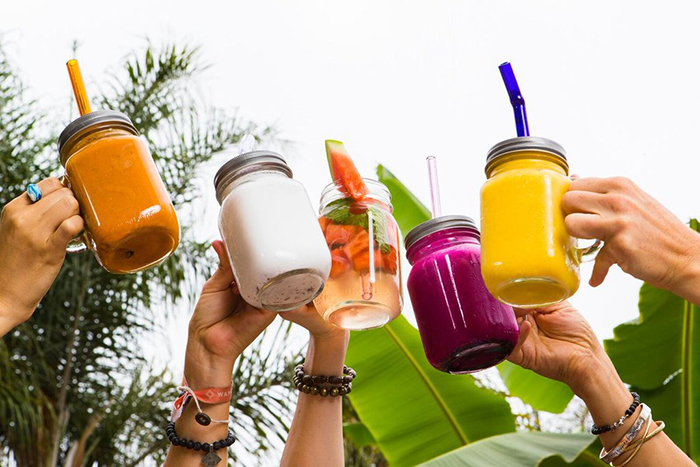 Trying to cut back on plastic to help save the environment by using reusable straws? Well, this may help protect your teeth, too! Straws can help keep your teeth pearly white by preventing discoloration from beverages prone to staining such as sodas, coffee, and red wines. Plus, straws can also add a layer of protection against tooth decay by limiting your teeth's contact with acidic and sugary beverages. It's best to try to consume as much water as possible, as it can help wash away food particles and sugars that harmful bacteria can feed off of, as well as stimulate salivary flow which is beneficial for your teeth.
Here are the different types of reusable straws available:
1. Stainless steel straws
You may have seen stainless steel straws advertised recently, as they are becoming increasingly popular. They are marketed as inexpensive, easy to carry around, sturdy, and easy to clean. Yet, these straws might not be the best option for your teeth, as they are very strong and can lead to chipped or cracked teeth if biting down on them too hard. Plus, the insulation of these straws may cause discomfort and sensitivity in your teeth depending on the temperature of your beverage. Extremely cold or hot beverages may also create sensitivity for your lips.
2. Silicone straws
Silicone straws can be a great reusable option for kids and adults without the risk of chipping teeth like with metal straws. Not to mention, the colors are limitless! These straws are flexible and can be cleaned through the dishwasher.
3. Bamboo straws
Bamboo straws are also a great option as they are flexible and have less risk of damaging teeth. These are environmentally friendly and non-toxic. It will be important to keep these straws clean to avoid bacterial growth.
4. Titanium straws
Titanium straws are also sold widely, however much care has to be taken as they can damage teeth. Unlike stainless steel, titanium is less likely to get hot or cold fast that would normally trigger tooth sensitivity. They are also corrosion resistant and are dishwasher safe.
5. Glass straws
Glass straws are also a great option, but unfortunately aren't as durable to travel with. Most glass straws are heat and erosion resistant. Glass straws are also relatively easy to clean.
It is important when using straws to place them toward the very back of your mouth to limit contact with teeth, and be cautious about what beverages you consume to help keep your pearly whites healthy!
This pandemic has impacted us all, but our community is indeed all stronger together. Our team at WDG always has your safety and health as our top priority, and we have implemented additional safety measures and equipment to help prevent the transmission of all infections, including COVID-19. Wellesley Dental Group has completely reopened since June 8th, 2020 for all dental procedures and cleanings! Thank you for entrusting your health and dental care to us at Wellesley Dental Group.
Feel free to contact Drs. Ali & Ali and the caring team at Wellesley Dental Group if you have any thoughts or concerns; they will be happy to answer your questions! Contact us today at 781-237-9071 or smile@wellesleydentalgroup.com to set up an appointment.
Your little ones and teens are welcome to visit our pediatric dentist, Dr. Bahar Houshman and Dr. Marisa Reason is happy to help with your TMJ and orthodontic needs. For wisdom teeth extractions or any other oral surgery needs, Dr. Reisman would love to help, and our gum-specialist Dr. Singh can help with your gum-related concerns.
References:
https://www.colgate.com/en-us/oral-health/threats-to-dental-health/drinking-straws-effect-on-teeth
https://www.google.com/url?sa=i&url=https%3A%2F%2Fpre-tend.com%2Fwhat-straw-do-you-use-the-best-reusable-straws-in-2019%2F&psig=AOvVaw2lSiYh3r8IcRYd-75O44qM&ust=1627932674858000&source=images&cd=vfe&ved=0CAsQjRxqFwoTCNimhv3HkPICFQAAAAAdAAAAABAj
https://www.google.com/url?sa=i&url=https%3A%2F%2Fwww.surlatable.com%2Fsur-la-table-stainless-steel-straws-set-of-6%2FPRO-1669159.html&psig=AOvVaw3B_dcK9Fx1aQRNTYprXF3w&ust=1627939515004000&source=images&cd=vfe&ved=0CAsQjRxqFwoTCKiOqLbhkPICFQAAAAAdAAAAABAE
https://www.google.com/url?sa=i&url=https%3A%2F%2Fwww.amazon.com%2FHiware-Reusable-Silicone-Drinking-Flexible%2Fdp%2FB071JB8FBS&psig=AOvVaw2XZox6dOSnsFEYL8MSYubI&ust=1627939593419000&source=images&cd=vfe&ved=0CAsQjRxqFwoTCJC809vhkPICFQAAAAAdAAAAABAU
https://www.google.com/url?sa=i&url=https%3A%2F%2Ftropeaka.com%2Fproducts%2Fbamboo-straws&psig=AOvVaw0DfafymKe4Tmv2jbZVwnsv&ust=1627939680745000&source=images&cd=vfe&ved=0CAsQjRxqFwoTCNjelYXikPICFQAAAAAdAAAAABAT
https://www.google.com/url?sa=i&url=https%3A%2F%2Fwww.amazon.com%2FTiTo-Titanium-Ultralight-Drinking-Cleaning%2Fdp%2FB072QL71YB&psig=AOvVaw0ZYaZ0TRPRo7cTESnFYdLC&ust=1627939743610000&source=images&cd=vfe&ved=0CAsQjRxqFwoTCOiH76PikPICFQAAAAAdAAAAABAN
https://www.google.com/url?sa=i&url=https%3A%2F%2Ffood52.com%2Fshop%2Fproducts%2F849-glass-straws-set-of-4&psig=AOvVaw3En_SmHs7SxipCiY8GZNzo&ust=1627939799856000&source=images&cd=vfe&ved=0CAsQjRxqFwoTCPD8hL7ikPICFQAAAAAdAAAAABAH