April 18th, 2021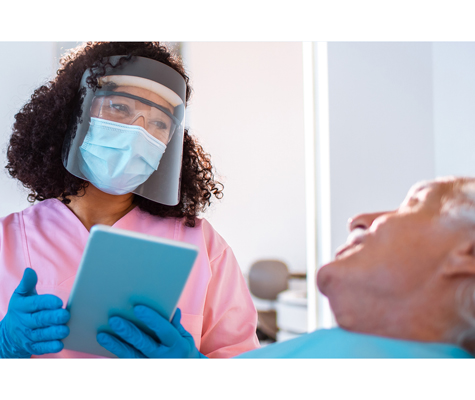 With the unexpected and unpredictable COVID-19 pandemic entering our lives well over a year ago, it has put a pause to many of our normal daily activities and brought about caution to our regular lives. With the national shutdowns, and confinement to our homes and closure of business and schools for a period of time, many have had to cancel important events and scheduled appointments. Although the pandemic isn't over yet, with vaccines becoming readily available throughout the world, we are beginning to get a glimpse of some normalcy returning. Studies have reported the efficacy of COVID-19 vaccines in helping prevent contraction of the virus and lowering the risk of having severe symptoms of the virus if infected.
Now, dental and doctor's offices that were previously closed or limited in available procedures are starting to resume normal services and have effective and safe health safety protocols in place to avoid the spread of COVID-19. According to a survey in TIME-Harris Poll of over 1,000 Americans, approximately 78% of individuals have canceled at least one medical service during the past three months, 30% have missed their dental exam, and 27% missed their yearly physical. But, health experts are currently reminding individuals that it's time to reschedule and attend your regular appointments and to not put your oral health or overall health on the back-burner. To find out what safety precautions and protocols your Doctors are performing, be sure to contact their offices with any questions or concerns you may have. Check out some of the changes we have made at WDG, in addition to those mandated by the Centers for Disease Control and Prevention (CDC) and the American Academy of General Dentistry (AGD), to ensure the well-being of patients: https://www.wellesleydentalgroup.com/blog/2020/05/whats-new-at-wdg-covid-19-safety-precautions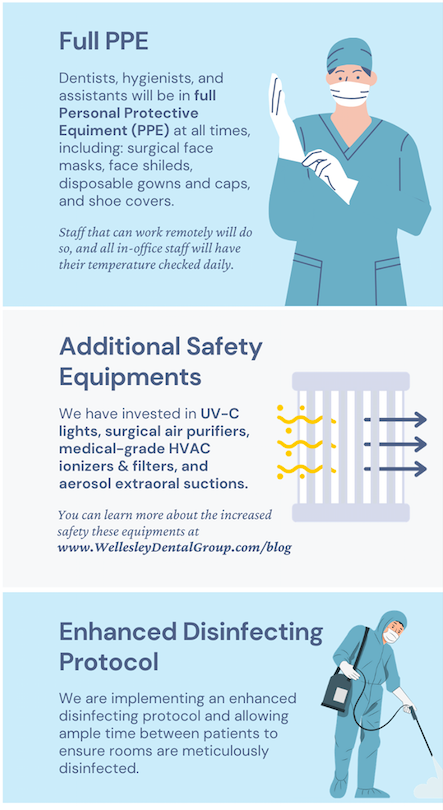 Visiting your dentist is particularly necessary to keep you healthy and strong, especially during the COVID-19 pandemic. Your dentist will determine based on your individual needs and oral condition how often dental cleanings and check-ups are needed. Early detection of harmful oral conditions/diseases are key to keeping the rest of your body healthy, as your oral cavity is the window into the rest of your body. Your dentist will even check for signs of COVID-19 in the oral cavity. Radiographs can help identify tooth decay, gum issues, bone loss, and other pathology, and are often taken during your dental exams. Your dentist will also perform an oral cancer screening of your head, neck, and mouth. When issues are detected early, this can help prevent problems from increasing severity/harm, and potentially save you from having to have more invasive and costly dental procedures such as root canals and dental crowns when tooth decay is too extensive to be managed by a dental filling. 
Individuals with gum disease are at a higher risk of developing or worsening many systemic diseases, often linked due to the body's inflammatory immune response. This includes threatening conditions such as heart disease, diabetes, and cerebrovascular events such as strokes. Not to mention, individuals with uncontrolled gum disease are 9 times more likely to die from infection with COVID-19, as reported in a recent study published in the Journal of Clinical Periodontology. Don't risk harming your health by putting of your health appointments!
This pandemic has impacted us all, but our community is indeed all stronger together. Our team at WDG always has your safety and health as our top priority, and we have implemented additional safety measures and equipment to help prevent the transmission of all infections, including COVID-19. Wellesley Dental Group has completely reopened since June 8th, 2020 for all dental procedures and cleanings! Thank you for entrusting your health and dental care to us at Wellesley Dental Group.
Feel free to contact Drs. Ali & Ali and the caring team at Wellesley Dental Group if you have any thoughts or concerns; they will be happy to answer your questions! Contact us today at 781-237-9071 or smile@wellesleydentalgroup.com to set up an appointment.
Your little ones and teens are welcome to visit our pediatric dentist, Dr. Bahar Houshman and Dr. Marisa Reason is happy to help with your TMJ and orthodontic needs. For wisdom teeth extractions or any other oral surgery needs, Dr. Reisman would love to help, and our gum-specialist Dr. Singh can help with your gum-related concerns.
References:
https://www.wsj.com/articles/dentist-gum-disease-11618003919
https://www.health.com/mind-body/doctor-appointments-to-stop-postponing-covid
https://www.google.com/url?sa=i&url=https%3A%2F%2Fsuccess.ada.org%2Fen%2Fpractice-management%2Fpatients%2Fcovid-19-patient-communication-resources-for-dental-visits&psig=AOvVaw2smOVUaOZ4_HNLiFEt2hD8&ust=1618853646751000&source=images&cd=vfe&ved=0CAIQjRxqFwoTCOCj15iqiPACFQAAAAAdAAAAABAg