August 12th, 2020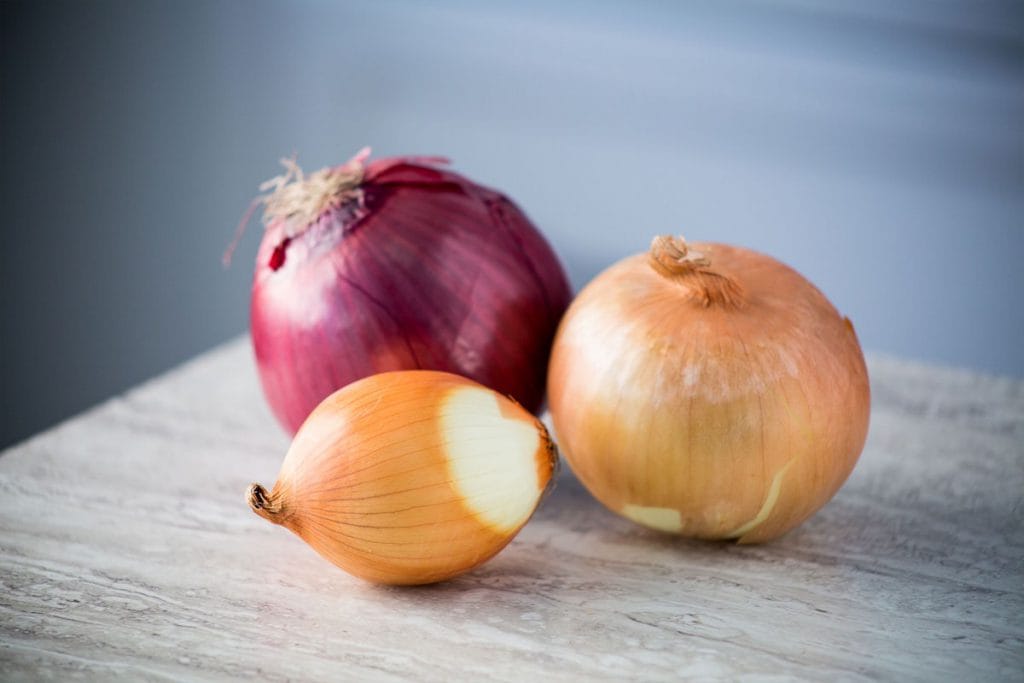 For many, onions are a must-add ingredient to enhance your meal. For all of the onion lovers, whether in a salad, pasta, or sandwich, the flavor of an onion can take your food to the next level! They're loaded with healthy antioxidants, fiber, prebiotics, and vitamins and minerals, including vitamin B, C, and potassium. Not to mention, they possess anti-bacterial properties. But, recently, you may have been told to dispose of your onions, as news reports of a salmonella outbreak from onions has reached more than 640 people across 43 states in the U.S. Salmonella is a bacteria, commonly associated with contaminated food, which typically cause symptoms of diarrhea, fever, and stomach cramps. According to the Centers for Disease Control and Prevention (CDC), salmonella could cause severe illness leading to hospitalizations or even death in individuals with weakened immune systems, most commonly impacting children under the age of 5 and elderly individuals over the age of 65. The CDC reports that this recent outbreak has resulted in approximately 85 hospitalizations.
The onion recall was initially issued on August 1st by Thomson International Inc., located in Bakersfield, California, reporting the recall for Red, Yellow, White, and Sweet Yellow Onions distributed from May 1, 2020-present. According to the company, these onions were transported to wholesalers, restaurants, and retail stores in all 50 states, the District of Columbia and Canada. Posted on the Food and Drug Administration (FDA) website, the company announced, "Consumers who have any Red, Yellow, White, and Sweet Yellow Onions under the above brand names, or who cannot tell if their onions are from Thomson International, should immediately discard these products and disinfect any surfaces that came into contact with the onions." The onions were sold under several brand names, including Kroger, Thomson  Premium, Tender Loving Care, and others listed on the FDA's website.
On August 10th, the FDA released an expansion of the initial recall. The company Progressive Produce LLC recalled red onions sold in Arizona, California, Nevada, and Utah stores at Trader Joe's, in addition to yellow onions at Ralph's in California stores.
The CDC states these guidelines if you suspect that you are experiencing symptoms of a Salmonella infection:

The CDC also states, "Several companies have recalled onions and foods made with recalled onions, such as chicken salad, macaroni salad, fajita stir-fry, pizza, sub sandwiches, diced raw onions and peppers, and other salads. Check your homes for these recalled products and throw them away. Do not eat them or try to cook the onions or other food to make it safe."
Feel free to contact Drs. Ali & Ali and the caring team at Wellesley Dental Group if you have any thoughts or concerns; they will be happy to answer your questions! Contact us today at 781-237-9071 or smile@wellesleydentalgroup.com to set up an appointment.
Your little ones and teens are welcome to visit our pediatric dentist, Dr. Derek, and Dr. Emad is happy to help with your TMJ and orthodontic needs. For wisdom teeth extractions or any other oral surgery needs, Dr. Stephens would love to help, and our gum-specialist Dr. Singh can help with your gum-related concerns.
References:
https://www.cnn.com/2020/08/08/health/onions-salmonella-outbreak/index.html
https://www.foodnetwork.com/healthyeats/news/food-recall-onions-safe-to-eat
https://www.healthline.com/nutrition/onion-benefits#section7
https://www.fda.gov/safety/recalls-market-withdrawals-safety-alerts/thomson-international-complete-list-recalled-products
https://www.cdc.gov/salmonella/index.html
https://www.fda.gov/safety/recalls-market-withdrawals-safety-alerts/thomson-international-inc-conducts-voluntary-recall-red-yellow-white-and-sweet-yellow-onions-because
https://www.fda.gov/safety/recalls-market-withdrawals-safety-alerts/progressive-produce-voluntarily-recalls-red-and-yellow-onions-because-possible-health-risk?utm_campaign=Progressive%20Produce%20Voluntarily%20Recalls%20Red%20and%20Yellow%20Onions%20Because%20of%20Possible%20Health%20Risk&utm_medium=email&utm_source=Eloqua
https://www.cdc.gov/media/releases/2020/s0807-investigation-update-salmonella.html
https://gwillimdalefarms.com/wp-content/uploads/2018/03/onions-1024x683.jpeg