October 16th, 2021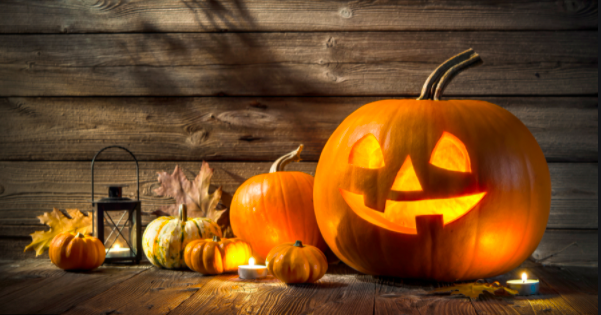 What a wonderful time of year! Halloween is upon us again and the sweet treats we all love are about to make their way into our goodie bags. Ghosts, witches, and candy galore, this time can be a scary event even for our teeth. To lower your chances of having additional dental work done due to cavities from sugar overload, here are some tips this season:
Indulge in moderation:
As commonly said, too much of anything probably is not good for you. Consuming a lot of candy increases your risk of tooth decay and other oral health problems.
Drink a lot of water:
Water is good for keeping every part of your body healthy, including your teeth! Drinking fluoridated water can help protect your teeth from tooth decay and keep the pH levels within your mouth balanced. In addition, water helps to rinse away leftover food particles and sugars that can cause harm.
Sticky candy can put you in a sticky situation:
All candy is not created equally when it comes to your teeth. Try to avoid eating sticky or chewy candy like gummy bears, caramels, and candy corn. These candies tend to become trapped between your teeth and can be tricky to remove even when brushing and flossing. If the candy remains in-between the teeth or on tooth surfaces this can allow bacteria to produce acids that break down your teeth and cause cavities quickly.
Watch out for sour candies:  Sour candy, like hard and sticky candies, can also be harmful to your teeth. Acidic items can progressively wear down the outer layer of your teeth, the tooth enamel. Not to mention, it lowers the pH of your mouth allowing for bacteria thrive in the acidic environment.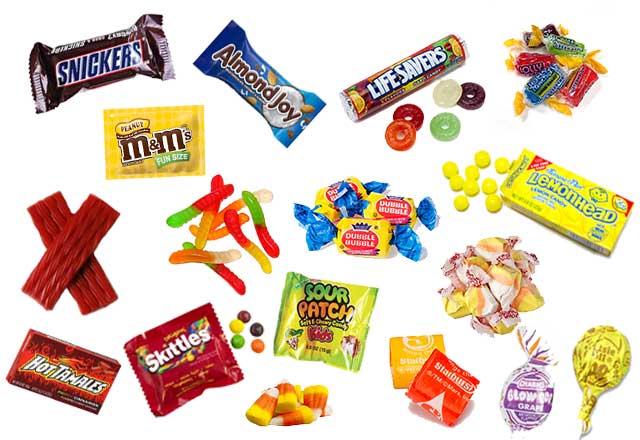 Chew sugar-free gum:
Love chewing gum? Not to worry, with sugar-free gum you can fulfill your desires without harming your teeth. Chewing sugar-free gum is beneficial for your teeth as it helps to increase saliva flow, which helps rinse away and neutralize bad acids and bacteria that are present after consuming sugary foods like candy. Sugar-free gum with the ingredient xylitol is recommended as research has shown it to have protective effects against tooth decay. Instead of candy, try gum!
Avoid candies that last:
Hard candy like lollipops remain in the mouth a long time, which leaves a lot of time for sugar and bacteria to wreck havoc. Besides how often you snack, the length of time sugary food is in your mouth plays a role in developing cavities. Unless it is a sugar-free product, candies that stay in the mouth for a long period of time subject teeth to an increased risk for tooth decay.
Eat candy during mealtime:
Candy can be especially hard to resist during Halloween but limiting candy consumption and eating it around mealtime can be better than frequently snacking on candy throughout the day. This is because there is an increase in saliva production during mealtime which helps fight off bad bacteria. In addition, the frequency of consuming sugary foods has an effect on tooth decay.
Be sure you are practicing good oral hygiene: As always, taking care of your teeth is important each day to ensure your pearly whites last a lifetime. Brushing twice a day for at least two minutes, and flossing at least once a day is essential. And, if you haven't already scheduled your regular check-up with your dentist, now is a perfect time!
This pandemic has impacted us all, but our community is indeed all stronger together. Our team at WDG always has your safety and health as our top priority, and we have implemented additional safety measures and equipment to help prevent the transmission of all infections, including COVID-19. Wellesley Dental Group has completely reopened since June 8th, 2020 for all dental procedures and cleanings! Thank you for entrusting your health and dental care to us at Wellesley Dental Group.
Feel free to contact Drs. Ali & Ali and the caring team at Wellesley Dental Group if you have any thoughts or concerns; they will be happy to answer your questions! Contact us today at 781-237-9071 or smile@wellesleydentalgroup.com to set up an appointment.
Your little ones and teens are welcome to visit our pediatric dentist, Dr. Bahar Houshman and Dr. Marisa Reason is happy to help with your TMJ and orthodontic needs. For wisdom teeth extractions or any other oral surgery needs, Dr. Reisman would love to help, and our gum-specialist Dr. Singh can help with your gum-related concerns.
References:
https://www.mouthhealthy.org/en/halloween-slideshow
https://www.google.com/url?sa=i&url=https%3A%2F%2Fwww.almanac.com%2Fcontent%2Fwhen-is-halloween&psig=AOvVaw317M0xlnm-aQa9GhkK0Jfc&ust=1634504716749000&source=images&cd=vfe&ved=0CAsQjRxqFwoTCPixiqDsz_MCFQAAAAAdAAAAABAE
https://www.google.com/url?sa=i&url=https%3A%2F%2Fvancortho.com%2Fbraces-friendly-halloween&psig=AOvVaw0vvNvKMSrcmFl-xAYeewfe&ust=1634505289684000&source=images&cd=vfe&ved=0CAsQjRxqFwoTCOD3i_rsz_MCFQAAAAAdAAAAABAD