January 15th, 2021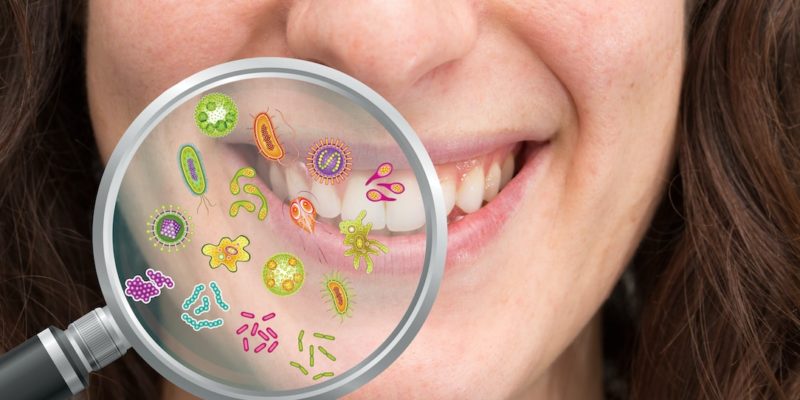 Believe it or not, bacteria living inside of our bodies is a natural part of our lives. Even within our mouths there are tons of bacteria living harmoniously. A new study performed by researchers at Harvard University in the Department of Organismic and Evolutionary Biology assessed the oral microbiome to learn more about why certain bacteria tend to be abundant in particular places of the mouth while not present in other places. The study, which was published in Genome Biology this past December, found numerous genes that may explain why this phenomenon occurs.
Lead author of the study Daniel R. Utter noted, "As microbial ecologists, we are fascinated by how bacteria can seemingly divide up any habitat into various niches, but as humans ourselves, we also have this innate curiosity about how microbes pattern themselves within our bodies." The study authors also questioned how bacteria may end up in the wrong place within our bodies, and how might we add the correct bacteria into its normal place when necessary? New technology in the field has helped researchers tackle these questions and some of the major challenges in analyzing the diverse groups of bacteria and their scientific properties.
According to the study, the mouth carries an astonishing amount of site-specific microbes in different areas. For example, the microbes found on the tongue are unique to the microbes found in the plaque on the surfaces of your teeth.  Co-author A. Murat Eren, assistant professor in the Department of Medicine at the University of Chicago, stated, "Your tongue microbes are more similar to those living on someone else's tongue than they are to those living in your throat or on your gums!"
The researchers first looked at 100 genomes representing four common oral bacterial species as references, and then compared them to the oral bacteria sampled in the mouths of hundreds of volunteer research participants from the Human Microbiome Project (HMP). They found a significant amount of variability of bacteria between different parts of the mouth, in particular on the tongue, cheeks, and tooth surfaces.  In several instances the researchers identified a specific group of genes that may play a role in the bacterial group's specific location within the mouth.
The researchers hope that these findings could help the future of targeted probiotics to help manipulate beneficial microbes to a specific location. They are looking forward to further research that could offer new knowledge on oral microbes and our health.
This pandemic has impacted us all, but our community is indeed all stronger together. Our team at WDG always has your safety and health as our top priority, and we have implemented additional safety measures and equipment to help prevent the transmission of all infections, including COVID-19. Wellesley Dental Group has completely reopened since June 8th, 2020 for all dental procedures and cleanings! Thank you for entrusting your health and dental care to us at Wellesley Dental Group.
Feel free to contact Drs. Ali & Ali and the caring team at Wellesley Dental Group if you have any thoughts or concerns; they will be happy to answer your questions! Contact us today at 781-237-9071 or smile@wellesleydentalgroup.com to set up an appointment.
Your little ones and teens are welcome to visit our pediatric dentist, Dr. Derek, and Dr. Emad is happy to help with your TMJ and orthodontic needs. For wisdom teeth extractions or any other oral surgery needs, Dr. Stephens would love to help, and our gum-specialist Dr. Singh can help with your gum-related concerns.
References:
https://www.sciencedaily.com/releases/2020/12/201218165105.htm
https://www.google.com/url?sa=i&url=https%3A%2F%2Fdrania.com%2Fwhy-your-migraines-might-be-caused-by-oral-bacteria%2F&psig=AOvVaw0oGXkMwn-7bAtEvxTfSlml&ust=1610819537876000&source=images&cd=vfe&ved=0CAIQjRxqFwoTCLj5kcbAnu4CFQAAAAAdAAAAABAJ