September 10th, 2021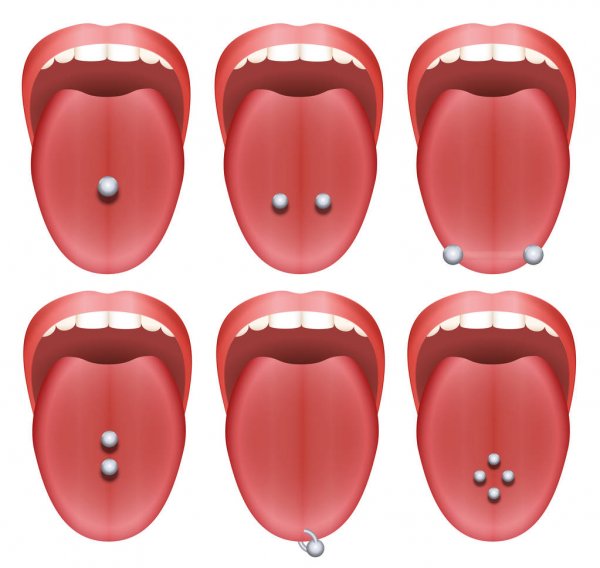 Oral piercings such as jewelry on the tongue, lip, cheek, or other soft tissues is a true art-form. Often the tongue one of the most common sites within the mouth to be pierced. However, there are many complications and negative health consequences that can arise due to oral piercings. Due to this fact, the American Dental Association (ADA) does not recommend practices including cosmetic intraoral/perioral piercings and tongue splitting. Some of the complications of oral piercings reported by the ADA include swelling, severe bleeding, infection, chipped or damaged teeth, receding gums, nerve damage, sensitivity to metals, sores/scarring, oral jewelry becoming stuck within oral tissues that may require surgical removal, airway obstruction, excess salivation, inflammation, keloid formation, pus discharge, or other complications. In addition, individuals may develop speech problems and there is a potential to choke on jewelry if it becomes loose.
Individuals may experience common signs of infection like chills and a fever. This may require individuals to present to the emergency room to help combat the infection, which may involve treatment of cleaning the site and administration of oral antibiotics. If experiencing severe symptoms like airway compromise, hospitalization may be required. There is also a risk that the infection can spread to areas beyond the mouth. Individuals with existing medical conditions such as heart disease should speak with their healthcare professionals before getting an oral piercing to discuss potential risks and complications.
If you have an oral piercing, it is important to keep up with regular dental visits and maintain good oral hygiene. Rinsing with an alcohol-free mouth-rinse, tooth-brushing with a soft-bristled brush and fluoride-containing toothpaste, and flossing is key to helping keep your oral piercing and teeth healthy. It is very easy for food and dental plaque to accumulate on oral jewelry which can lead to many oral issues. Plus, oral jewelry should be removed before any sports activities to avoid injury to your oral cavity.
It is important to consult with your dentist before getting an oral piercing to discuss the risks and evaluate your oral health.
This pandemic has impacted us all, but our community is indeed all stronger together. Our team at WDG always has your safety and health as our top priority, and we have implemented additional safety measures and equipment to help prevent the transmission of all infections, including COVID-19. Wellesley Dental Group has completely reopened since June 8th, 2020 for all dental procedures and cleanings! Thank you for entrusting your health and dental care to us at Wellesley Dental Group.
Feel free to contact Drs. Ali & Ali and the caring team at Wellesley Dental Group if you have any thoughts or concerns; they will be happy to answer your questions! Contact us today at 781-237-9071 or smile@wellesleydentalgroup.com to set up an appointment.
Your little ones and teens are welcome to visit our pediatric dentist, Dr. Bahar Houshman and Dr. Marisa Reason is happy to help with your TMJ and orthodontic needs. For wisdom teeth extractions or any other oral surgery needs, Dr. Reisman would love to help, and our gum-specialist Dr. Singh can help with your gum-related concerns.
References:
https://www.colgate.com/en-us/oral-health/threats-to-dental-health/what-to-do-with-an-infected-piercing
https://www.ada.org/en/member-center/oral-health-topics/oral-piercing-jewelry
https://www.google.com/url?sa=i&url=https%3A%2F%2Fdepositphotos.com%2Fvector-images%2Ftongue-piercing.html&psig=AOvVaw05KsU0UtBSh9YWPu0ixPWk&ust=1630948950578000&source=images&cd=vfe&ved=0CAsQjRxqFwoTCLie2sCs6PICFQAAAAAdAAAAABAY