September 28th, 2020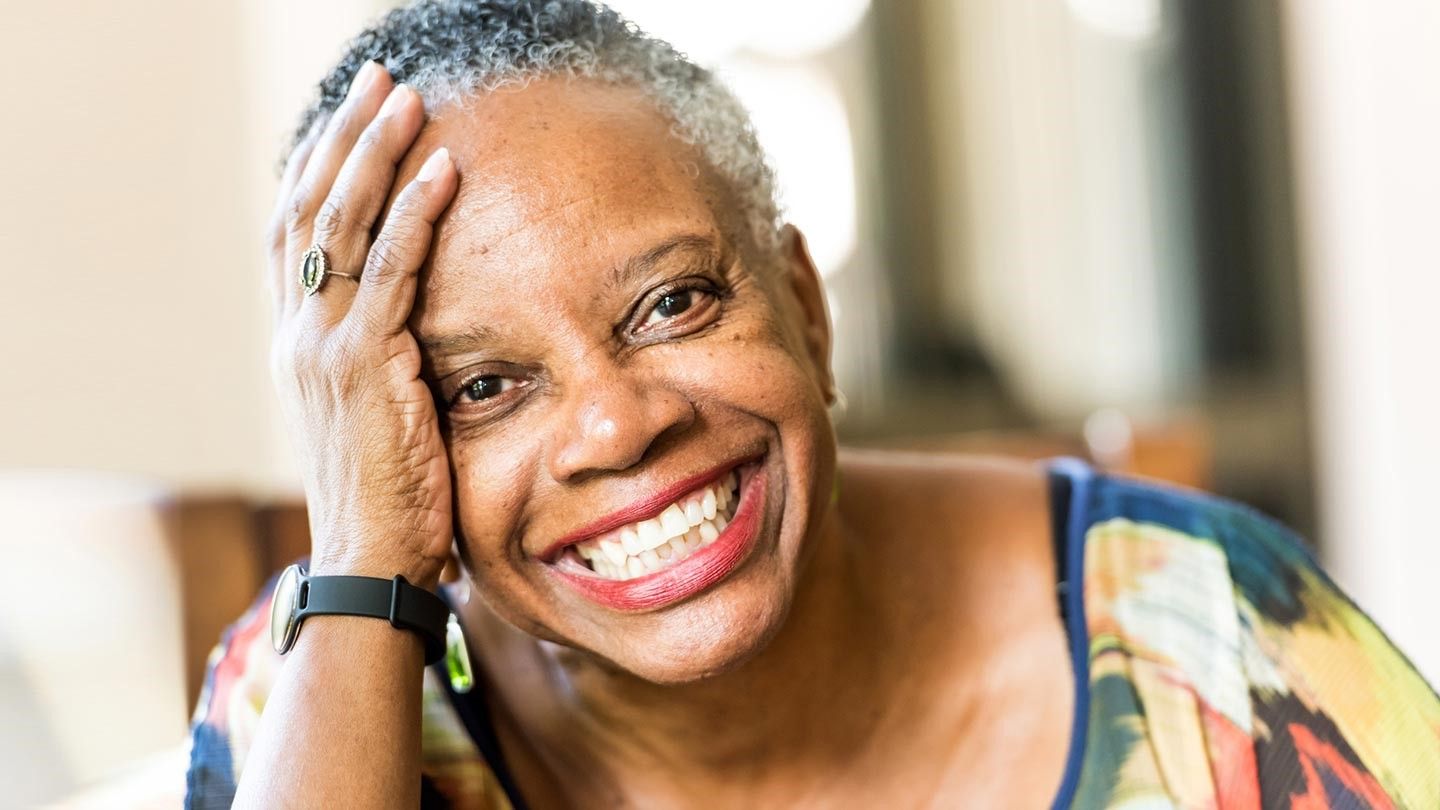 Believe it or not, bacteria found normally in your mouth may be involved with gut diseases and digestion issues. Digestive tract diseases, such as Inflammatory bowel disease (IBD) can be a real pain! The most common types of IBD include ulcerative colitis and Chron's disease, which both involve chronic inflammation, and sometimes even painful sores (ulcers). Some common signs and symptoms of both ulcerative colitis and Crohn's disease include severe diarrhea, abdominal pain, fatigue and weight loss. As these conditions take a toll on the digestive tract, it can be easy to forget that the mouth is a part of this system, too! Your dentist may even be the first to notice common oral signs of these gastrointestinal diseases that could lead to early diagnosis, such as cobblestoning of the oral mucosa, canker sores (aphthous ulcers), pyostomatitis vegetans, inflammation at the corners of the mouth (angular cheilitis), redness around the mouth, and inflammation of the tongue (glossitis), just to name a few! Here are some common oral conditions that may manifest as a result of Chron's disease and ulcerative colitis: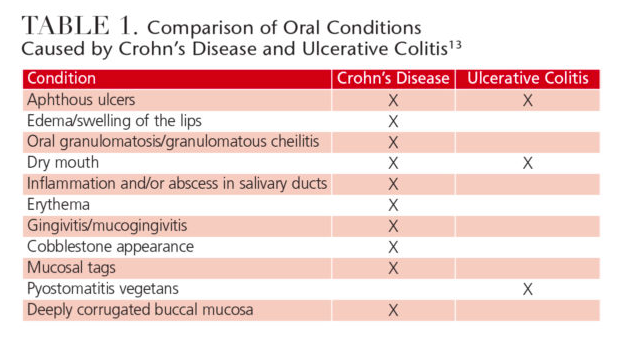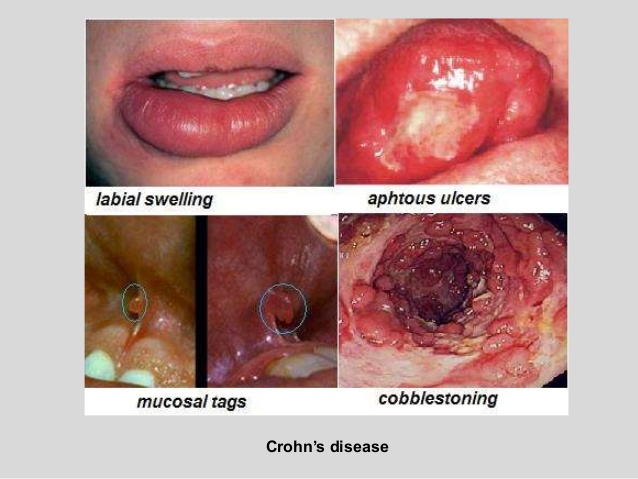 Several research studies in the past investigating the guts of individuals diagnosed with IBD have found an overgrowth of common oral bacteria present in the gastrointestinal tracts of studied participants. Now, a recent study at the University of Michigan School of Medicine and School of Dentistry has also uncovered further discoveries on the topic, and suggests that poor oral health may make IBD symptoms more severe. Researchers are warning that neglecting your oral health may lead to trouble beyond tooth decay- extending to other systemic diseases such as heart disease, diabetes, and potentially IBD. According to the study, IBD affects an estimated 3 million adults in the United States, and may be the latest condition made worse by poor oral health.
The study, published in the journal Cell, investigated mice and showed two pathways that involved oral bacteria appearing to exacerbate gut inflammation. In the first pathway, researchers looked at the gut microbes in mice with inflamed colons and periodontitis, a severe form of gum disease. They found that periodontitis led to an increase in oral bacteria, which were also found to be present within the guts of the mice by traveling through the digestive tract. They believe that the disease-causing oral bacteria may aggravate gut inflammation by disrupting the normal healthy gut bacteria. They also observed that these mice were found to have both greater weight loss and disease activity.
The second pathway involved the initiation of T cells (a main component of the immune system). The researchers believe that the inflammation resulting from periodontal disease triggers T cells, which can travel from the mouth to the gut where they may aggravate inflammation and prompt an immune response within the gut. Co-author Dr. William Giannobile, Professor of dentistry and chair of the department of periodontics and oral medicine at the U-M School of Dentistry, mentioned, "This exacerbation of gut inflammation driven by oral organisms that migrate to the gut has important ramifications in emphasizing to patients the critical need to promote oral health as a part of total body health and wellbeing,"
More research is necessary to determine the association between IBD and oral health, and exciting new research may provide more clues to how monitoring oral inflammation relates to improving systemic diseases like IBD. Practicing proper oral hygiene and attending regular dental visits to keep your oral care and inflammation under control is extremely important for keeping the rest of your body healthy!
This pandemic has impacted us all, but our community is indeed all stronger together. Our team at WDG always has your safety and health as our top priority, and we have implemented additional safety measures and equipment to help prevent the transmission of all infections, including COVID-19. Wellesley Dental Group has completely reopened since June 8th, 2020 for all dental procedures and cleanings! Thank you for entrusting your health and dental care to us at Wellesley Dental Group.
Feel free to contact Drs. Ali & Ali and the caring team at Wellesley Dental Group if you have any thoughts or concerns; they will be happy to answer your questions! Contact us today at 781-237-9071 or smile@wellesleydentalgroup.com to set up an appointment.
Your little ones and teens are welcome to visit our pediatric dentist, Dr. Derek, and Dr. Emad is happy to help with your TMJ and orthodontic needs. For wisdom teeth extractions or any other oral surgery needs, Dr. Stephens would love to help, and our gum-specialist Dr. Singh can help with your gum-related concerns.
References:
https://www.sciencedaily.com/releases/2020/06/200616113927.htm
https://labblog.uofmhealth.org/lab-report/could-cure-for-ibd-be-inside-your-mouth
https://www.mayoclinic.org/diseases-conditions/inflammatory-bowel-disease/symptoms-causes/syc-20353315
https://images.everydayhealth.com/images/digestive-health/crohns-disease/crohns-management-tips-for-seniors-1440x810.jpg?sfvrsn=2cf1348e_0
https://www.ncbi.nlm.nih.gov/pmc/articles/PMC4851452/#:~:text=Among%20the%20main%20oral%20manifestations,%2C%20perioral%20erythema%2C%20and%20glossitis.
https://decisionsindentistry.com/article/oral-manifestations-crohns-disease/
https://www.cell.com/cell/fulltext/S0092-8674(20)30681-4
https://image.slidesharecdn.com/oralpathology-en-lecture-6-170820102334/95/oral-pathology-enlecture6-31-638.jpg?cb=1503224626