August 25th, 2020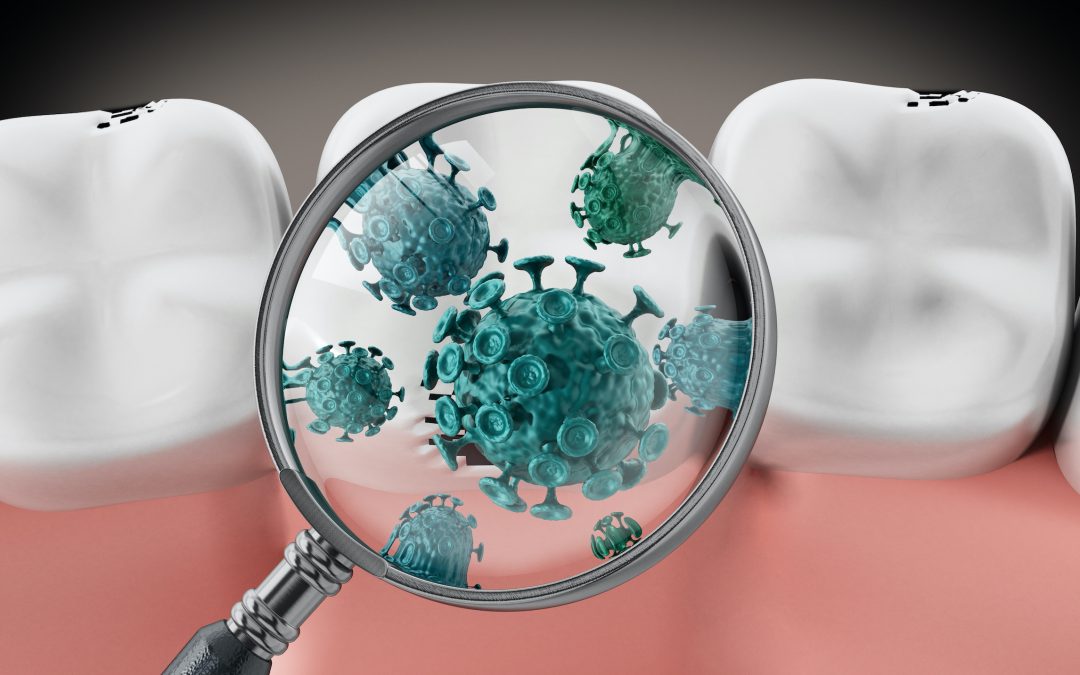 Scientists and researchers across the globe are in full-force battle mode when it comes to finding out more information about COVID-19 to help beat the virus. Although COVID-19 has brought about many challenges, losses, and uncertainties, it has brought so many individuals and an abundance of knowledge from across the world together, even if simply virtually! This constantly evolving pandemic has helped fuel important research, all sharing a common goal of finding connections and solutions to bringing this outbreak to a close. In the United Kingdom, researchers have explored the potential connection between oral health and COVID-19. The study, "Could There Be a Link Between Oral Hygiene and the Severity of SARS-Cov-2 Infections?," published in the British Dental Journal, aimed to determine whether health complications and deaths as a result of COVID-19 were linked to oral bacteria and periodontal disease (gum disease). Also, they hoped to learn more about whether or not the amount of bacteria present in the mouth plays a role in the severity of COVID-19, as well as how improving oral health could possibly lower the risk of individuals experiencing detrimental COVID-19 complications. As many researchers have found, COVID-19 seems to impact individuals in differing ways in terms of symptoms and severity of the disease. Some of the common severe complications of coronavirus include pneumonia, heart problems, blood clots, organ failure, acute respiratory distress syndrome (ARDS), and acute kidney injury.
In a healthy mouth, the presence of oral bacteria is natural and exists in harmony with the rest of your body. However, when the bacterial balance becomes out of control, harmful bacteria can not only create problems for your teeth and gums, but also for other parts of your body such as your lungs. The study highlighted several research studies that suggest that bacterial infections were common in individuals with severe COVID-19 symptoms. For instance, a study by Zheng and colleagues found that 50% of patients within their conducted study with severe COVID-19 who passed away also had the presence of a secondary bacterial infection. In addition, a study by Liu and colleagues found similar results, revealing that over 80% of the severe cases of COVID-19 in their study had significantly high bacterial loads as a result of a bacterial superinfection.
The study authors note that tiny droplets of saliva containing oral bacteria that are linked to gum disease, such as Porphyromonas gingivalis (P. gingivalis), Fusobacterium nucleatum (F. nucleatum) and Prevotella intermedia (P. intermedia), can contaminate other areas of your body, for instance the lungs. This can create an inflammatory response throughout the body and increase the risk of many developing other infections and complications. Thus, good oral hygiene practices and management of gum disease has been widely studied and associated with a reduction in the risk of respiratory infections. Not to mention, properly managing gum disease also plays a role in lowering the risks and complications associated with other systemic diseases such as cardiovascular disease and diabetes.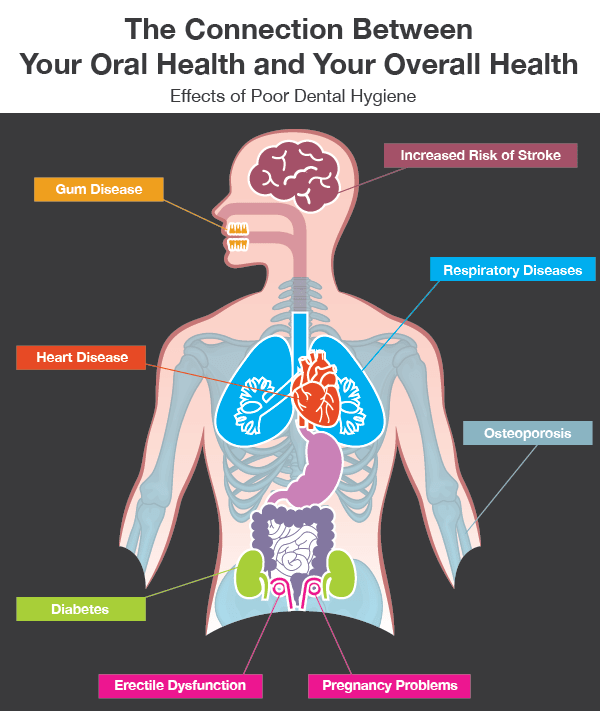 The authors of the study suggest that taking care of your oral health could particularly go a long way in lowering your risk of developing severe complications from COVID-19. The authors concluded, "We recommend that oral hygiene be maintained, if not improved, during a SARS-CoV-2 infection in order to reduce the bacterial load in the mouth and the potential risk of a bacterial superinfection. We recommend that poor oral hygiene be considered a risk to post-viral complications, particularly in patients already predisposed to altered biofilms due to diabetes, hypertension or cardiovascular disease. Bacteria present in patients with severe COVID-19 are associated with the oral cavity and improved oral hygiene may play a part in reducing the risk of complications." More research is needed to determine if there is a concrete connection between oral bacteria and COVID-19 complications, as well as the link between gum disease and the virus.
So, don't forget that your mouth is connected to your entire body, which means keeping up with your overall health goes hand in hand with also maintaining your oral health! Continue to stay safe and healthy.
This pandemic has impacted us all, but our community is indeed all stronger together. Our team at WDG always has your safety and health as our top priority, and we have implemented additional safety measures and equipment to help prevent the transmission of all infections, including COVID-19. Wellesley Dental Group has completely reopened since June 8th, 2020 for all dental procedures and cleanings! Thank you for entrusting your health and dental care to us at Wellesley Dental Group.
Feel free to contact Drs. Ali & Ali and the caring team at Wellesley Dental Group if you have any thoughts or concerns; they will be happy to answer your questions! Contact us today at 781-237-9071 or smile@wellesleydentalgroup.com to set up an appointment.
Your little ones and teens are welcome to visit our pediatric dentist, Dr. Derek, and Dr. Emad is happy to help with your TMJ and orthodontic needs. For wisdom teeth extractions or any other oral surgery needs, Dr. Stephens would love to help, and our gum-specialist Dr. Singh can help with your gum-related concerns.
References:
https://decisionsindentistry.com/2020/08/paper-explores-connection-between-oral-hygiene-severity-covid/?inf_contact_key=de1345513d0cf654b8e4b4892fabc16109c74070ac2bf3cfa7869e3cfd4ff832
https://www.ncbi.nlm.nih.gov/pmc/articles/PMC7319209/#!po=12.5000
https://www.ncbi.nlm.nih.gov/pmc/articles/PMC7258848/
https://www.mayoclinic.org/diseases-conditions/coronavirus/symptoms-causes/syc-20479963#:~:text=%2D%20Pneumonia%20and%20trouble%20breathing,%2D%20Acute%20kidney%20injury.
https://www.vaildentistry.com/blog/whats-living-in-your-mouthand-whats-it-doing-to-your-heart/
https://hickorydentist.com/caring-for-your-oral-health-while-preventing-covid-19/
https://decisionsindentistry.com/covid-19/