October 28th, 2020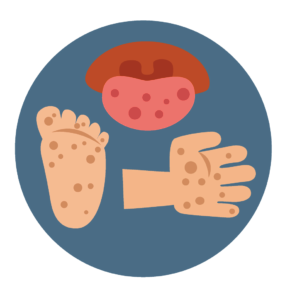 Hand, foot and mouth disease is a viral infection caused by coxsackievirus. This viral infection is common in children and infants who are younger than 5 years old. Once exposed, it takes 3 to 6 days for symptoms to appear. This time period is known as the incubation period. Sign and symptoms can include: fever, sore throat, and a runny nose.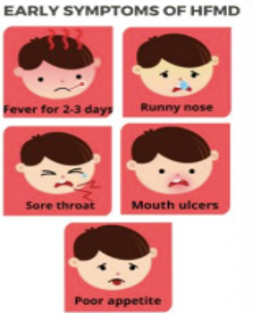 As the virus progresses, mouth sores may appear on the tongue, gums, and inside the cheeks one to two days after the onset of the fever. The sores are small and red and can be painful. A rash on the hands can follow one to two days later. The rash may be accompanied with blisters. The fluid in the blisters may contain the virus so it is recommended to avoid touching blisters and scabs, and to keep them clean.
Hand foot and mouth disease is very contagious. It can be spread by nose and throat secretions, respiratory droplets, fluid from blisters formed, and feces. Those who have the illness are most contagious during the first week of infection. To prevent the spreading of the virus, the Center for Disease Control and Prevention (CDC) recommends:
Washing your for at least 20 seconds as well as teaching children how to wash their hands
Clean and disinfect toys, items, and surfaces that are touched often
Avoid touching your mouth, nose and eyes; this will lessen the chance of getting the virus
Avoid contact with those who are sick
While this disease may sound concerning, symptoms usually go away within 7 to 10 days. Some at home remedies can be used to provide relief. This includes:
drinking cold beverages such as ice water
avoiding acidic foods and drinks
avoiding spicy foods
eating soft foods that are easy to chew
rinsing with warm salt water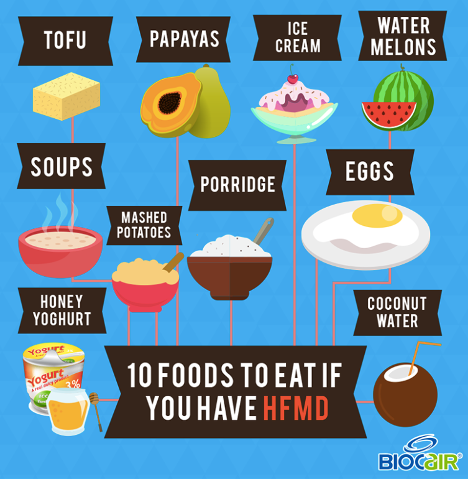 If you see anything that causes concern in the mouths of your little ones, feel free to contact Drs. Ali & Ali and the caring team at Wellesley Dental Group if you have any thoughts or concerns; they will be happy to answer your questions! Contact us today at 781-237-9071 or smile@wellesleydentalgroup.com to set up an appointment.
Your little ones and teens are welcome to visit our pediatric dentist, Dr. Derek, and Dr. Emad is happy to help with your TMJ and orthodontic needs. For wisdom teeth extractions or any other oral surgery needs, Dr. Stephens would love to help, and our gum-specialist Dr. Singh can help with your gum-related concerns.
References:
https://www.cdc.gov/hand-foot-mouth/about/signs-symptoms.html
https://www.mayoclinic.org/diseases-conditions/hand-foot-and-mouth-disease/diagnosis-treatment/drc-20353041
https://www.healthline.com/health/hand-foot-mouth-disease#treatments
https://kidspluspgh.com/doctors-notes/hand-foot-and-mouth-disease/
https://www.healthychildren.org/English/health-issues/conditions/infections/Pages/Hand-Foot-and-Mouth-Disease.aspx
https://www.homeo-cure.com/homeopathy-treatment-on-hand-foot-and-mouth-disease/
https://www.facebook.com/Biocair/photos/hand-foot-and-mouth-disease-or-hfmd-has-definitely-been-making-its-rounds-here-i/2102506673316284/