August 24th, 2020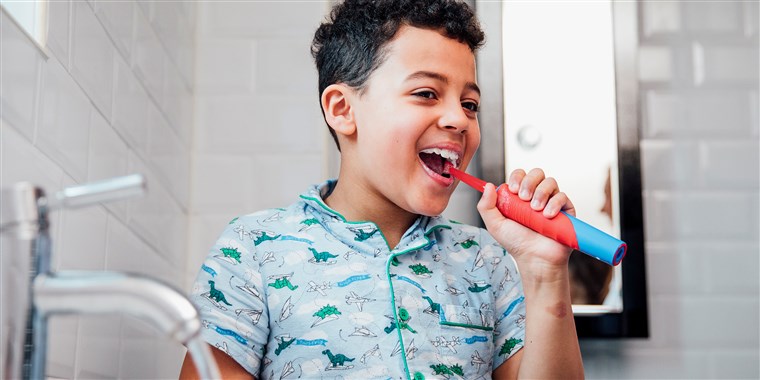 From an early age, we all hear how important it is to take care of our teeth to keep us healthy. Even so, as time progresses we are learning more about how the condition of our mouth relates to our overall health and other systemic diseases. When it comes to keeping our pearly whites shining and our gums healthy, we all have an important decision to make when it comes choosing the right toothbrush. There's a plethora toothbrush types, ranging from different shapes, sizes, colors, and technology.
No matter whether you go with a manual or an electric toothbrush, there are certain characteristics that the American Dental Association (ADA) recommends be incorporated:
Make sure to use a soft-bristled toothbrush: If you check the store isles, you may notice that toothbrushes come in soft, medium, or hard nylon bristles. It is recommended to use a soft-bristled toothbrush, as medium-hard bristles can harm your tooth enamel, gums, and root surfaces due to abrasive forces. You will want to confirm that the toothbrush you choose has the American Dental Association (ADA) Seal of Approval to ensure that the toothbrush has been researched and tested to be safe and effective in removing bacterial dental plaque and food particles.
The ADA also recommends that manual toothbrushes/electric toothbrush heads should be changed approximately every three to four months, or sooner if the bristles become frayed.
A comfortable toothbrush is necessary: Be sure to pick a toothbrush that is the right size and shape to best fit your mouth so that you can easily access all of your teeth when brushing.
Electric versus manual toothbrush, which is better? The ADA notes that both electric and manual toothbrushes can both be effective at removing dental bacterial plaque with proper toothbrushing techniques. Some studies have revealed that electric toothbrushes may remove more plaque than manual brushes, and can be especially effective for individuals with hand dexterity problems or people with oral appliances such as braces. In addition, many of the electric toothbrushes now have smart Bluetooth technology and built-in timers and app suggestions to make sure your brushing experience is excellent!
Take a look at the ADA's method on proper brushing technique: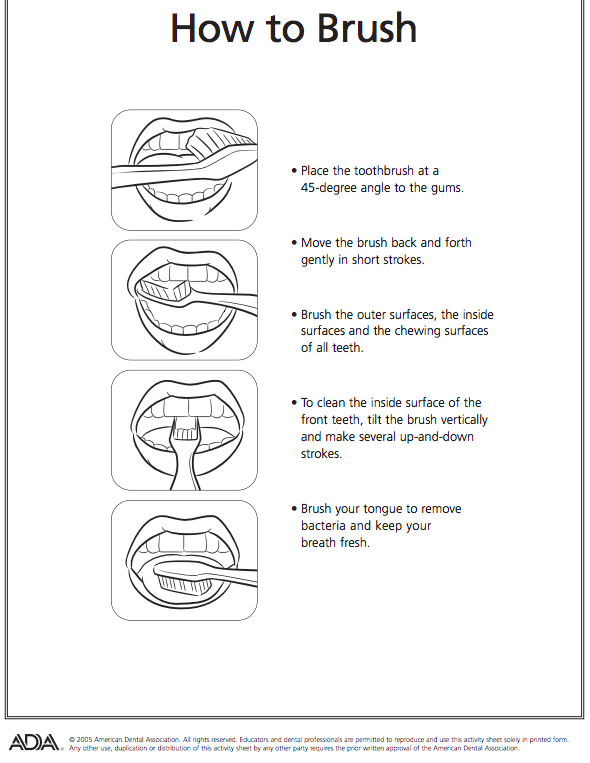 Here are some of the cool top rated electric toothbrushes out that are ADA-approved: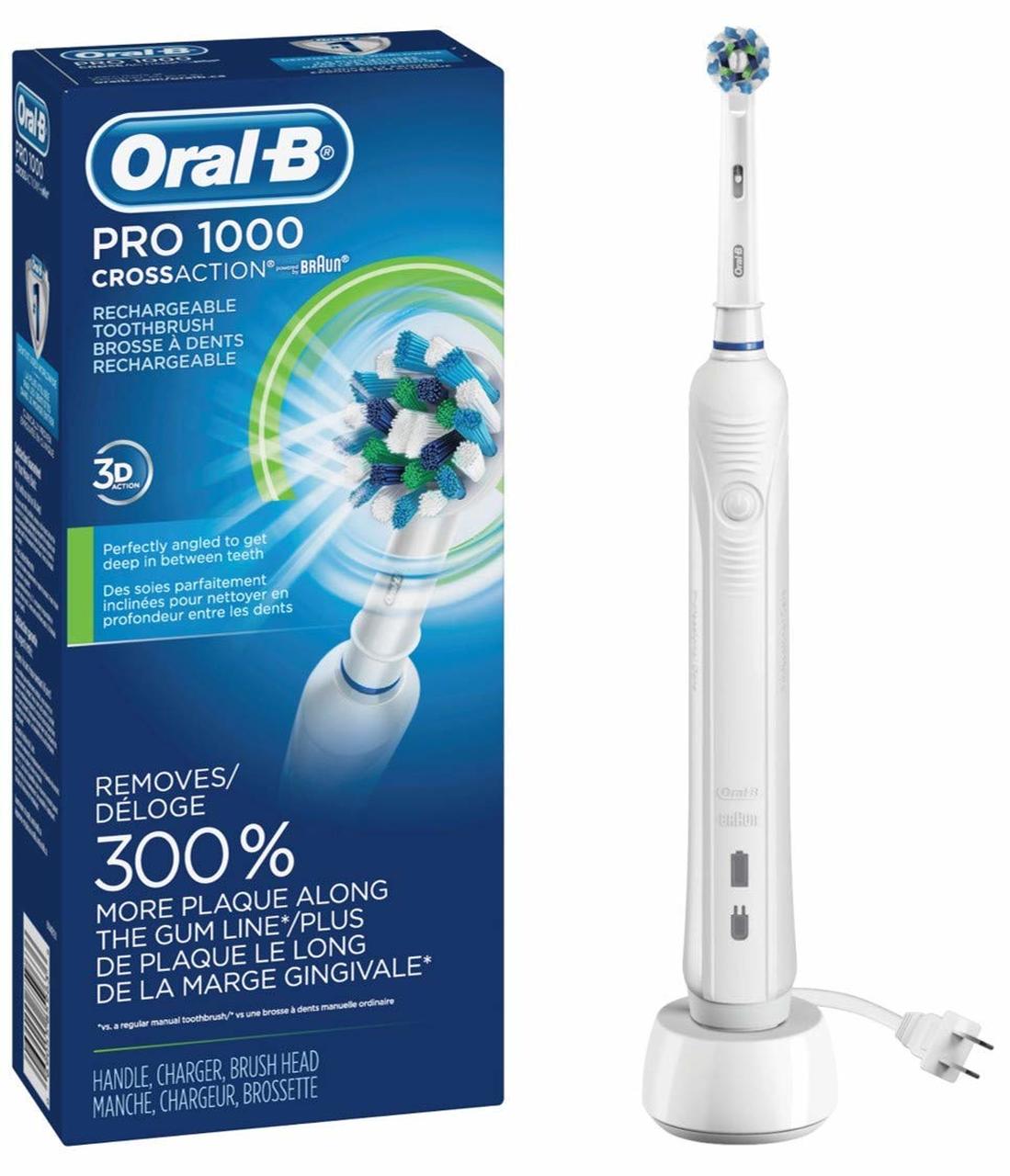 Oral-B, which is the first electric toothbrush brand to be accepted by the ADA, is well known for its effective and cost-friendly electric toothbrushes. On Amazon, this brush has over 10,549 5-star reviews! This brush comes with a pressure sensor that will tell you if you're brushing too hard, in addition to a minute timer, and tooth brushing heads such as the CrossAction, FlossAction, and 3D White to choose from.
Phillips Sonicare is another dentist and ADA recommended brand for electric toothbrushes with a lot to offer! This brush can sync to your smart phone along with the Sonicare app to guide you with your brushing techniques. Plus it has different tooth brushing modes and bristle heads to fit your needs.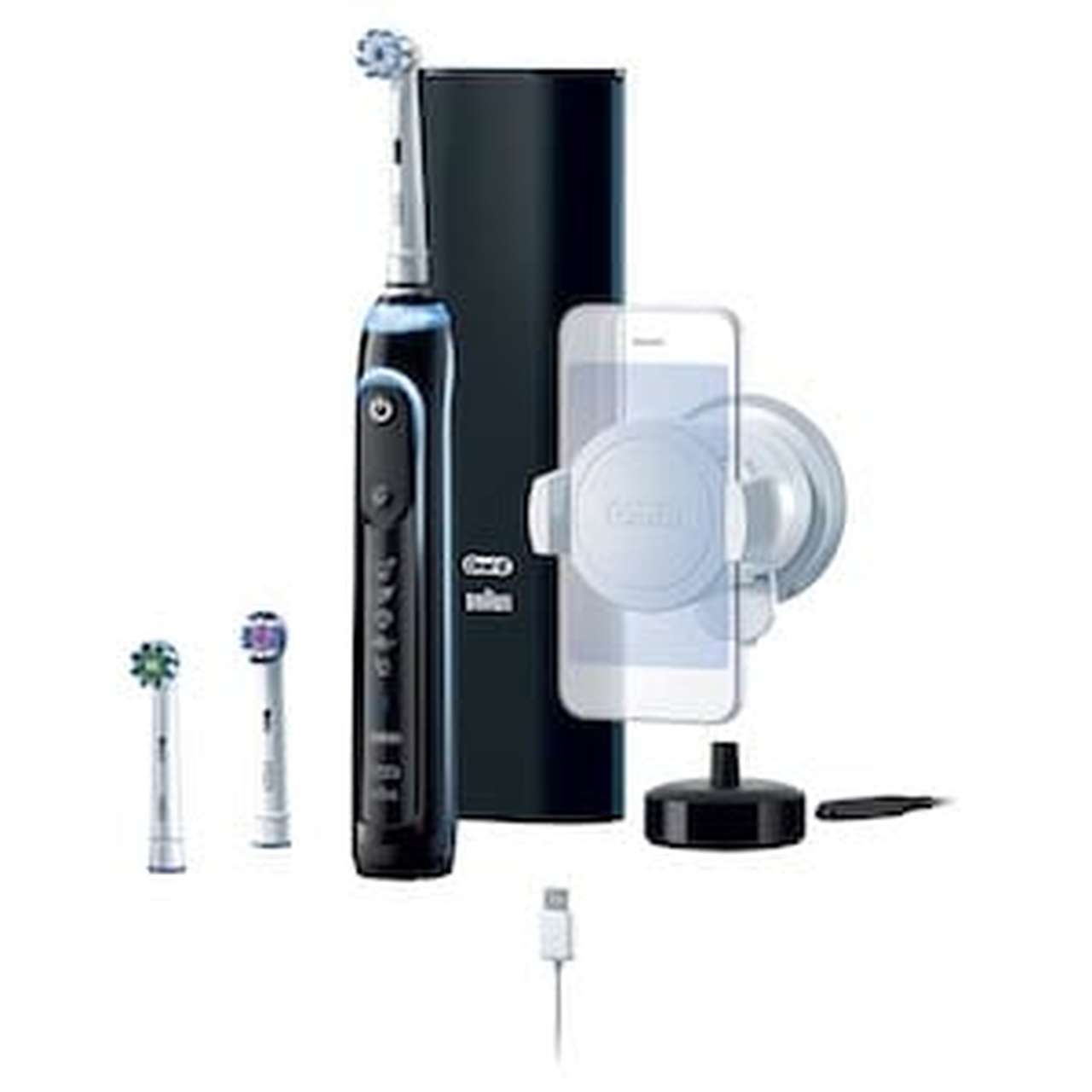 This Oral-B smart toothbrush has standard features such as pressure sensor, a timer, and brushing modes, but also connects to your smart phone using the Oral-B app.  The app will give you feedback on your brushing methods and help give you tips to keep your gums and teeth healthy. 
Waterpik offers a built-in water flosser to their electric toothbrush with different modes to choose from: brush, water floss, or brush + water floss. This toothbrush is great for individuals who may forget to floss. It can also be used with mouthwash through the toothbrush.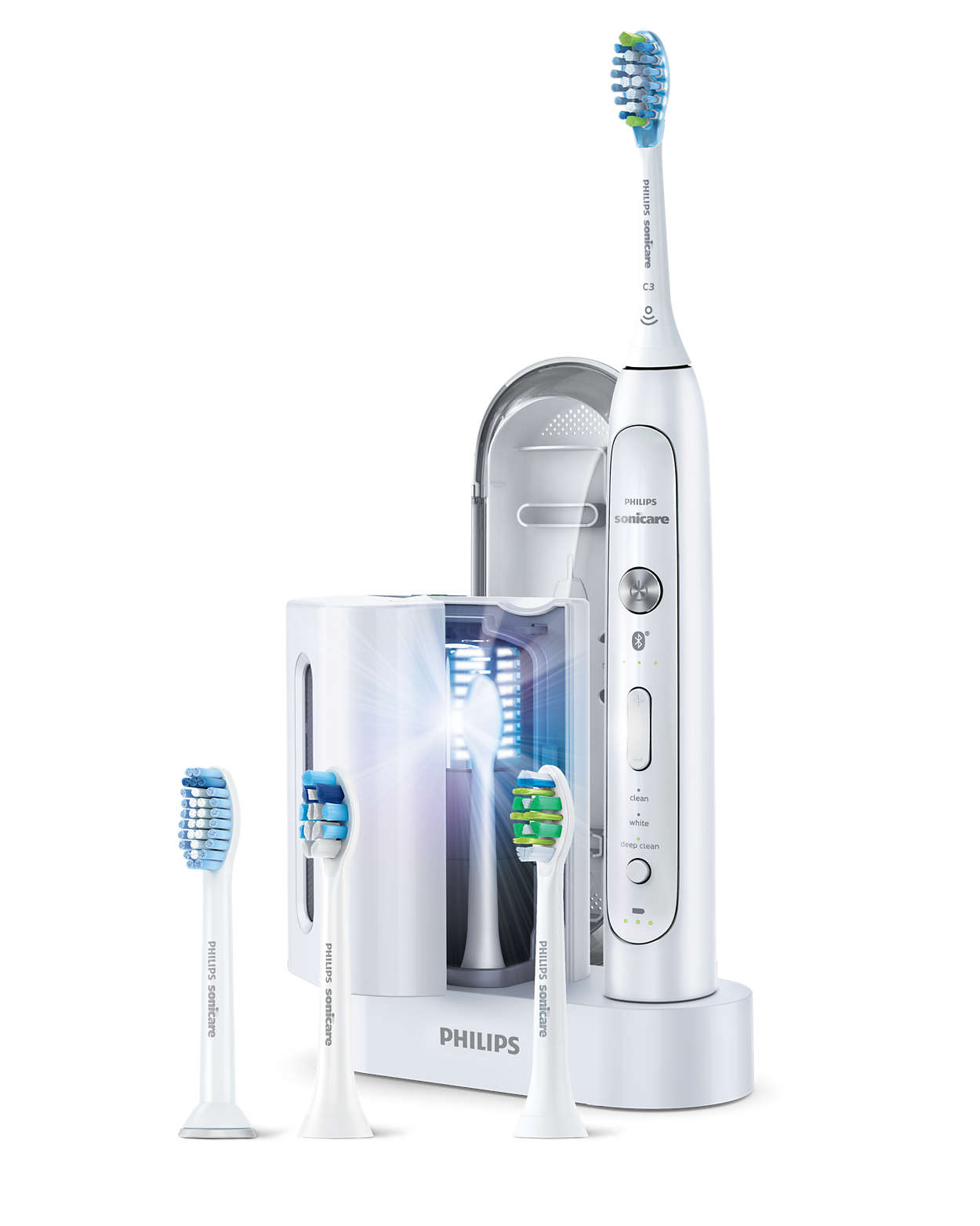 This toothbrush is another Sonicare product that connects with the Sonicare app for personalized brushing feedback, pressure sensor, and even comes with a UV brush head sanitizer that can help kill bacteria and viruses.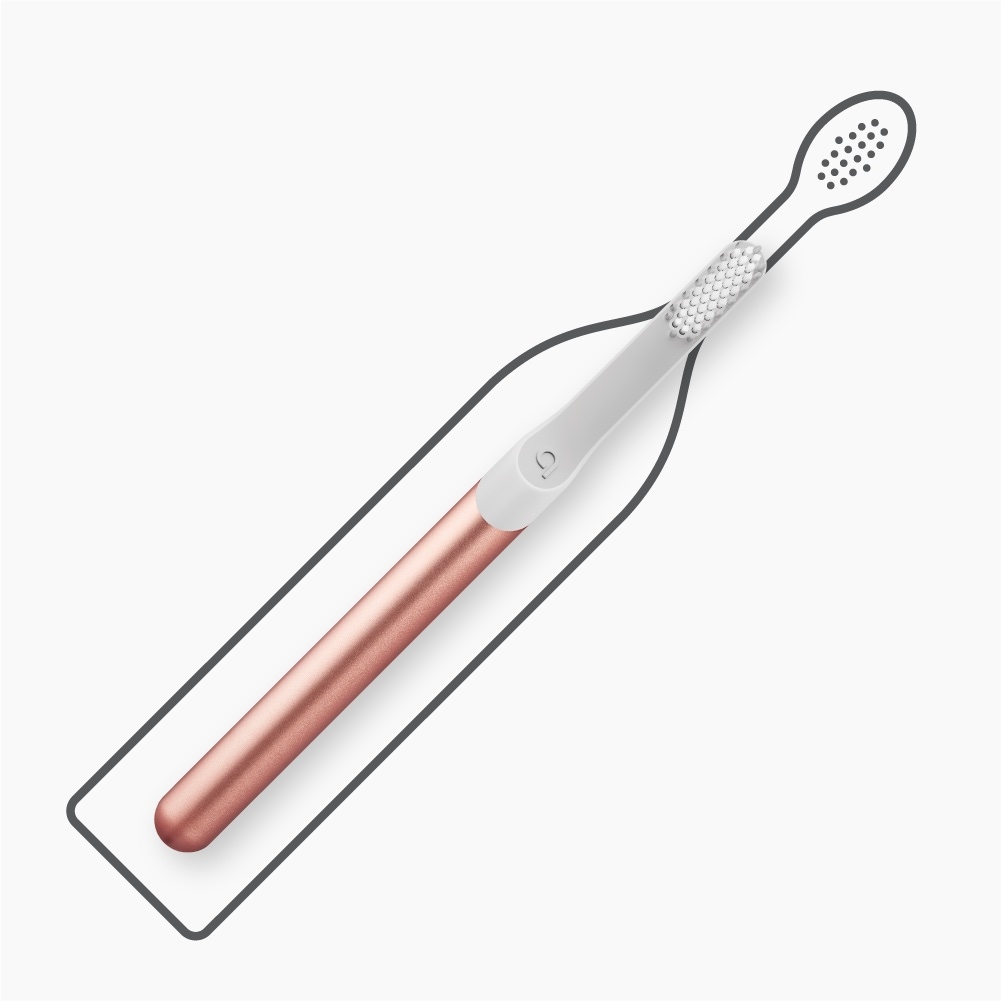 Quip offers a cute, affordable, and easy to use electric toothbrush. It is battery operated, waterproof, and contains a compact travel tube. It operates via silent sonic vibrations and also has a built-in two minute timer.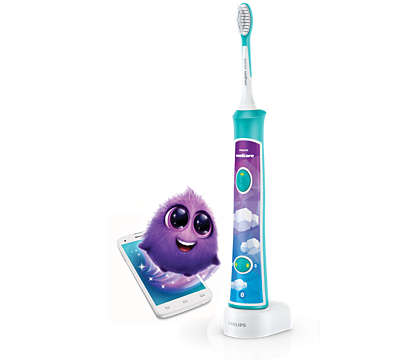 Sonicare offers a toothbrush geared to get children excited about brushing their teeth. This brush includes bluetooth and app connection capability, fun stickers, and multiple brushing modes. The interactive app also has fun oral health games and is perfect for children around the age of 7 years or older.
Recently, Candibell Inc. launched a fundraiser campaign on Indiegogo for its Truthbrush that is the first to allow parents to monitor their family's toothbrushing habits. This way families can keep each other on track with developing great oral hygiene practices. We will be on the lookout for more awesome and effective toothbrushing technology!
Also, remember, when picking a toothbrush for your child make sure to show them all of the awesome colors and designs available to peak their interest! Plus Colgate and some other brands offer interactive talking electric toothbrushes with timers to help children brush for two minutes. Check to make sure that it is the appropriate size for your child, and that it is soft-bristled with the ADA Seal of Approval.
Feel free to contact Drs. Ali & Ali and the caring team at Wellesley Dental Group if you have any thoughts or concerns; they will be happy to answer your questions! Contact us today at 781-237-9071 or smile@wellesleydentalgroup.com to set up an appointment.
Your little ones and teens are welcome to visit our pediatric dentist, Dr. Derek, and Dr. Emad is happy to help with your TMJ and orthodontic needs. For wisdom teeth extractions or any other oral surgery needs, Dr. Stephens would love to help, and our gum-specialist Dr. Singh can help with your gum-related concerns.
References:
https://www.goodhousekeeping.com/health-products/g28818208/best-electric-toothbrush/
https://www.ada.org/en/science-research/ada-seal-of-acceptance/ada-seal-products/product-category?category=Toothbrush+-+Powered
https://www.ada.org/en/member-center/oral-health-topics/toothbrushes
https://www.colgate.com/en-us/oral-health/basics/selecting-dental-products/choosing-the-right-toothbrush
https://www.ada.org/~/media/ADA/Science%20and%20Research/Files/watch_materials_brush.pdf?la=en
https://oralb.com/en-us/oral-b-pro-1000-rechargeable-electric-toothbrush/
https://www.webmd.com/oral-health/guide/choosing-a-toothbrush-the-pros-and-cons-of-electric-and-disposable#1
https://www.waterpik.com/oral-health/products/flossing-toothbrush/SF-02CD010-1/
https://www.getquip.com/?utm_source=google&utm_medium=cpc&utm_campaign=%5BBrand%5D+-+Quip+General+Terms&utm_content=Quip+Toothbrush+-+Exact&utm_term=quip+toothbrush&gclid=CjwKCAjwsan5BRAOEiwALzomXyd9xZGZ3QMn02PK4dpY0n5uxUzt438RCCtWUmPEVYizIDfI1G8QgRoCVtIQAvD_BwE&gclsrc=aw.ds
https://www.usa.philips.com/c-p/HX9192_02/sonicare-flexcare-platinum-connected-sonic-electric-toothbrush-with-app
https://images.philips.com/is/image/PhilipsConsumer/HX9194_53-IMS-en_US?$jpglarge$&wid=1250
https://www.usa.philips.com/c-m-pe/electric-toothbrushes?origin=7_700000001603708_71700000062950648_58700005638898501_43700051420604490&gclid=CjwKCAjwmrn5BRB2EiwAZgL9osgqbdal6nmcrf-yIM0_80LZew0MA7YneAeLZH98Qh-6E1TjqAsjWxoCgcEQAvD_BwE&gclsrc=aw.ds#triggername=color_white
https://oralb.com/en-us/products/electric-toothbrushes/genius-9600-rechargeable-electric-toothbrush/
https://www.wfmz.com/news/pr_newswire/pr_newswire_technology/candibell-launches-first-ever-device-that-monitors-family-toothbrushing-habits/article_9a50c7e5-08fa-5720-8a41-3f04e70d952c.html
https://www.usa.philips.com/c-p/HX6321_02/sonicare-for-kids-sonic-electric-toothbrush
https://www.nbcnews.com/shopping/wellness/best-electric-toothbrushes-n1193846