May 31st, 2021

Today, May 31st marks World No Tobacco Day, which is an annual celebration that aims to educate the world about the harmful consequences of using tobacco. The World Health Organization (WHO) created this observance dating back to 1987 in hopes to fight the tobacco epidemic to help protect individuals and future generations against preventable death and diseases caused by tobacco. This year the theme is 'Quit tobacco to be a winner.'  Lots of social media campaigns and programs across the world are happening now to help promote quitting smoking.
Quitting smoking can be very hard and you are not alone, but the benefits of doing so are extremely powerful. Now in particular with the presence of COVID-19 and its link to respiratory diseases, it's a perfect time to quit smoking. The WHO reported, "When the news came out that smokers were more likely to develop severe disease with COVID-19 compared to non-smokers, it triggered millions of smokers to want to quit tobacco."
Take a look at the health benefits of quitting from the WHO: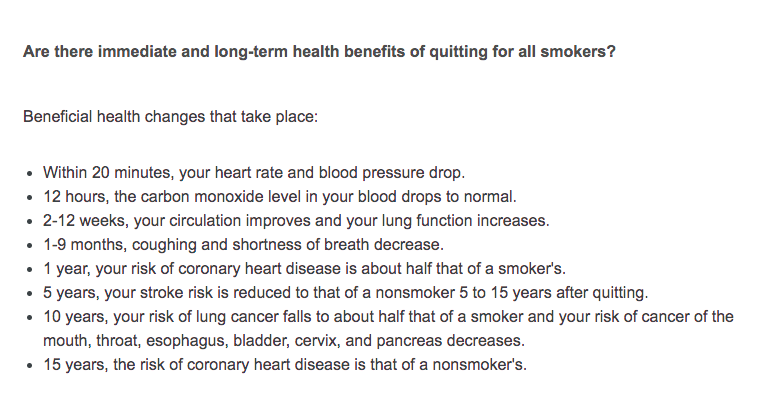 Tobacco use also plays a significant negative role on ones oral health. Tobacco use can increase the risk of developing oral cancer compared to non-smokers, and can lead to bad breath and stain teeth. Tobacco use is also associated with an increased risk of gum disease. In addition, the FDA reports that smoking can make your body heal slower following procedures such as dental surgery, as it causes carbon monoxide to enter your blood and depletes your body of the oxygen it needs. This can lead to greater risk of having post-operative complications. The damaging effects of using tobacco can be both permanent and life-threatening.
After time away from smoking, study's report that your brain will begin to get used to not smoking, and it will become easier to break the cycle of addiction. Here's some tips to help you quit as soon as possible:
Schedule check-up appointments with your health professionals. See your primary physician and dental professional to help you start fresh and make goals toward quitting. They can provide resources and guide you through your process of quitting. There are also helplines available, such as 1-800-QUIT-NOW.
Start eliminating things tied to your smoking life. Trash your cigarettes, ashtrays, and lighters to help make it easier to not indulge. Also, try to eliminate any triggers that can create cravings.
Switch smoking with healthier oral habits. Chewing sugar-free gum or having nutritious snack items around can help keep you distracted from smoking and be good for your teeth. When you have the desire to smoke, head to brush your teeth instead, which will freshen your breath and help remove smoking stains.
Keep the air fresh. Try to eliminate the aroma of cigarettes to rid the reminder of smoking.
Whether you smoke tobacco or e-cigarettes or chew tobacco, your oral health and overall health are harmed. Plan to quit smoking today! Your dental professional can help you take the necessary steps to get your started on your journey to quitting smoking.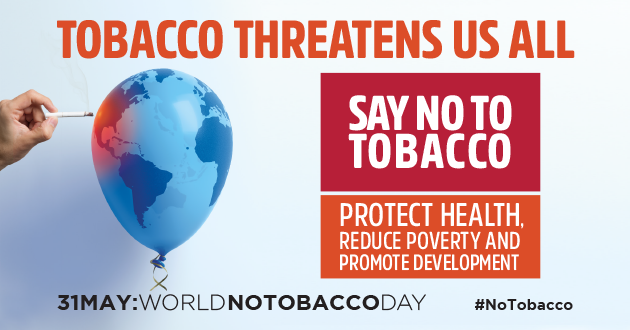 This pandemic has impacted us all, but our community is indeed all stronger together. Our team at WDG always has your safety and health as our top priority, and we have implemented additional safety measures and equipment to help prevent the transmission of all infections, including COVID-19. Wellesley Dental Group has completely reopened since June 8th, 2020 for all dental procedures and cleanings! Thank you for entrusting your health and dental care to us at Wellesley Dental Group.
Feel free to contact Drs. Ali & Ali and the caring team at Wellesley Dental Group if you have any thoughts or concerns; they will be happy to answer your questions! Contact us today at 781-237-9071 or smile@wellesleydentalgroup.com to set up an appointment.
Your little ones and teens are welcome to visit our pediatric dentist, Dr. Bahar Houshman and Dr. Marisa Reason is happy to help with your TMJ and orthodontic needs. For wisdom teeth extractions or any other oral surgery needs, Dr. Reisman would love to help, and our gum-specialist Dr. Singh can help with your gum-related concerns.
References:
https://www.who.int/news-room/q-a-detail/tobacco-health-benefits-of-smoking-cessation
https://www.who.int/campaigns/world-no-tobacco-day
https://www.firstpost.com/india/world-no-tobacco-day-2021-theme-this-year-is-quit-tobacco-to-be-a-winner-9664371.html
https://www.colgate.com/en-us/oral-health/threats-to-dental-health/how-to-quit-smoking-and-protect-your-oral-health
https://www.google.com/url?sa=i&url=https%3A%2F%2Fwww.cadca.org%2Fblog%2Fmay-31st-marks-annual-world-no-tobacco-day&psig=AOvVaw1nzL9Ehq7Cp0QCqfgg7kUa&ust=1622296530918000&source=images&cd=vfe&ved=0CAIQjRxqFwoTCNig3NXD7PACFQAAAAAdAAAAABAI
https://www.google.com/url?sa=i&url=https%3A%2F%2Fwww.who.int%2Fmediacentre%2Fevents%2F2018%2Fworld-no-tobacco-day%2Fen%2F&psig=AOvVaw1nzL9Ehq7Cp0QCqfgg7kUa&ust=1622296530918000&source=images&cd=vfe&ved=0CAIQjRxqFwoTCNig3NXD7PACFQAAAAAdAAAAABAD