August 16th, 2020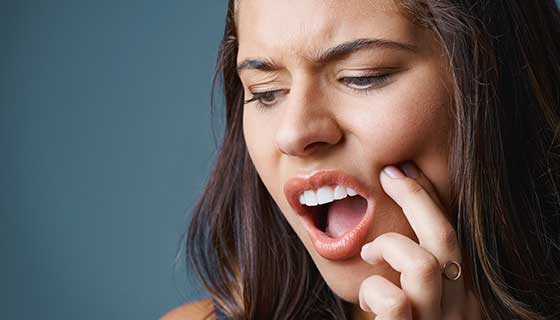 There's a lot to look out for when it comes to COVID-19 and trying to stay safe and healthy. From frequent hand washing, to social distancing, to getting used to wearing a face covering, to recognizing common coronavirus symptoms -the list of things is numerous! Researchers are finding that there may be another COVID-19 symptom to monitor for that can appear in your mouth.
Several recent studies have looked at the presence of oral lesions in individuals with COVID-19. Much of the research remains unclear regarding whether or not the oral symptoms were a result of the coronavirus infection or due to the individual's other current systemic medical conditions, or because of adverse medication reactions.
In a published study authored by Carreras‐Presas and colleagues, three case reports were presented involving individuals who all developed oral ulcers/blisters and were believed to be infected with COVID-19. Out of the three investigated individuals, one tested positive for COVID-19, while the other two individuals were not tested for COVID-19 due to milder symptoms. Here's a breakdown of the cases:
The first case was a 56‐year‐old male with no existing medical conditions. He reported experiencing a fever, change in taste, pain at the roof of his mouth (palate), and a sore throat. These lesions resolved after approximately 10 days with treatment. The palate is pictured below:
The second case was a 58‐year‐old male with diabetes and high blood pressure (hypertension). He presented with ulcers on his palate and reported no previous history of a herpetic infection. The lesions were healed after approximately 1 week with treatment.
The third case involved a 65‐year‐old female who tested positive for COVID-19 and experienced a high fever, diarrhea, and tongue pain. Her existing medical conditions included obesity and high blood pressure, which she controlled with high blood pressure medications. Shortly after being released from the hospital she developed blisters on the inside of her lip, as pictured below. With a prescribed mouthwash her oral lesions improved after 3 days.
More research needs to be conducted to determine if oral lesions can be considered a sign of COVID-19 infection. Due to the susceptibility of COVID-19 through air droplets, researchers believe that the mouth could possibly be the first place in the body to show signs of infection. The study authors also believe that this data matches other studies that have shown ulcers and blisters to be common lesions associated with other viruses, including hand, foot, and mouth disease, and herpetic gingivostomatitis for instance.
Another research study looked at 21 hospitalized individuals who tested positive for COVID-19 who presented with a skin rash on the outer surface of their bodies. The study was published in JAMA Dermatology and conducted in Spain. Of the 21 individuals, six individuals (29%) also presented with an oral rash, resembling small red spots on the mucosa inside the mouth. These oral lesions appeared approximately two weeks after other COVID-19 symptoms were present, with a reported average of 12.3 days. Of the six individuals, four were women and two were men, and their ages ranged from 40 to 69 years old. On all individuals the oral mucosal spots (also known as an enanthem) were present on the palate. The authors of the study believe that these oral manifestations were most likely linked to the presence of a virus rather than due to a drug reaction because the oral lesions in 5 out of the 6 individuals presented with a petechial pattern. Petechiae, small red-purple spots created by bleeding under the skin, have been found in several other research studies to be associated with viral infections.
If you notice any unusual signs or symptoms occurring within your mouth, or are experiencing any typical COVID-19 symptoms, seek a medical professional immediately.
This pandemic has impacted us all, but our community is indeed all stronger together. Our team at WDG always has your safety and health as our top priority, and we have implemented additional safety measures and equipment to help prevent the transmission of all infections, including COVID-19. Wellesley Dental Group has completely reopened since June 8th, 2020 for all dental procedures and cleanings! Thank you for entrusting your health and dental care to us at Wellesley Dental Group.
Feel free to contact Drs. Ali & Ali and the caring team at Wellesley Dental Group if you have any thoughts or concerns; they will be happy to answer your questions! Contact us today at 781-237-9071 or smile@wellesleydentalgroup.com to set up an appointment.
Your little ones and teens are welcome to visit our pediatric dentist, Dr. Derek, and Dr. Emad is happy to help with your TMJ and orthodontic needs. For wisdom teeth extractions or any other oral surgery needs, Dr. Stephens would love to help, and our gum-specialist Dr. Singh can help with your gum-related concerns.
References:
https://www.medpagetoday.com/infectiousdisease/covid19/87584
https://onlinelibrary.wiley.com/doi/full/10.1111/odi.13382
https://www.ncbi.nlm.nih.gov/pmc/articles/PMC7323044/
https://www.hopkinsmedicine.org/-/media/images/health/1_-conditions/teeth-and-mouth/oral-herpes-teaser.ashx