May 14th, 2021
Join us in honoring the special observance, National Women's Health Week (NWHW), which highlights the necessity of maintaining good health for all women. Organized by the U.S. Department of Health and Human Services' Office on Women's Health (OWH), this awareness week begins on Mother's Day each year. Staying healthy is especially important throughout the COVID-19 pandemic and there are lot s of ways to safely stay physically active and healthy.

Check out some tips to gain better health according to the OWH: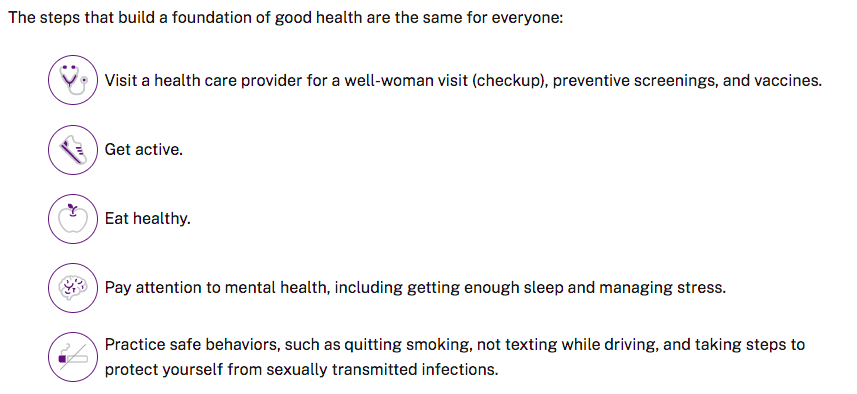 Be sure you are making regular check-ups with your physicians and dentists. Check-ups are necessary to ensure there is no disease or issues present. Taking preventative measures to stay healthy can help lower the risk of developing health issues or help identify issues early on when treatment is often more manageable.
If you are pregnant or planning a pregnancy, be sure to be in contact with your health care professionals.
Staying physically active is important. The CDC recommends adults aged 18–65 years  should exercise for a minimum of 30 min on five days per week. Physical activity can lower the risk of developing several conditions, including heart disease, which is one of the leading causes of death for women.
Eat a healthy well-balanced diet, which plays a significant role in keeping your body healthy. Getting all of the right nutrients is essential to stay healthy. For instance, folic acid is particularly important for women who are pregnant. Also, consuming tooth-friendly foods, such as fruits and vegetables, and limiting the amount of high-sugar foods and drinks can help keep your body and pearly whites strong and healthy. Vitamin D and calcium intake are important in particular for strong bones and teeth. Avoid heavy alcohol consumption, and remember everything in  moderation is key.
Put your mental health at the forefront. Having a positive mental state has been shown to improve overall health. Stress, on the other hand, can take a toll on your body and has been linked to poorer health and well-being. Find healthy behaviors that make you happy to help manage stress. If you find that stress is getting in the way of your daily activities, it is important to seek professional help as soon as possible.
Make sure you are getting the appropriate amount of sleep each day. The CDC recommends adults rest for at least 7 hours per night. While children and adolescents should have 8-12 hours of sleep each night.
Avoid harmful behaviors such as smoking, which can have a significant negative impact on your overall health.
Making changes to better your health isn't always a walk in the park, but luckily there are a lot of tools and resources available to give you a jump start on achieving your goals. The OWH encourages everyone to learn more about the COVID Vaccine and how schedule your appointment. Not only does the vaccine provided the best protection against COVID-19 as recommended by the CDC, but also fully vaccinated individuals are able to enjoy greater freedoms than during the start of the pandemic. The OWH offers an online tool customized to help you create your plan for improving your health.
This pandemic has impacted us all, but our community is indeed all stronger together. Our team at WDG always has your safety and health as our top priority, and we have implemented additional safety measures and equipment to help prevent the transmission of all infections, including COVID-19. Wellesley Dental Group has completely reopened since June 8th, 2020 for all dental procedures and cleanings! Thank you for entrusting your health and dental care to us at Wellesley Dental Group.
Feel free to contact Drs. Ali & Ali and the caring team at Wellesley Dental Group if you have any thoughts or concerns; they will be happy to answer your questions! Contact us today at 781-237-9071 or smile@wellesleydentalgroup.com to set up an appointment.
Your little ones and teens are welcome to visit our pediatric dentist, Dr. Bahar Houshman and Dr. Marisa Reason is happy to help with your TMJ and orthodontic needs. For wisdom teeth extractions or any other oral surgery needs, Dr. Reisman would love to help, and our gum-specialist Dr. Singh can help with your gum-related concerns.