June 18th, 2021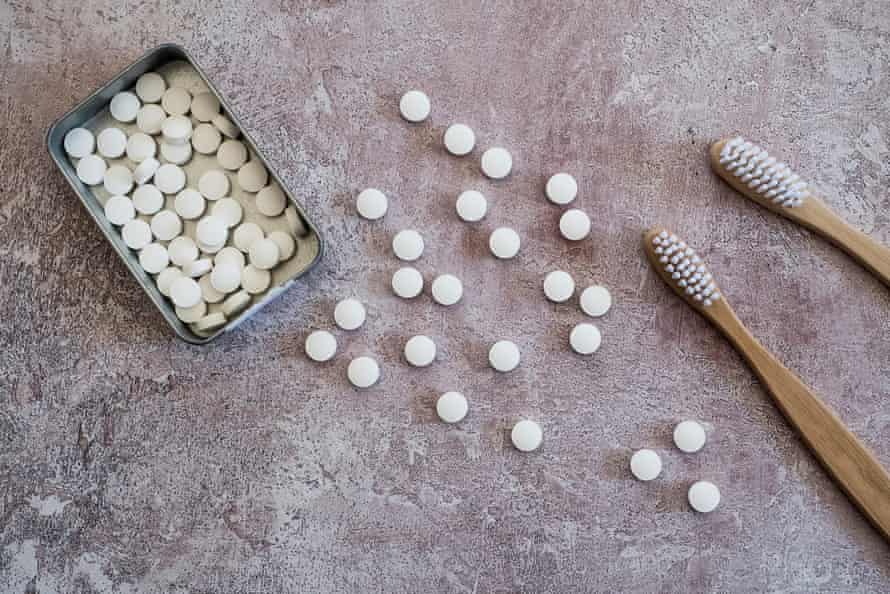 New trends are always interesting to learn about, and one of the latest in the dental world is toothpaste tablets! Toothpaste tablets, also referred to as unpaste, has been in the limelight recently as an alternative to regular toothpaste. This has been particularly popular for consumers who are environmentally conscious and aiming to limit waste, such as from traditional plastic toothpaste tubes.
Toothpaste tablets resemble small mints, and are chewed prior to toothbrushing. They have been made to include typical toothpaste ingredients, including xylitol, calcium carbonate, sodium bicarbonate, and tartaric acid derivatives. Some also include fluoride. In addition, some brands offer vegan and all-natural toothpaste tablets, free of synthetic dyes, sulfates, and other ingredients. Once the tablet is chewed, it will mix with your saliva and create a toothpaste-like substance aimed to help remove food particles and dental plaque.
Toothpaste tablets are advertised to show similar effects as regular toothpaste. However, these tablets have not currently been approved by dental organizations like the American Dental Association (ADA), as more research and data is needed.
Along with their eco-friendly characteristics, other pros to toothpaste tablets include their easy accessibility when on-the-go or traveling. They can even be used without a toothbrush if out and about without one. Plus, they are resistant to temperature differences so they won't dry out like regular toothpastes when leaving the cap off.
Some of the cons to toothpaste tablets include a higher cost when compared to regular toothpaste brands. In addition, toothpaste tablets currently aren't found in many stores, but are starting to make their appearance at certain companies. Also, toothpaste tablets may not be as effective as using regular toothpaste, as it is harder to reach all of the surfaces of your teeth evenly with the tablets as compared to regular toothpaste. This can lead to lack of removal of food on certain teeth which can contribute to dental decay. Furthermore, many of the toothpaste tablets marketed do not contain fluoride, which is a beneficial mineral that helps promote tooth remineralization and fight tooth decay.
Thus, for now, toothpaste tablets may only provide benefit for those who are traveling or are out on the town without access to a traditional fluoride containing toothpaste.
This pandemic has impacted us all, but our community is indeed all stronger together. Our team at WDG always has your safety and health as our top priority, and we have implemented additional safety measures and equipment to help prevent the transmission of all infections, including COVID-19. Wellesley Dental Group has completely reopened since June 8th, 2020 for all dental procedures and cleanings! Thank you for entrusting your health and dental care to us at Wellesley Dental Group.
Feel free to contact Drs. Ali & Ali and the caring team at Wellesley Dental Group if you have any thoughts or concerns; they will be happy to answer your questions! Contact us today at 781-237-9071 or smile@wellesleydentalgroup.com to set up an appointment.
Your little ones and teens are welcome to visit our pediatric dentist, Dr. Bahar Houshman and Dr. Marisa Reason is happy to help with your TMJ and orthodontic needs. For wisdom teeth extractions or any other oral surgery needs, Dr. Reisman would love to help, and our gum-specialist Dr. Singh can help with your gum-related concerns.
References:
https://www.dentistryiq.com/dentistry/products/hygiene/article/14203936/toothpaste-tablets-your-next-big-thing?utm_source=DEC_DIQ+Morning+Briefing&utm_medium=email&utm_campaign=CPS210524071&o_eid=3760I9143045C2X&rdx.ident%5Bpull%5D=omeda%7C3760I9143045C2X&oly_enc_id=3760I9143045C2X
https://www.google.com/url?sa=i&url=https%3A%2F%2Fwww.theguardian.com%2Ffashion%2F2021%2Ffeb%2F15%2Fdown-the-tubes-should-you-brush-your-teeth-with-toothpaste-tablets&psig=AOvVaw19n_XHK7DLBvuzWsy0dnAb&ust=1623994560232000&source=images&cd=vfe&ved=0CAIQjRxqFwoTCJix26v5nfECFQAAAAAdAAAAABAE
https://www.theguardian.com/fashion/2021/feb/15/down-the-tubes-should-you-brush-your-teeth-with-toothpaste-tablets