October 20th, 2020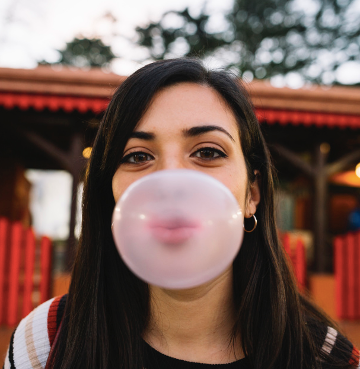 Chewing gum, it's used to freshen breath but is it good for you? The average American consumes 1.8 pounds of it a year. We've heard the age-old tale that candy is bad for your teeth. Well, there is good news when it comes to gum. Using sugar free chewing gum can help to prevent tooth decay, cause the production of more saliva, and ultimately help to strengthen teeth.
The Oral Health Foundation recommends sugar free gum in between meals when brushing is not possible. When you eat, acid is made by the bacteria in your mouth and the sugar in your food and drinks. The acid created dissolves your tooth enamel, creating a cavity. When sugar free gum is chewed, saliva is created. This washes away the acid and reduces the chance of developing tooth decay. The increased saliva can also help clear away acid in the esophagus as well as reduce the effects of dry mouth.
Chewing sugar free gum can help to increase pH within the mouth after eating. This is important because pH drops each time that you consume food or drinks. The critical pH that causes enamel to dissolve is 5.5. Sugar free gum helps to buffer the lowering of pH after eating.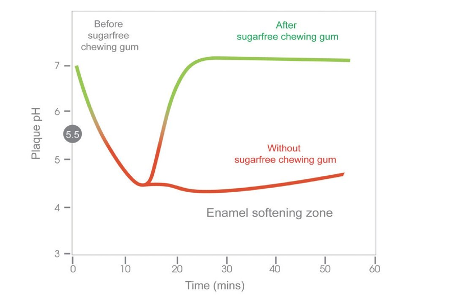 Sugar free gum contains less than 0.5 grams of sugar per serving. Sweeteners such as aspartame, sucrose, or stevia and sugar alcohols such as xylitol, mannitol, and sorbitol are used in place of sugar. These sweeteners have less calories than sugar. Out of all of these sweeteners, xylitol has been proven to be the most effective in preventing cavities. Studies have shown that chewing gum that contains xylitol has a long- and short-term effect of reducing the production of plaque and bacteria that causes tooth decay. Bacteria cannot feed off of xylitol which reduces their amount within the oral cavity.
So, you may be wondering, which gum to chew? When choosing gum, look for the American Dental Association (ADA) seal of approval. The following have been evaluated and have met the ADA's criteria for safety and efficiency.
Bazooka Sugar Free Bubble Gum: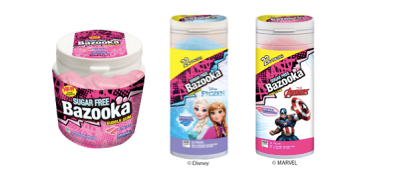 Eclipse Sugar Free Gum:

Ice Breakers Ice Cubes Sugar Free Chewing Gum:

Orbit Sugar Free Gum:

Trident Sugar free Gum:
Yes, sugar free gum can be beneficial, but that does not mean that it can replace brushing and flossing. The ADA recommends brushing twice a day and flossing at least once a day.
This pandemic has impacted us all, but our community is indeed all stronger together. Our team at WDG always has your safety and health as our top priority, and we have implemented additional safety measures and equipment to help prevent the transmission of all infections, including COVID-19. Wellesley Dental Group has completely reopened since June 8th, 2020 for all dental procedures and cleanings! Thank you for entrusting your health and dental care to us at Wellesley Dental Group.
Feel free to contact Drs. Ali & Ali and the caring team at Wellesley Dental Group if you have any thoughts or concerns; they will be happy to answer your questions! Contact us today at 781-237-9071 or smile@wellesleydentalgroup.com to set up an appointment.
Your little ones and teens are welcome to visit our pediatric dentist, Dr. Derek, and Dr. Emad is happy to help with your TMJ and orthodontic needs. For wisdom teeth extractions or any other oral surgery needs, Dr. Stephens would love to help, and our gum-specialist Dr. Singh can help with your gum-related concerns.
References:
https://www.ada.org/en/member-center/oral-health-topics/chewing-gum
https://www.mouthhealthy.org/en/az-topics/c/chewing-gum
https://oralb.com/en-us/oral-health/life-stages/adults/effects-chewing-gum-on-teeth/
https://www.colgate.com/en-us/oral-health/basics/nutrition-and-oral-health/gum-that-is-good-for-your-teeth-too-good-to-be-true-0213
https://www.dentalhealth.org/sugar-free-chewing-gum?_ga=2.254167688.10820751.1600308545-1646793870.1600308545