We are excited to announce that Wellesley Dental Group has completely reopened since June 8th, 2020 for all dental procedures and cleanings!
Your safety has always been a top priority at Wellesley Dental Group, so you may notice some updates when you arrive for your next appointment! Specifically, we have invested in several additional safety equipment to help prevent the transmission of all infections, including COVID-19.
Equipment Investment: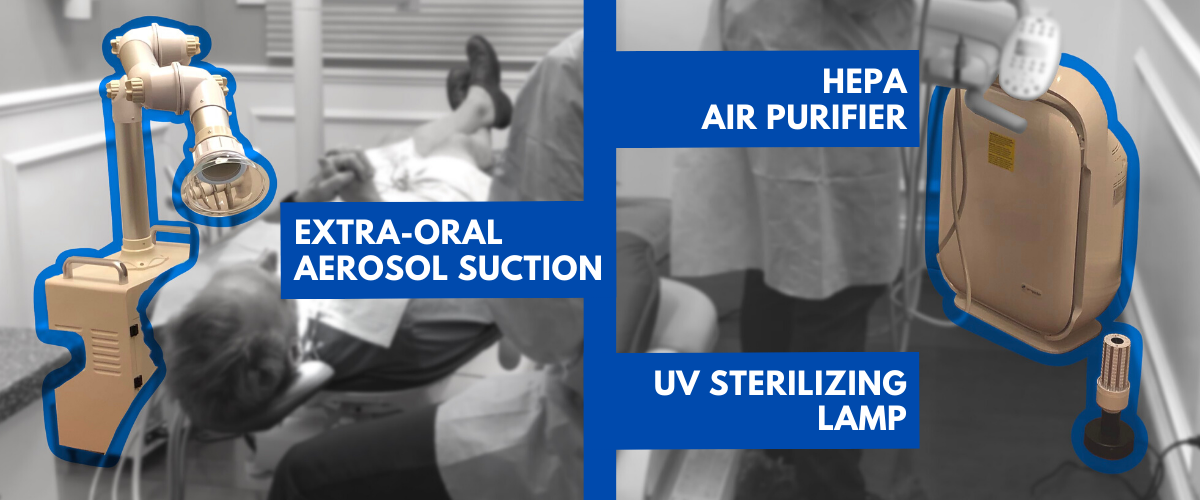 Extra-oral Aerosol Suction:Our office has installed Food and Drug Administration (FDA) approved extra-oral suction systems to remove and filter aerosol particles created by dental procedures. These systems are equip with a H13 HEPA Filter, Carbon Filter and UV-C light to filter viruses, blood, germs, and fluids.
UV-Sanitizing HEPA Air Purifiers: In addition, we have installed HEPA air purifiers, including medical grade UV purifiers, in the reception area and hallways. These air filters are fitted with H13 HEPA material which is tested to eliminate 99.97% of airborne pollutants as small as 0.1 microns (0.00001 cm)! The estimated size of COVID-19 is approximately 0.12 microns. Additionally, the UV614 air purifiers are fitted with True Medical-grade HEPA enhanced to capture 99.99% of particles. These filters are particularly effective for individuals who have immune systems that are compromised.
Hospital-Grade H-VAC Filters and Ionizers: We are equipped with hospital-grade H-VAC filters and ionizers that remove and neutralize airborne pollutants like bacteria, viruses, mold, and allergens. The H-VAC MERV 13 filters capture microbial pollutants that are less than 1 micron in size. The H-VAC ionizers function by removing essential hydrogen atoms from airborne pollutants, inhibiting potentially dangerous pathogens from surviving.
Sterilizing UV Lamps: Around our office you will also see sterilization UV lamps that work concurrently with heightened airflow management and filtration to reduce the viability of viral and bacterial pathogens by breaking down microbial genetic material (DNA).
Full PPE: Dentists, hygienists, and assistants will be in full Personal Protective Equipment (PPE) at all times, including: surgical face masks, face shields, disposable gowns and caps, and shoe covers. Staff that can work remotely will do so, and all in-office staff will have their temperature checked daily.
Enhanced Disinfecting Protocol: We are implementing an enhanced disinfecting protocol and allowing ample time between patients to ensure rooms are meticulously disinfected.
Appointment Updates: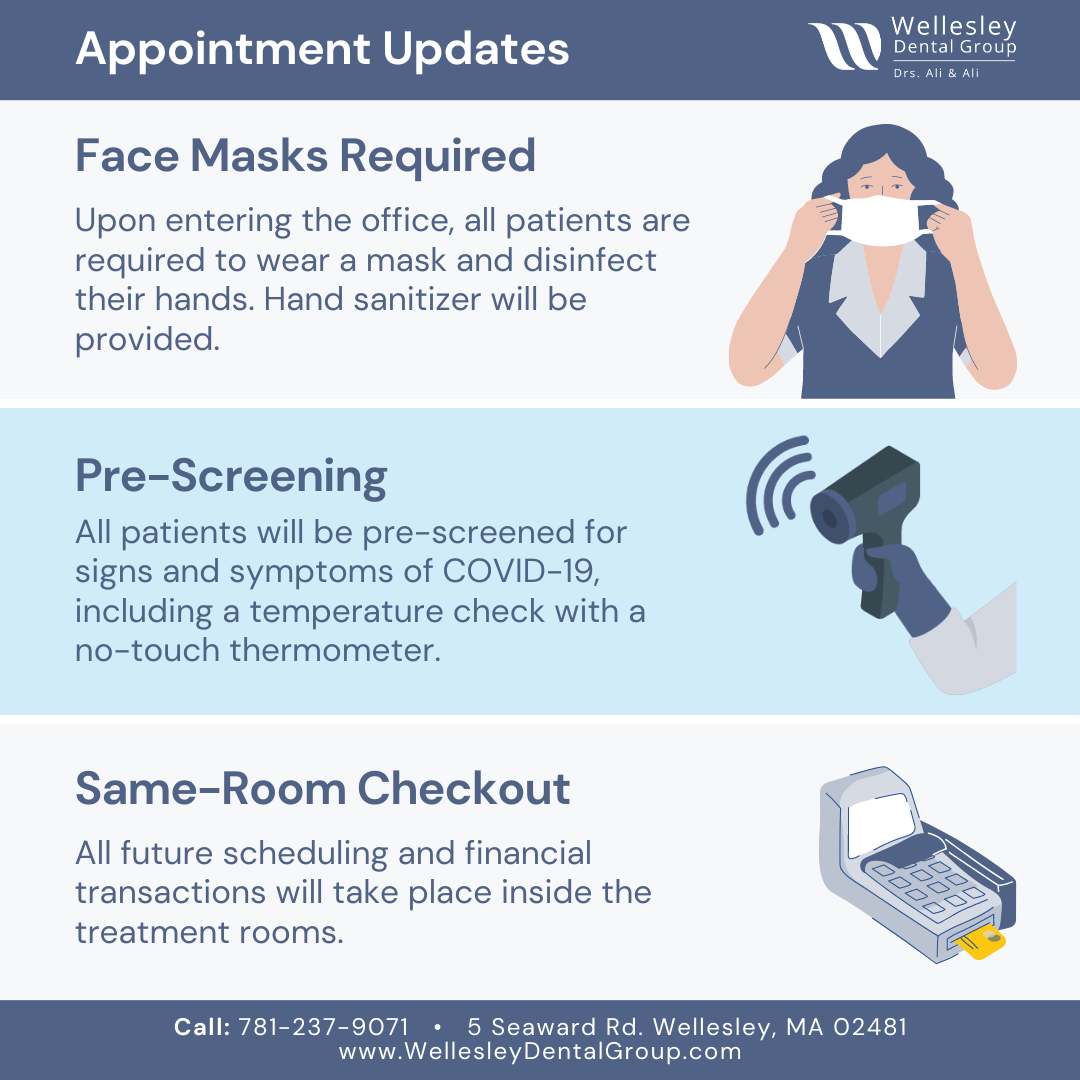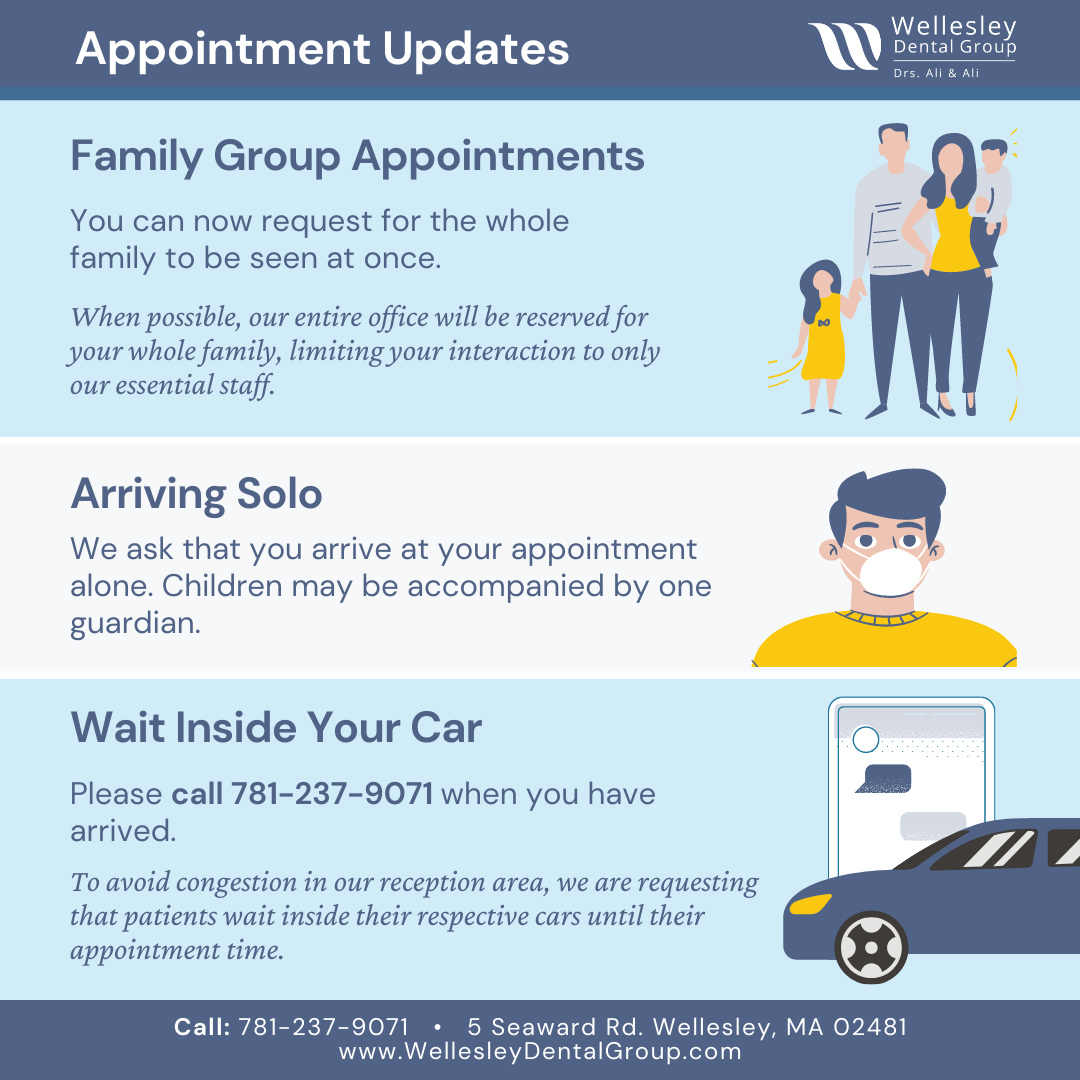 Family Group Appointments: When booking your next appointment, you can now request for the whole family to be seen at once. When possible, our entire office will be reserved for your family, limiting your interaction to only our essential staff.
Arriving Solo: We ask that you arrive at your appointment alone; children may be accompanied by one guardian
Wait Inside Your Car: To avoid congestion in our reception area, please text the office at 781-462-6401 when you arrive and wait in your car until your appointment time.
Face Mask Required: Upon entering the office, all patients are required to wear a mask and disinfect their hands (hand sanitizer will be provided.
Pre-Screening: All patients will be pre-screened for signs and symptoms of COVID-19, including a temperature check with a no-touch thermometer
Same-Room Checkout: To minimize exposure, all future scheduling and financial transactions will take place in treatment rooms (no need to stop by the front desk on your way out.
Our Routine Dental Tools Sterilization and Disinfection: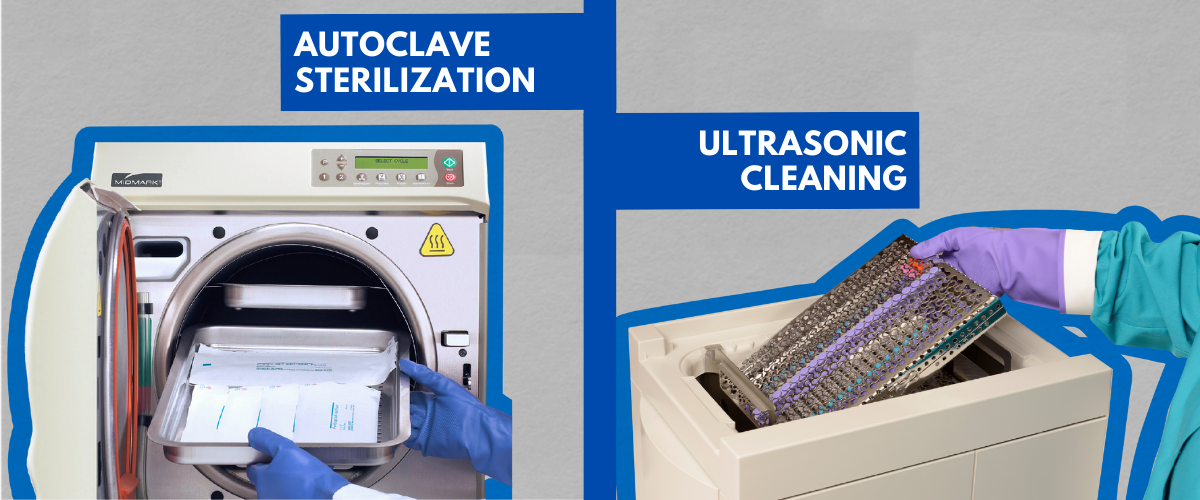 Single-Use Tools: Where we can, we make sure to use sterile, single-use, and disposable equipment and tools (i.e. suction tips, nasal masks, gloves, etc.)
Ultrasonic Cleaning: For non-disposable dental tools, we first immerse them in an enzymatic bath in the ultrasonic machine. The ultrasonic machine uses ultrasonic vibrations to "knock-off" contaminants— even ones in tiny crevices that hand-scrubbing can't reach— and the enzymes "eat" them up!
Autoclave Sterilization: After the ultrasonic machine, our squeaky clean dental tools are sterilized in the autoclave. The autoclave or "sterilizer" is a machine that sterilizes our instruments by using extremely high heat, steam, and pressure to kill all bacteria, viruses, spores, and other germs— including ones that are resistant to boiling water and powerful detergents.
CaviWipe Disinfection: If we cannot sterilize non-disposable tools in the autoclave (i.e. tools that cannot withstand high heat sterilization), we make sure to disinfect it with single-use CaviWipes and then expose it to our UV disinfecting lamps. CaviWipes is an EPA-registered, hospital-grade disinfectant. The EPA lists it as a disinfectant for use against COVID-19 and harder-to-kill-pathogens. The UV disinfecting lamps are an extra precaution that breaks down viral genetic material (i.e. DNA and RNA).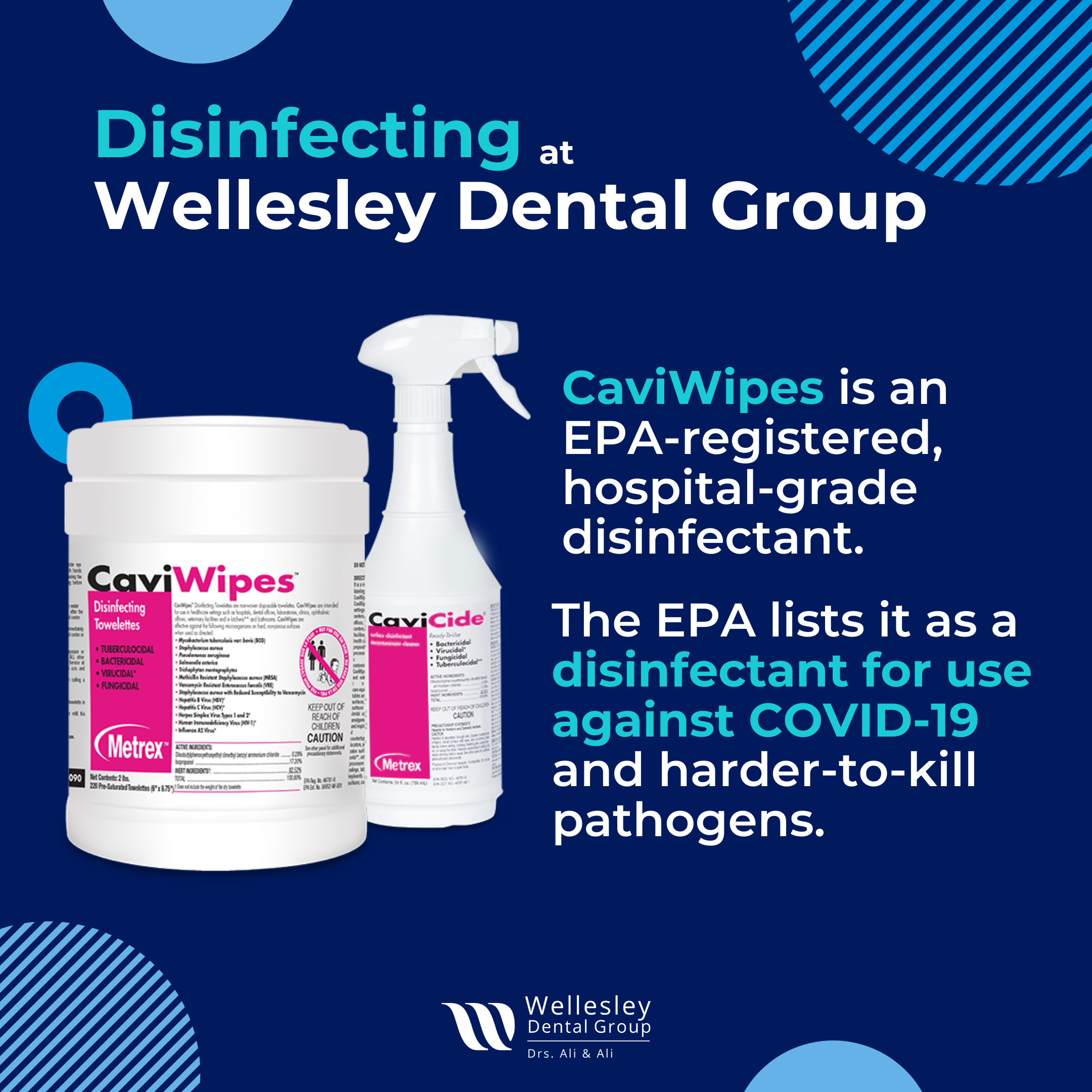 Take A Peek Into Our Routine Disinfection:
While many things have changed, one thing remains the same— our commitment to your health and safety. We are happy to answer any questions you may have about the measures we've enhanced to keep you and your family safe by call (781-237-9071), text (781-462-6401), or email (smile@wellesleydentalgroup.com).
Thank you for entrusting your health and dental care to us at Wellesley Dental Group. We look forward to welcoming back our patients, neighbors, and friends.
Sincerely,
Drs. Ali & Ali and the Caring Team at Wellesley Dental Group