Veneers – Wellesley, MA
One Treatment for a Complete Smile Transformation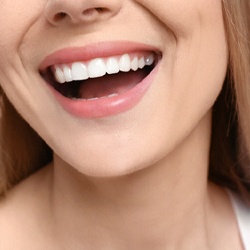 You no longer need to hide your smile because of gaps, chips, stains, or misshapen teeth. With veneers in Wellesley, MA, you can easily correct your teeth's imperfections to help you have a more confident, more beautiful smile. Veneers are natural in appearance and are a perfect option for patients wanting to make minor — or perhaps even major — adjustments to the look and feel of their smile. Contact us today to learn more about this transformative treatment.
What Are Dental Veneers?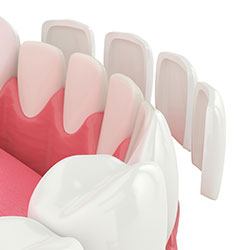 Veneers are thin, custom covers made from tooth-colored materials such as porcelain. They are designed to adhere to the front sides of your teeth, allowing them to hide imperfections. Because they are specially designed for each patient, they provide a natural look that can be tailored to your unique wishes. They are highly resistant to stains and have the potential to last for up to 20 years or longer.
Some of the aesthetic issues that veneers can commonly address include:
Chips and cracks
Minor misalignment
Stains and discoloration
Teeth that are too narrow or too short
Asymmetrical teeth
Misshapen teeth
The Process of Getting Veneers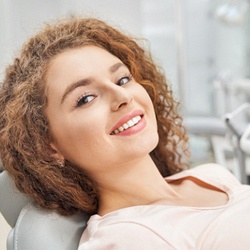 First, you will attend a consultation. Our team will learn about your goals for treatment and determine whether veneers are a fit for you. Be sure to let us know if there is anything specific that you would like to accomplish with your smile.
To prepare your teeth for veneers, your cosmetic dentist in Wellesley will remove a bit of enamel from them. This ensures that your veneers will not look bulky or unnatural. Next, we will take impressions of your teeth. Those impressions, along with detailed design notes, will go to a dental laboratory.
While the laboratory fabricates your permanent veneers, you will wear temporary ones to protect your teeth. Once your veneers are ready, we will verify their fit before we secure them in your mouth.
The Benefits of Veneers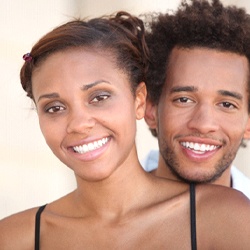 Some of the top benefits of veneers include:
Stain resistance. Porcelain is nonporous, so pigments cannot seep into it. You can expect your veneers to retain their original color for many years.
With proper care, veneers may last for 15 – 20 years or longer.
You can get one veneer or a full set. You can also let us know if you want your teeth to be a particular color or shape.
Natural appearance. Porcelain closely resembles real tooth enamel. No one will have to know that you had some work done on your smile.
Fast treatment. Designing and placing veneers usually requires just a few visits to our office.
Understanding the Cost of Veneers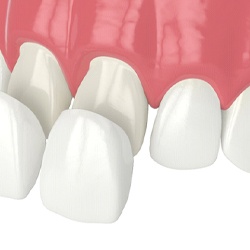 The cost of veneers in Wellesley tends to be higher than that of other cosmetic treatments. However, they are an excellent value because they can provide you with many years of attractive, natural-looking smiles. When you come in for your consultation, we will be sure to provide you with a candid price estimate and help you explore your payment options.
Cost vs. Cosmetic Dentistry: Comparing Your Options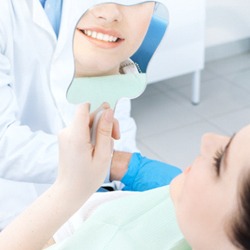 Veneers in Wellesley are just one of several treatments that have the potential to powerfully transform your smile. During your consultation, we will help you compare the pros and cons of all your options, including their cost. In the meantime, you can gain a basic understanding of various treatments by reading the information below:
Braces and clear aligners typically cost several thousand dollars and require several months or longer to complete their work. They are an excellent option for patients whose dental misalignment is severe enough that it is threatening their oral health. However, they do not enhance the color, size, or shape of teeth.
Teeth whitening. Professional whitening services are relatively affordable, often costing just a few hundred dollars. Whitening may be ideal for you if your only cosmetic goal is to get rid of dental discoloration and stains. However, you can expect the results to be temporary (lasting a few months or a few years, depending on how you care for your teeth). Whitening also does nothing to improve the positioning, shape, or size of teeth.
Dental bonding. Also known as direct bonding or cosmetic bonding, this treatment can disguise a range of aesthetic flaws in teeth. It takes just one appointment, and at first, it resembles veneers. It is also quite affordable. Its major downside is that it is not particularly durable; it usually needs to be replaced every 3 – 5 years or so.
Veneers are a sort of "all in one" cosmetic treatment. Although their price is relatively high, they offer an excellent value because the treatment is quick, the results are stunning, and veneers have the potential to last for 15 – 20 years or longer.
How to Make Veneers Affordable
Veneers are usually classified as an elective procedure. Therefore, dental insurance rarely (if ever) covers them. However, that does not mean you are without help when it comes to affording your treatment. As your cosmetic dentist in Wellesley, we offer a few useful provisions:
We are partnered with CareCredit, a third-party lender. Qualified patients can enjoy a low- or no-interest payment plan that works with their monthly budget. Our team can help you through the application process if necessary.
Treatment adjustments. By using fewer veneers, we can lower your out of pocket costs. Later, when your budget allows, you may choose to get more veneers to complete your new look.
Are you ready to learn more about veneers and their cost? Our team is looking forward to answering your questions. Contact us today to schedule a cosmetic consultation.
Veneers FAQs
Veneers in Wellesley are a long-lasting way to hide aesthetic imperfections in teeth. However, since they represent a significant investment of money, it is understandable if you want to gather as much information as possible about them before you commit to anything. To assist you, we have put together a list of frequently asked questions about this treatment, along with succinct answers. Make a note of anything you would like further explanation on — our team will be happy to speak with you!
Are Veneers Permanent?
Veneers eventually have to be replaced. However, they are considered to be a permanent commitment because of what happens during the treatment process. We must remove a bit of enamel from the teeth. The enamel will not grow back on its own, and without it, your teeth may be extra sensitive. Hence, they will always need veneers or another type of restoration to protect them.
The permanent nature of veneers should not scare you. Most patients who get them are happy with their decision and have no regrets whatsoever.
What Happens to the Teeth Under Veneers?
During the tooth preparation part of the veneers process, we remove a bit of enamel. This ensures that the veneers will adhere well to the teeth and will not look bulky or unnatural. The amount of enamel that is removed varies from case to case, but it is usually about half a millimeter (about the thickness of a fingernail). The bonding material that we use to cement veneers onto the teeth is safe and will not harm your dental health.
The teeth under your veneers will remain as vulnerable to cavities as the rest of your smile. Therefore, you must continue to adhere to a thorough oral hygiene routine and limit your consumption of sugary foods and beverages.
Is There Anything I Cannot Eat with Veneers?
You will wear temporary veneers for a while as part of the treatment process. Since the temporary veneers are vulnerable to stains and breakage, you should avoid eating hard, chewy, and highly pigmented foods while wearing them.
Once your permanent veneers are in place, you can feel free to eat virtually anything. However, it would be wise to continue to enjoy certain items, such as hard and sticky foods, only in moderation. Also, keep in mind that while veneers are highly resistant to stains, they can become discolored over time, so it is best to limit your consumption of things like coffee and red wine.
Can Veneers Be Used for Bite Corrections?
Veneers do not move the teeth, so your cosmetic dentist in Wellesley cannot use them to correct a bad bite. You may need orthodontic treatment to address any existing bite problems before you get veneers.
However, if your bite problem is fairly minor, you might be able to hide it with veneers. For example, if you have an open bite, veneers can make your teeth appear longer, thereby disguising the bite issue.