Full Mouth Reconstruction – Wellesley, MA
Rebuilding Your Entire Smile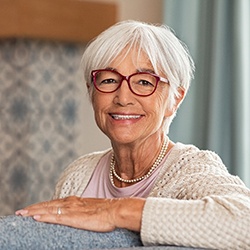 Full mouth reconstruction in Wellesley, full mouth rehabilitation, and full mouth restoration are terms often used interchangeably to describe the process of rebuilding or restoring all of the teeth in both the upper and lower jaws simultaneously. Your dentist, who has years of experience working with the materials and procedures related to full mouth reconstruction, will develop a plan that addresses all your needs and aims to leave you with a perfect smile, ideal bite, and optimal dental function.
Why Choose Wellesley Dental Group for Full Mouth Reconstruction?
Highly Skilled Team
Comfortable Treatment
Multiple Payment Options
Is Full Mouth Reconstruction Right for Me?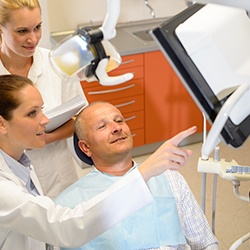 Even if you have struggled with severe dental problems for many years, your dentist in Wellesley is ready to help you get your oral health back on track. Your final results may improve your overall wellness, boost your self-confidence, and heighten your daily quality of life.
You may be a candidate for full mouth reconstruction if:
Your teeth have been lost due to decay or trauma.
Your teeth have been injured or fractured.
Your teeth have become severely worn because of long-term acid erosion (from foods, beverages, or acid reflux).
You have ongoing jaw, muscle, or headache pain related to your bite.
The Full Mouth Reconstruction Process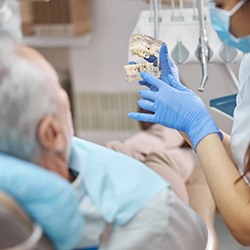 Full mouth reconstruction starts with a consultation, during which our team will learn about your situation and begin creating your custom treatment plan.
Your treatment plan will entail a step-by-step process detailing all aspects of your reconstruction. The duration of your treatment will depend on the work needed, but in the end it will all be worth it.
The extent of your reconstruction will depend on the condition of your teeth. Your dentist may recommend crowns, bridges, fillings, or implants to restore your smile to its best possible condition. He or she will also address the state of your gum tissue, as the health of your gums may impact the type of restorations you receive. You may undergo some cosmetic procedures, such as veneers or teeth whitening, to put the finishing touches on your new look.
Understanding the Cost of Full Mouth Reconstruction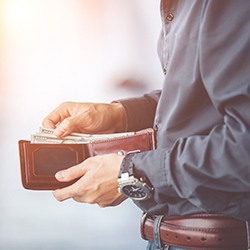 The price of full mouth reconstruction is different from patient to patient. It depends on numerous factors, such as the extent of your dental problems and which procedures you undergo. We will be able to provide you with a cost estimate during your consultation. We will also help you explore payment options. We are an insurance-friendly practice, and we work with CareCredit to offer convenient financing for qualified applicants. You can rely on our team to do everything in our power to help you afford the treatment you need to enjoy a healthy and attractive smile.
Full Mouth Reconstruction FAQs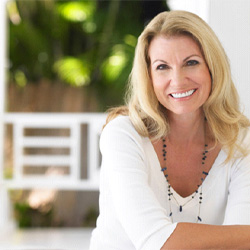 Our team is eager to help you experience the many benefits of full mouth reconstruction in Wellesley. However, we recognize that this service represents a significant commitment of both time and money, so we completely understand if you want to learn more before you schedule a consultation. To help you in your quest to gather information, we have put together the following list of FAQs, along with brief answers. If you would like further explanation on anything you discover here, please reach out to us directly.
How Long Does a Full Mouth Reconstruction Procedure Take?
The timeline for full mouth reconstruction varies from case to case. Some procedures, such as tooth-colored fillings and dental bonding, take just one appointment to complete. In some instances, we can even combine multiple treatments into a single appointment. However, keep in mind that some procedures are quite lengthy. For example, dental implants may require several months from start to finish. During your consultation, we will be able to give you a rough idea of how long your full mouth reconstruction journey may take.
How Long Will My Full Mouth Reconstruction Results Last?
The results of some treatments, such as dental bonding, may endure for 3 – 5 years or so. Crowns and bridges typically last for at least 10 years (often longer) before they need to be replaced. Dental implants offer the most impressive longevity, with the potential to last for an entire lifetime.
How long your results last will depend largely on how well you care for your smile. Our team will provide you with detailed instructions to help you prevent infections, damage, and other issues that could threaten your restored teeth.
Does Getting a Full Mouth Reconstruction Hurt?
Your cosmetic dentist in Wellesley and our team will do all we can to ensure that you are comfortable during treatments. We can numb any portion of your mouth that we are working on, and most patients are eligible for sedation.
After any sedation and anesthesia wear off, you can expect to experience some soreness, particularly after you undergo any invasive procedure, such as dental implant surgery or gum surgery. Rest, over-the-counter pain relievers, and carefully following post-treatment instructions can help to make your recovery time as easy as possible.
How Do I Care for My Smile After Full Mouth Reconstruction?
Here are some tips to keep your smile in good shape after full mouth reconstruction:
Stick to a good oral hygiene routine. It is best to use gentle products. If you have questions about proper oral hygiene techniques, ask one of the hygienists in our office.
Attend regular checkups and cleanings. Make an effort to visit us every six months or so for a preventive appointment.
Watch what you eat. Try to eat a balanced diet that is full of nutritious foods. It is best to limit hard, sugary, and sticky items.