July 23rd, 2020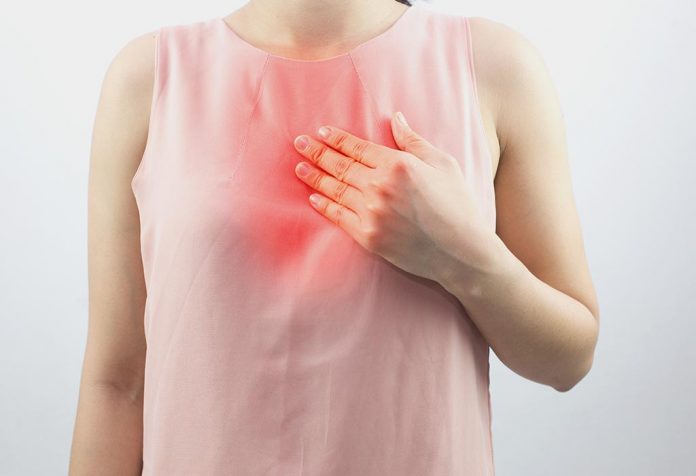 Research has become a significantly important part of our lives, particularly as we all hope to gain knowledge about COVID-19 and how to conquer the pandemic. Researchers across the globe are trying to piece together any answers to these puzzling times. The Centers of Disease Control and Prevention (CDC) has found numerous risk factors that are linked to COVID-19. For instance, individuals of any age with particular medical conditions are considered high risk for contracting coronavirus. Now, there may be another possible risk factor to add to the already long list that could make you more susceptible to get COVID-19.
A new study published in the American Journal of Gastroenterology, reports that taking proton pump inhibitors (PPIs), a common medication to treat heartburn, acid reflux, and stomach ulcers, may place individuals at a higher risk of developing COVID-19. PPIs work by blocking an acid-producing stomach enzyme to lower the amount of acid made in the stomach. Although stomach acid is natural and a part of the body's defense mechanism, having a surplus or if it's found in the wrong place can be a real pain and harmful to the body. PPIs can be prescribed by your physician or found over-the-counter. Some brand name over-the-counter PPIs that you may have heard of include Prilosec (omeprazole), Nexium (esomeprazole), and Prevacid (lansoprazole).
The researchers of this study, guided by Dr. Brennan Spiegel at Cedars-Sinai Medical Center, created an online survey which was emailed to a total of 264,058 adults in the United States from May 3 to June 24, 2020. 86,602 individuals were eligible participants and of these individuals more than 53,000 reported heartburn, abdominal pain, and acid reflux and were asked to disclose what medications, if any, they used for relief. Among them, greater than 3,300 tested positive for COVID-19. After data collection and analysis, researchers found that people who reported use of PPI medications were 2-4 times more likely to have COVID-19 compared to those not taking PPIs. In addition, the frequency of intake of PPIs also played a role in the results. They found that individuals taking PPIs twice a day were at a higher risk than individuals taking the medication once a day. Interestingly, those who reported taking histamine-2 receptor antagonists medication (H2 Blockers), which also treat heartburn and gastric ulcers, were not found to be associated with an increased risk of contracting COVID-19 in the study.
The researchers believe that the change in the stomach environment as a result of PPIs could create an environment where pathogens and viruses like COVID-19 can thrive. These results also mirror some common side effects of longterm PPI use in other research studies. For instance, PPIs have been linked to the bacterial infection C. difficile, which researchers believe also thrives due to less stomach acid being present to fight against pathogens.
Although this research is a step toward a possible association between PPIs and COVID-19, more research has to be done to determine a cause and effect relationship. Dr. Christopher Almario, one of the study authors, stated "By no means do we say that people need to stop their PPIs…We found an association here; This needs to be confirmed. Many U.S. residents take PPIs for severe acid reflux, heartburn or peptic ulcers, and these people should not lower their dose or switch medications without first consulting a health care provider."
This pandemic has impacted us all, but our community is indeed all stronger together. Our team at WDG always has your safety and health as our top priority, and we have implemented additional safety measures and equipment to help prevent the transmission of all infections, including COVID-19. Wellesley Dental Group has completely reopened since June 8th, 2020 for all dental procedures and cleanings! Thank you for entrusting your health and dental care to us at Wellesley Dental Group.
Feel free to contact Drs. Ali & Ali and the caring team at Wellesley Dental Group if you have any thoughts or concerns; they will be happy to answer your questions! Contact us today at 781-237-9071 or smile@wellesleydentalgroup.com to set up an appointment.
Your little ones and teens are welcome to visit our pediatric dentist, Dr. Derek, and Dr. Emad is happy to help with your TMJ and orthodontic needs. For wisdom teeth extractions or any other oral surgery needs, Dr. Stephens would love to help, and our gum-specialist Dr. Singh can help with your gum-related concerns.
References:
https://www.uspharmacist.com/article/proton-pump-inhibitors-considerations-with-longterm-use
https://decisionsindentistry.com/2020/07/possible-link-between-heartburn-medications-and-covid-19-risk/?inf_contact_key=c1aff9e57306be06b8e82905e898e2fbb7af0999dac2af6212784c39e05d2aef
https://time.com/5863532/covid-19-heartburn/
https://www.livescience.com/ppi-heartburn.medication.covid19-risk.html
https://www.drugwatch.com/proton-pump-inhibitors/
https://parenting.firstcry.com/articles/foods-to-avoid-with-acid-reflux-or-heartburn/