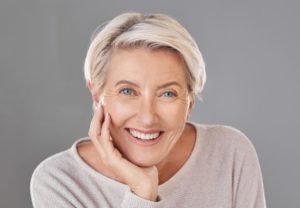 Dental implants can seamlessly replace missing teeth, providing a natural look, a strong bite, and many other benefits. Still, they cost quite a bit of money, so it is only natural to wonder if they are a good long-term value. How long do they last? With proper care, they can endure for decades! Read on below to learn more about their life expectancy and how you can make your replacement teeth stand the test of time.
What Is the Lifespan of Dental Implants?
Conventional forms of tooth replacements have relatively short lifespans. For example, traditional dentures may need to be replaced every 5 – 7 years. A fixed bridge offers a bit more longevity, often lasting for 10 years or longer. Dental implants, in contrast, can provide several decades of reliable function. In fact, many patients get to enjoy them for an entire lifetime.
The restoration (crown, bridge, or denture) that gets attached to dental implants will not last quite as long. Depending on various factors, a restoration could last for anywhere from 10 – 20 years before replacement becomes necessary.
Are Dental Implants a Good Value?
Dental implants can seem expensive at first. However, they can rightly be viewed as an excellent value for a couple of reasons:
Their cost per day is low. If you divide the upfront cost of dental implants with the goal of figuring out their cost per day over 20 or 30 years, they are often more affordable than a daily trip to an espresso shop.
They protect your health. Dental implants can lower the risk of issues like gum sores and other oral health problems. They also support overall wellness by enabling you to eat a robust diet and enjoy confidence in your social life. Therefore, they may prevent you from spending money on expensive medical treatments.
How Should You Take Care of Dental Implants?
Just like any other high-quality product, dental implants will only live up to their longevity potential if they receive proper care. Otherwise, they could prematurely fail. Here are some tips to help you maintain your new smile:
Stick to a thorough oral hygiene routine. This can prevent infections that cause dental implant failure. Brushing and flossing are both important.
Visit your dentist regularly. Twice-yearly exams and cleanings are vital for identifying problems before they become serious.
Do not smoke. Smoking drastically increases the risk of dental implant failure.
Eat a balanced diet. Dental implants are strong enough to handle any food. However, you should still try to eat a nutritious, balanced diet that does not contain a lot of sugar.
Are you considering your tooth replacement options? If you are looking for a long-lasting solution, dental implants may be your ideal choice.
Meet the Practice
Wellesley Dental Group is home to an elite team of dentists and specialists who have several decades of combined experience. They offer comprehensive dental implant services in a welcoming environment. To learn more about your tooth replacement options, contact the Wellesley Dental Group office at 781-691-4914.