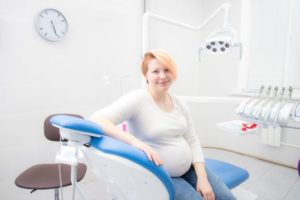 Regular dental care is vital throughout all stages of life, and pregnancy is no exception. The hormonal changes that occur during this special time can have an impact on a woman's oral health, increasing the risk of gingivitis, enamel erosion, and other issues. Your dentist can help you manage these problems.
However, if you are a bit nervous about treatment, you might hesitate to book an appointment. You might be extra-reluctant because you are unsure if the methods used to help patients relax are safe for a developing infant. Is dental sedation safe during pregnancy? Read on below to discover the answer to that important question.
Local Anesthetic Is Safe
The good news is that local anesthetic is considered safe for pregnant individuals. A 2015 study published in the Journal of the American Dental Association found that local anesthetics did not increase the risk of miscarriages or birth defects.
This means that your dentist will be able to numb your mouth for whatever your procedure you must undergo. You should not feel any pain during your appointment. However, you might feel a bit of pressure. If you are nervous about your treatment, let your dental team know so they can use an extra-gentle touch.
What About Other Forms of Sedation?
With the exception of local anesthetic, sedation is generally not recommended for pregnant people. For example, nitrous oxide, which is considered safe for most people, has been shown to pose some risks to developing infants, especially during the earlier stages of pregnancy. Oral sedatives, like Valium and Halcion, should also be avoided because they can pass through the placenta and negatively affect an embryo or fetus.
Because of the risks associated with sedation, most dentists do not administer it to pregnant women. If you require a major procedure that would normally require sedation, it might be possible to delay it until after your baby is born.
If postponing treatment is not possible, your dentist will design a treatment plan to manage your oral health as effectively as possible while posing minimal risk to your baby. For instance, sedation may be safer during the second trimester of pregnancy than it is in the first or third trimester. If you are outside of your second trimester, other treatment options may need to be explored.
Your smile is important, and it deserves to be treated well throughout your pregnancy. Your dentist will do all they can to provide comfortable care that does not pose a large risk to your developing baby.
Meet the Practice
Wellesley Dental Group is home to a large team of dentists and specialists. We provide various forms of sedation, which we provide with patient safety at the forefront of our minds. If you are pregnant and have questions about what to expect with dental care, we would be happy to answer your questions. Contact our office at 781-691-4914.