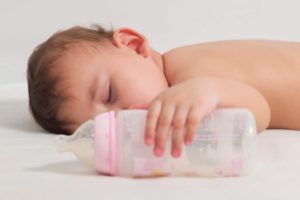 Wondering when to start weaning your baby from a bottle? From a dental perspective, this is an important topic as bottle use has a significant impact on the oral health of your baby. Although every child is different, there are some guidelines to consider to help transition your little one away from the bottle.
Per the American Dental Association (ADA), children should switch to a sippy cup by their first birthday to help reduce the risk of tooth decay from excessive bottle use and sugar intake. According to UCSF Benioff Children's Hospital a cup can be introduced as early as the age of 6 months old, or around the time your child is able to sit up on their own or they've begun eating solid foods from a spoon. It's important for kids to transition to a cup for many reasons. Children can be at an increased risk of baby bottle tooth decay, which is caused by excessive exposure to sugary drinks that remain on the teeth for long periods of time. For instance, giving your child juice in a bottle overnight for them to sip on can increase the risk of tooth decay and other dental issues. If you are to put your child to sleep with a bottle, the American Academy of Pediatric Dentistry recommends to only do so with water. The UCSF Benioff Children's Hospital also noted that long-term use of bottles can even lead to issues with dental development, proper feeding, and speech issues.
A sippy cup can be a good temporary transitional cup before a regular cup is used but shouldn't be used long. It is only meant to teach your child how to sip and handle a cup, but once they have learned it is no longer needed.
Here are a few of UCSF Benioff Children's Hospital's recommendations for transitioning:
Help your child transition during a stress-free time, which doesn't involve big changes such as moving houses, or during family illness.
Familiarize your child with holding a regular cup gradually.
Try switching the bottle for a cup during a meal. Pour a small amount into the cup to allow your child to learn how to drink from it.
Try to be consistent once making the switch from a bottle to a cup. It is also important to remember to have patience. Do your best to promote healthy oral habits and introduce a good dental routine early-on!
This pandemic has impacted us all, but our community is indeed all stronger together. Our team at WDG always has your safety and health as our top priority, and we have implemented additional safety measures and equipment to help prevent the transmission of all infections, including COVID-19. Wellesley Dental Group has completely reopened since June 8th, 2020 for all dental procedures and cleanings! Thank you for entrusting your health and dental care to us at Wellesley Dental Group.
Feel free to contact Drs. Ali & Ali and the caring team at Wellesley Dental Group if you have any thoughts or concerns; they will be happy to answer your questions! Contact us today at 781-237-9071 or smile@wellesleydentalgroup.com to set up an appointment.
Your little ones and teens are welcome to visit our pediatric dentist, Dr. Bahar Houshman and Dr. Marisa Reason is happy to help with your TMJ and orthodontic needs. For wisdom teeth extractions or any other oral surgery needs, Dr. Reisman would love to help, and our gum-specialist Dr. Singh can help with your gum-related concerns.
References:
https://www.colgate.com/en-us/oral-health/infant-oral-care/when-should-babies-stop-using-bottles
https://www.google.com/url?sa=i&url=https%3A%2F%2Fmomlovesbest.com%2Ffeeding%2Fbottles%2Fstop-bottle-feeding&psig=AOvVaw2tdtlU06qQWG6YctWyLQpy&ust=1677458183918000&source=images&cd=vfe&ved=0CA8QjRxqFwoTCNjOl-74sf0CFQAAAAAdAAAAABAD